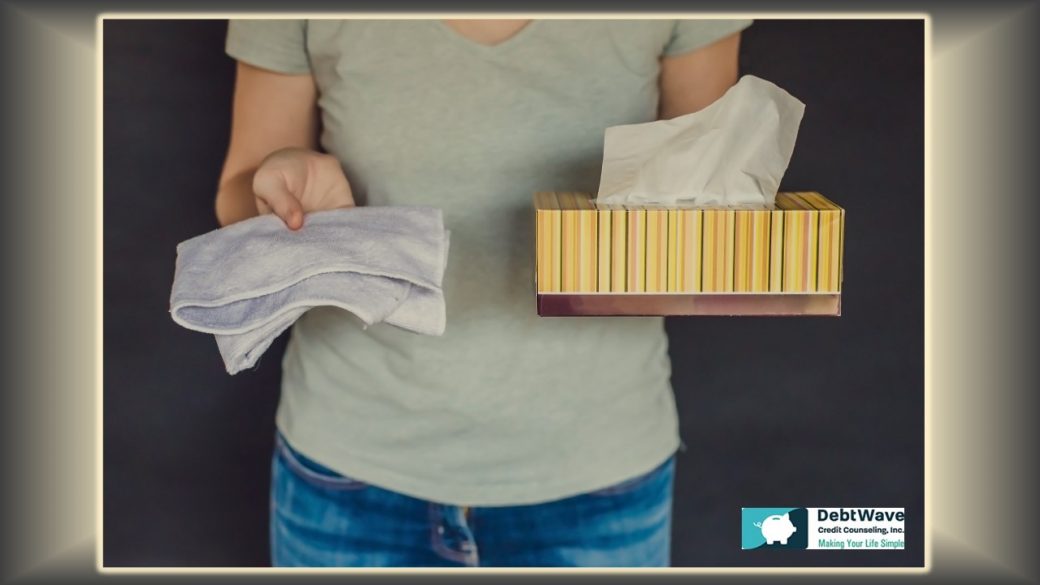 When you're looking to save money, it's easy to focus on the popular targets (skip that Starbucks habit!) and lose sight of the easy ways to save money.
The easy ones are the conveniences we sneak into our daily lives that don't make things any better, we simply adopted a habit purely accidentally.
Convenience is a sneaky thing. It appears in our daily routines and decisions, wholly unseen, and can act as a money leak that drips away our savings. One of the best ways to vanquish sneaky convenience costs is to eliminate single-use items. Then you can take those savings and put them into an online bank account to make them grow faster.
Maximize Savings by Eliminating Single-Use Items & Goods
Here's a list of my most-hated single-use items and what to do instead. Share yours in the comments!
The problem:
Paper towels are a convenient way to clean up messes, but they're also taking up space in our landfills. We were particularly guilty of using paper towels as dinner napkins and when you have little kids, those napkins add up quickly!
After crunching the numbers, I pay less than $1 per roll of Costco-brand paper towels. We used to go through one roll a week, which gave us a monthly cost of $4, or $48 a year.
We switched to reusable cloth napkins at dinnertime. We were able to cut our paper towel usage by more than half, saving $24 a year. As an added bonus, the cloth napkins feel classier and they clean better.
Bottled Water
It's no secret that bottled water contributes exponentially to plastic waste. To top it all off, the water quality is often the same or worse than what you get from the tap.
A 24-pack of Dasani water goes for $35. At roughly 77 cents per bottle, that's a daily cost of $3 to stay hydrated. If you instead drink tap water, your daily cost would be only 60 cents. That's a difference of $876 per year!
Buy reusable bottles and fill them instead. I dropped $20 on a glass Camelbak water bottle and it's never led me astray. It's glass too, rather than plastic, so it's friendlier on the environment.
Cling Film
On the one hand, cling film is great because it prevents food waste. On the other hand, it's a single-use item that's crazy expensive.
100 feet of Saran Wrap sells for $2.27. If you use a pack of it every two months, that's an annual cost of $13.62.
For the past year, I've been using beeswax cloths to preserve my food instead of cling film. Here's a guide on how to make your own on the cheap.
Facial Tissues
Everybody gets the sniffles. What's the first thing you reach for to blow your nose? Probably a Kleenex.
Walmart sells a four-pack of Kleenex for $4. If you go through a box of tissues every month, that's about $12 a year – but probably more, since people get sick..
Take a cue from your grandparents and switch to soft, washable handkerchiefs. You can sew your own from leftover muslin if you're crafty or buy them online.
 Latex Gloves
How many of us have used medical gloves around the house? I admit using them to cut up chicken or clean up a particularly gross household mess.
A box of 50 latex gloves sells for $5. That means it costs 20 cents every time you want to glove your hands. If you use gloves as often as I do, that means buying a new box every quarter, for a yearly cost of $20.
Go retro and avoid single-use gloves with old fashioned yellow rubber gloves. These go for $3 a pair and are reusable; you can sanitize them in the dishwasher.
Paper Plates
I've been lured by the siren song of paper plates. And not just when I'm hosting Thanksgiving, either. If I'm having a rough Tuesday afternoon, I'm this close to busting out the Chinet.
An 80-count bag of Chinet plates goes for $11. If you feed dinner to four people every day on Chinet paper plates, that's an annual cost of $200.
Eat off washable dinner plates instead! I scored a pack of nearly indestructible Corelle dishes at the thrift store that will last decades. You will have to take the trash out less often too!
Razors
Many adults shave, but it's a pricey habit. We stock up on razor cartridges once every month or two to maintain sleek, hair-free skin.
Men's cartridges sell for about $15, and women's go for $20 or more. If you follow the instructions on the box and replace your razor every week, that's an annual cost of $180 – $240.
Both men and women can switch to a safety razor, which goes for about $30. You do have to be a little bit more careful while shaving, but you'll get a better shave and a fatter wallet once you switch.
Earth-Friendly Budget Savings
If you're able to make these small frugal changes, you could save more than $1,300 a year and help the planet in the process. Apply your newly found money to your goals instead of these single-use items.
It's a little more work, but it's worth the freedom.