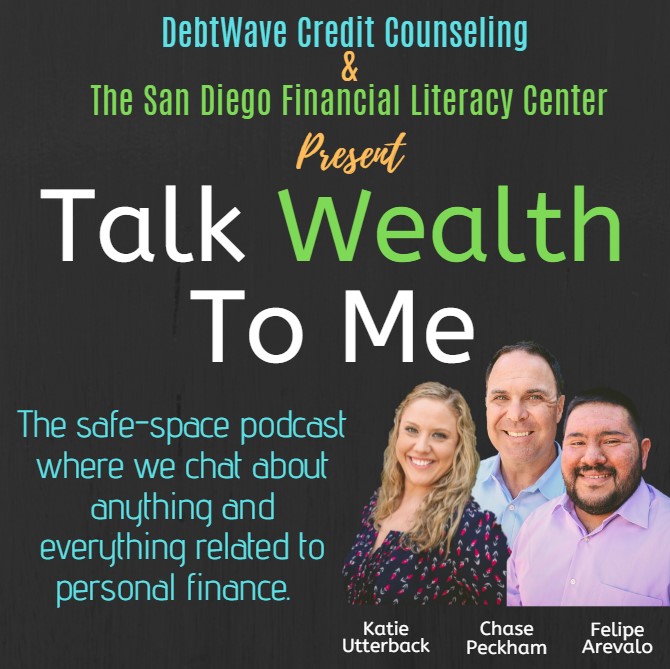 In 2019, DebtWave Credit Counseling and the San Diego Financial Literacy Center launched the financial education podcast Talk Wealth To Me. The goal of our podcast is to create a safe-space where consumers can ask questions about anything and everything related to personal finance without feeling judged or shamed.
We're currently in our FIFTH season of Talk Wealth To Me, and our team has recorded more than 100 episodes on topics including:
Mental Health & Debt
How to Build Generational Wealth
How to Order a Credit Report
Financial Caregivers
How to Help Your Kids Learn Healthy Personal Finance Habits
Immigration & Finances
Financial Infidelity
LGBTQ Financial Challenges
Affording Adoption
First-time Homebuying
Tips to Lower Your Grocery Bill
How to Earn Passive Income through Rental Properties
Frugal Traveling Tips
The Pink Tax
Racism + Finances
Valentine's Budget Tips
Generational Money Trauma
Financial Therapy
Weddings and more!
We also had conversations that scratched the surface of larger financial topics including financial abuse, addiction, cryptocurrencies, and how social welfare programs such as the Supplemental Nutrition Assistance Program (SNAP) or unemployment can aid consumers in breaking the poverty cycle.
Subscribe, listen, and download the Talk Wealth To Me podcast on the following platforms:
Comments, questions or suggestions for the show? Email us at talkwealthpodcast@gmail.com. Or connect with us on Twitter.