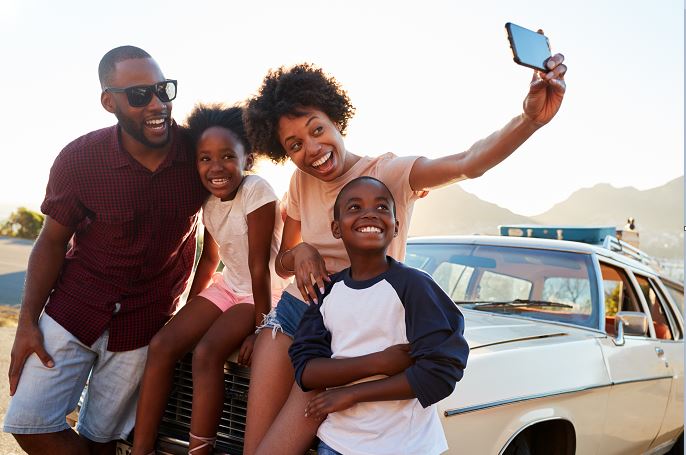 The flowers are blooming, the birds are chirping and our desire for adventure is intensifying. Winter is officially over and I'm guessing the thought of taking a summer vacation has crossed your mind.
If you're worried a vacation will derail your efforts to tackle your debt – something you've been working hard to defeat, you've come to the right place.
Good news! Vacations do not have to cost a fortune. There are so many places to visit that will blow you away without breaking the bank.
How to Plan Affordable Summer Vacations
Check out our tips for planning an affordable family vacation this summer below!
1. Make a Budget
Before you make any vacation plans, it's important to create a budget.
Once you determine how much you can afford to spend on your vacation, determine how much you are willing to spend on travel costs (airfare/gas), food, etc.
Don't forget to take into account the costs that might occur during your trip such as souvenirs for your family to remember the trip.
Without budgeting, you could convince yourself that airfare to Greece or road trip through Yellowstone National Park is a much better deal than it is and you could wind up further in debt than you were before you went on vacation.
2. Driving vs. Flying
When planning your summer vacation, once you determine your budget, you'll want to decide where you'd like to go. If you're flexible, decide if you want to drive or fly.
If you want to fly:
Depending on your final destination, flying may be a more budget-friendly alternative, given the high cost of gas in the summer months.
Additionally, many airlines offer summer sales. However, keep in mind that not every airline will offer lower fares out of every departure city, nor will they necessarily offer cheap direct flights to the specific destination you have in mind. But if you're flexible on location and travel dates, a summer airfare deal may be right for you.
Remember if you're flying, you may encounter additional costs and fees not only associated with flying such as lodging, transportation, and food.
Try to skirt around these costs by:
Only packing what you can fit in a carry-on
Using public transportation or a ride-share service in lieu of renting a car
Consider staying with friends, renting an Airbnb or camping in lieu of staying at a hotel.
If you prefer to drive:
If you live in the continental U.S. you can drive to many unique vacation spots!
It may take a little longer to reach your final destination, but they say travel's all about the journey anyway.
Driving also allows you to bring your luggage without paying a fee. And consider how fun it could be to take a road trip with the entire family! You might learn a few things you never knew about your closest loved ones.
Before you head out, make sure to spend time planning your route and all the supplies you'll need.
It's essential to bring a first-aid kit, jumper cables, and other emergency accessories.
It's also a good idea to plan your gas route precisely to allow you to maximize your money and travel time.
Money Tip: Along your route, search for the cheapest gas stations before your gas tank is on empty!
3. Pre-Purchase Food
Whether you drive or fly to your final destination, you can save on the cost of food by purchasing a few items from the grocery store.
Why is this helpful?
If you eat out, the average meal costs around $12-$15 per person, not including a tip. If you have a family of four, that can be $48-$60 per meal! With 3-meals a day, that can become expensive very quickly.
Buying groceries and having nice healthy portions could cost anywhere from $2-$6 per meal. That means $8-$24 a day on food versus the $144-$180 per day eating out on vacation.
Budgeting for food is easy to overlook because we often classify meals as necessary expenses. But just because we have to buy it, doesn't mean we can't control the money we spend on it.
Shopping at the grocery store also allows you to pick out healthy meals for the entire family! Win-win!
If your hotel has a refrigerator, consider picking up some fruit, juice, milk, and cereal for breakfast. Deli meats and cheeses can be used to make sandwiches.
No refrigerator? Grab a cooler to store some perishable items. Consider purchasing items that don't need to be refrigerated like apples, bananas, and peanut butter.
Money Tip: If you want to splurge on a few meals, use discount sites to take advantage of first-time customer deals!
Consider also splitting a meal with someone. Especially if you don't have access to a kitchen, you likely won't have the use for leftovers anyway.
4. Connect with Friends or Family
Are you traveling to a city where you know someone? Consider asking a friend or family member if you can stay a night or two with them.
Staying with someone you know can save you tons of money on hotel rooms and can be a great way to catch up.
Also, you never know if your local guides have access to discounted tickets to nearby museums and attractions. Just keep in mind to return the favor as soon as you possibly can. Nobody appreciates being used!
Also, bring a gift for your hosts. This will be much cheaper than the hotel room and will mean a lot to your friends.
Money Tip: Check to see if there are any discounts for amusement parks or museums in the area you plan to visit that apply to you (AAA, Student, Teacher, Military/Veteran, Family and/or Group discounts).
What's your favorite budget-friendly destination for a summer vacation with the whole family? Tell us in the comments!