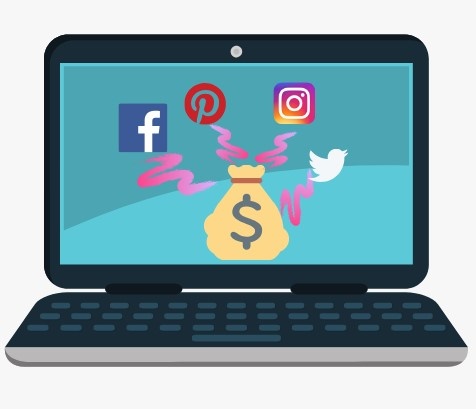 Social media might seem like a major time drain, but there are plenty of ways this screen time can actually help your budget instead of just killing your productivity.
Retailers are always looking for new ways to reach their customers, and the quickest, most direct way is now through platforms like Facebook and Twitter.
In addition, Pinterest is brimming with crafty, frugal ideas most people wouldn't dream up on their own.
So while you might be sick of the oversaturation of baby photos and wedding announcements, don't give up on social media just yet.
Ways to Save Money Online with Social Media this Christmas
Here are a few ways you can turn social media into a money-saving resource this holiday season.
1. Search using hashtags
Hashtags were originally intended to make searching social media posts streamlined and easy. So while many hashtags now are anything but relevant, the original intent still exists and can be used to your advantage when it comes to searching for deals.
Conduct a Twitter search using the hashtag #AmazonDeals or #TargetDeals for instance, and you'll find a plethora of posts for everything from books to beauty supplies.
2. Interact with customer service agents for coupons
Not all coupon codes are available for mass consumption — sometimes retailers will dole out these codes only when asked directly.
Therefore, when you're about to purchase a gift online, hop onto the retailer's Facebook page and send a direct message asking for any available coupon codes. The chances are high that you will score free shipping or a discount.
3. Find a wide array of DIY gifts
If you have a gift list a mile long, but a much smaller budget, there's something to be said for going the DIY route. Not only will you likely save a bundle, but the time and effort it takes to put together such a gift can speak volumes.
Enter Pinterest.
A simple Pinterest search will yield plenty of "top DIY gift" posts. Not all of these are challenging to make either. Simply find one that fits your budget and skill level and you might be surprised at the results.
4. Get insider knowledge about your favorite retailers
If you know what you want to buy, or at least where you want to shop, follow these retailers to stay on top of upcoming deals, sales and current discount codes. Retailers don't always share the same information on their website, so it's certainly worth following their social media platforms for a little bit of insider knowledge.
In addition, if you have any complaints, retailers often have social media community managers who are ready to listen and fix the situation.
5. Share for a discount
Customer word-of-mouth is worth gold to retailers, so they are often willing to pay you for it.
Some sites, for instance, have Social Rebate – a platform that encourages customers to share details about their purchase through their own social media profiles in exchange for a discount. Other times, companies might just see your word of praise on social media and reward you with a free gift or discount to use later.
Either way, it's worth taking the additional step.
6. Follow the experts
Why spend all your time looking for deals when someone else has already compiled the information for you?
The internet is brimming with bloggers and websites that compile a list of notable deals and share their findings on every social media platform you can think of. A few to follow include MoneyTalksNews, Wisebread, and KrazyCouponLady.
The bottom line?
Before you whip out your credit card this holiday season, don't forget to tap into the money-saving resource you already have at your fingertips: social media. Your wallet will thank you later.
Do you save money using social media? We'd love to hear your tips!
If you find it tough to establish a consistent saving routine due to credit card, student loan and other debt, consider speaking with a certified debt counselor. Counseling sessions are generally free and your counselor will help you to formulate a plan to attack your debt.