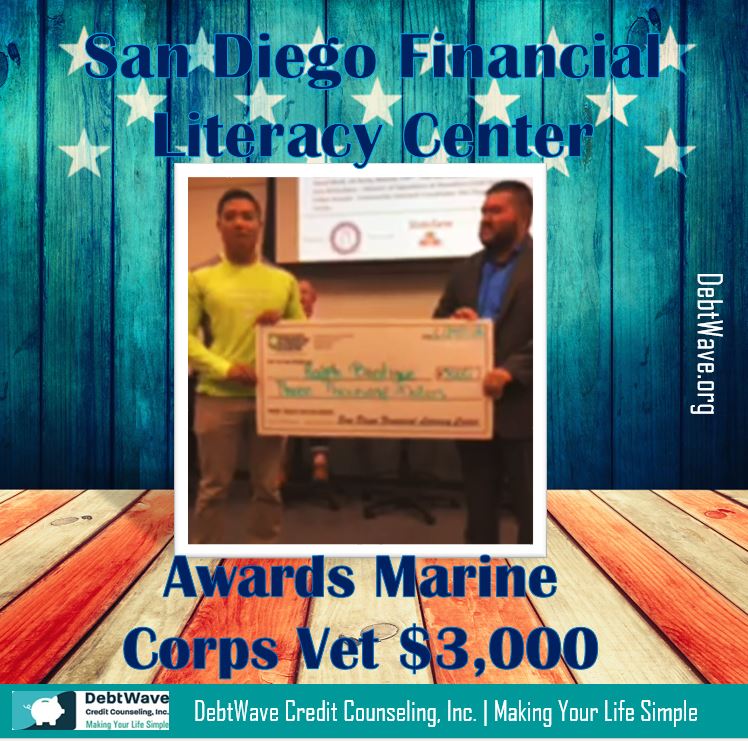 Each quarter, DebtWave Credit Counseling, Inc.'s outreach group, the San Diego Financial Literacy Center, hosts a financial assistance and education program geared toward active, transitioning, and veteran military members. At the conclusion of each quarterly event, the SDFLC awards a military member with $3,000. These are their stories.
Growing up near our nation's capital in Fairfax, Virginia, 32-year-old Ralph Bantigue says he always felt proud to be an American and wanted to serve his country, especially after the nation suffered through multiple terror attacks on Sept. 11, 2001.
Bantigue enlisted in the Marine Corps in August 2011 and served five years – four years active, one year on reserve – before requesting an honorable separation in 2015.
During his time in the U.S. military, Bantigue traveled to Haiti to help provide relief following the January 2010 earthquake that killed an estimated 316,000 people and displaced more than 1.5 million people. He was also awarded the Marine Corps Good Conduct Medal, Global War on Terrorism Service Medal, National Defense Service Medal, Expert Rifle Qualification Badge and the Marksman Pistol Qualification Badge.
Toward the end of his time in the Marine Corps, Bantigue began regularly consuming large quantities of alcohol in an attempt to quiet painful thoughts and personal experiences he had endured.
"I didn't feel fit to lead given all the drinking and behaviors and thoughts going through my head," Bantigue said. "I wasn't fit to be a Marine in 2015."
Depression and a Drink
Separating from the military left Bantigue not only lonely, but he felt a loss of purpose and a lost sense of duty. "There's a feeling of loneliness coming out of the military," he said. "You feel alone like you can't connect. I wasn't keeping myself busy, so I would drink a lot of alcohol."
Alcohol slowly consumed Bantigue's life. When Bantigue would call his mother or siblings, it was to ask for money so he could buy more alcohol. Eventually, Bantigue's family distanced themselves, further isolating him from others.
He continued to spiral downward, until 2016 when Bantigue was caught driving under the influence and was charged with a DUI.
In October 2017, Bantigue checked himself into a local rehabilitation facility specializing in Veterans to receive help with the alcohol dependency he had developed in order to cope with his anxiety and depression.
Since he checked himself into the facility in the fall of 2017, Bantigue has not been employed. Bantigue pays rent at the facility by working at the front desk. Unfortunately, Bantigue fell behind on his bills and student loans while he's been at the facility. Bantigue currently has more than $60,000 in debt.
Financial Stress
On June 24, 2018, Bantigue celebrated one-year of sobriety. In preparation for this milestone, Bantigue has been working hard to pursue a new, sober chapter of his life, including looking for regular, full-time employment opportunities, as well as a new apartment. But there was one aspect of Bantigue's life that still needed improvement: his finances.
"I told my therapist at the VA my main stressor was financial issues," Bantigue said.
That financial stress was starting to weigh on Bantigue mentally. He more frequently remembered the old behaviors he engaged in that led him to this point in life.
Bantigue sought help from various organizations but was denied assistance because he's not currently employed. Bantigue's therapist at the VA recommended he contact the SDFLC and apply for the Boost for Our Heroes award.
"The financial stressors in people's lives can be really traumatic," said San Diego Financial Literacy Center (SDFLC) Community Outreach Director Chase Peckham.
"This is what our Boost for Our Heroes program is all about. Helping our Veterans and active military members learn bit-by-bit how to manage their finances, which can go a long way in relieving stress."
SDFLC Awards $3,000 to Marine Corps Vet
On June 29, 2018, Bantigue was awarded $3,000 from the SDFLC. Bantigue will use the money to put his finances back in order, starting with paying all late and pending bills that he has not been able to pay since he checked into the rehab facility in October 2017. Bantigue also plans to find full-time employment once his credit improves, as well as rent an apartment once he graduates from the rehab program.
"It's a true blessing," Bantigue said about the award. "It's been a long road, but ever since I've been on the [rehab] program, I've trusted the process and now things are falling into place."
"It's been a pleasure working with Ralph and helping him learn how to better manage his money moving forward," said SDFLC Community Outreach Coordinator Felipe Arevalo. "I'm confident Ralph will be able to pay off his debts if he continues to implement our suggestions such as creating a monthly budget."
Since Bantigue has been enrolled in the rehab program, he's made amends with his mother and siblings and plans to visit them back home in Virginia after he completes the program to "show off the new me."
"They call me now and ask how I'm doing," Bantigue said. "It's been awesome knowing they can see my actions and they respect it."
To those in the military who may be struggling, Bantigue reminds us it's ok to put pride aside and ask for help. "Whatever is going on in your mind, it's ok to remind yourself to stay in the fight and fight through the struggle. Struggles are a part of life."
"Just have faith and move forward with a positive attitude," he said.
If you or someone you know is an active, transitioning or veteran military member facing any type of financial hardship, please download and fill out our application to be considered for a future Boost for Our Heroes Award. Details and eligibility requirements are included in the application.