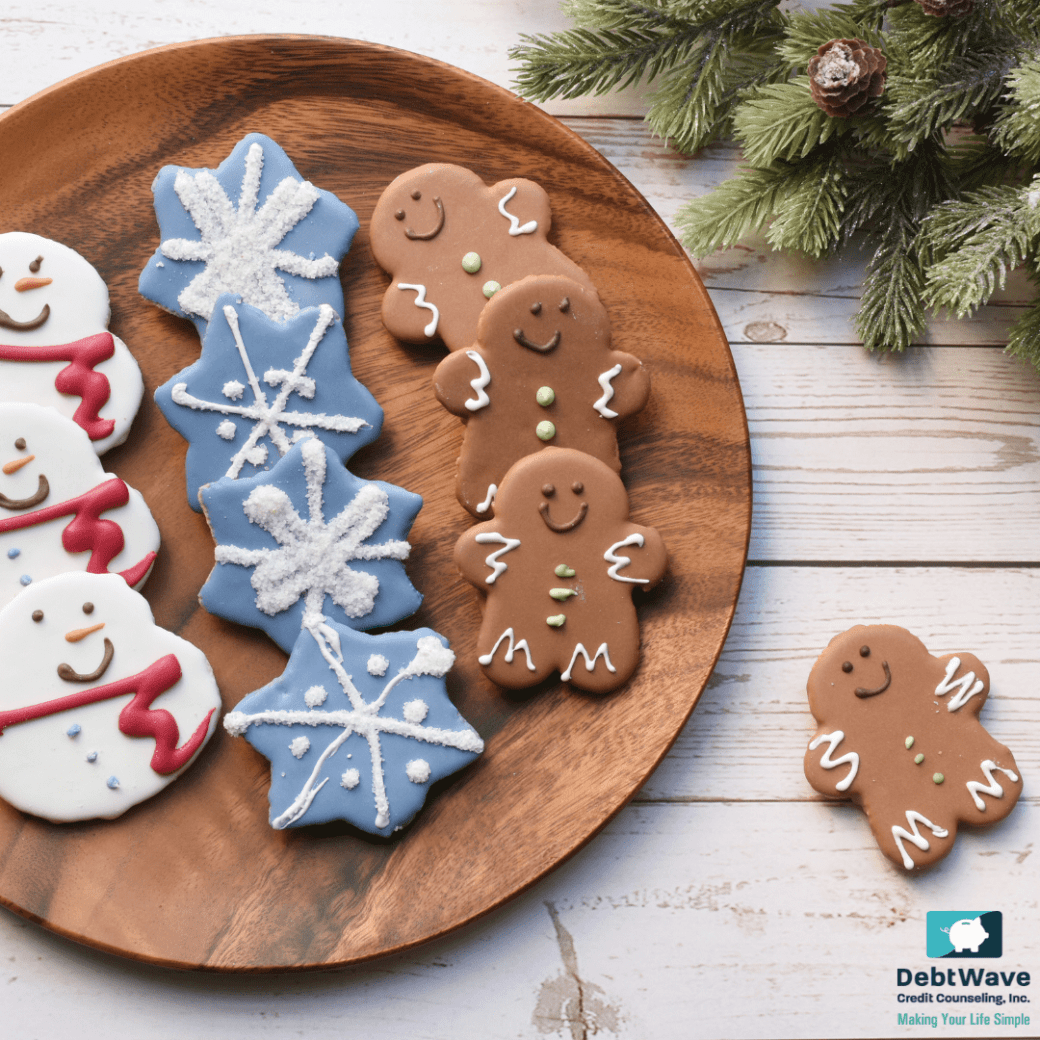 The Holiday Season is right around the corner, with Hannukah and Christmas occurring next month. While the Holidays can be an enjoyable time of year when you get together with friends and loved ones, the Holiday Season can also be incredibly stressful if money is tight, you're living paycheck to paycheck, or are on a debt payoff journey. 
One of the most stressful aspects of the Holiday Season is usually related to gifts. We want to show loved ones that we care about them, but sometimes our budget doesn't allow for including everyone we want to on our Holiday gift list. Snagging great deals on Black Friday or Cyber Monday can sometimes help us cross off many names on our Holiday gift list, but that's not always the case.
Luckily for those looking to spread cheer without incurring additional debt, heading to the store to find affordable, budget-friendly gifts is not the only option available to you; you can always create do-it-yourself Holiday gifts that are not only easier on your budget, but they are also a great way to gift personalized and meaningful gifts to friends and loved ones.
20 DIY Budget-Friendly Holiday Gifts
1. DIY Air Fresheners 
For the colleague, friend, or loved one who is frequently traveling in their car or has an obsession with aromatherapy, why not create a customized tree-shaped air freshener? These air fresheners don't have to be used exclusively in the car either – you can add them to a closet or your office. 
To make this gift, you'll want to buy a small wooden Christmas tree ornament, some fabric, glue, and essential oils of your choosing. Trace the shape of the wooden tree ornament on the fabric twice and then cut it out. Glue the fabric to the front and back of the ornament and wait for it to dry. Once the glue dries, soak the fabric with an essential oil, thread twine through the ornament loop for easy hanging, and voila, a customized DIY air freshener is ready. 
Tip: If you prefer another shape other than a Christmas tree, you can purchase any wooden ornament of your choosing. 
2. Homemade Sweets 
If you're someone who loves to bake, why not put on some Holiday music and create some homemade goodie boxes to give as gifts? If you're gifting homemade sweets to one person, you can choose their favorite dessert and wrap it up nicely. Or, if you're making treats for a group of people, consider creating a few different desserts and making mixed homemade sweets boxes to hand out. 
You can search sites like Pinterest for full recipes, but some of our favorite homemade Holiday treats include: 
Chocolate Chip Cookies 

Fudge

Sweet & Spicy Coated Nuts

Citrus Marmalade
3. Treats-in-a-Jar
Perhaps baking is not really your thing, but there are a few people on your gift list that you know love to spend time in the kitchen. In that case, you don't need to put pressure on yourself to bake or cook something. Instead, you can prepare the ingredients in a mason jar. 
For example, include the ingredients you would need for hot chocolate in a mason jar, such as cocoa mix and marshmallows. You can add other ingredients, too like chocolate chips or chopped candy cane. Tie a ribbon around it, and voila, Hot Cocoa in a Jar!
Other popular mason jar treats include:
Cookies in a Jar

Soup in a Jar

DIY Spice Rubs
If you have a recipe in mind, great! If not, check out sites like Pinterest to help you create the perfect recipe for your loved ones. 
4. DIY Tie-Fleece Blanket
If you live in a colder climate or have someone on your list who likes to cozy up under blankets, consider creating a custom DIY tie-fleece blanket. You'll need to purchase some fleece fabric for this gift, which you may be able to score a great deal on during Black Friday sales at your local fabric or arts and crafts store. 
Once you pick out your fabric, you'll lay them out one on top of the other and cut out a small square in each corner. Next, you'll make cuts along the side of the blanket every few inches. Once you complete the cuts around the entirety of the blanket, take the bottom fabric cut and tie it to the top fabric by making a double knot. Complete this step around the entirety of the blanket, and BOOM, a custom DIY tie-fleece blanket. 
If you're looking to gift a little more than the blanket, you can always add some hot cocoa in a jar and/or a movie you found on sale during Black Friday or Cyber Monday. 
5. DIY Scented Candles
Did you know that it is significantly less expensive to make your own scented candles than to buy them pre-made at the store? If you're looking for a gift to help loved ones relax or if the thought of making candles excites you, this may be a DIY gift to try out this Holiday Season.
To make your own candles, you'll need wax, wicks, glue dots, all-natural dyes, essential oils, jars, a melting pot for your wax, a thermometer, and a stirring spoon. You can either purchase these items individually or use items around your home. Even if you purchase premium ingredients or buy a candle making kit, it's still less expensive to make your own candles than buy them. 
For example, a 22oz candle from Yankee Candle costs roughly $30; if you spent $30 on supplies for a DIY Yankee Candle, you could make roughly 77oz of candle, meaning each 22oz candle would cost you $8.57.
When making your own candles, you can customize the colors and scents to Holiday-friendly scents and colors or use colors and essential oils that you know the gift recipient enjoys.
6. DIY Snow Globe
Handmade snow globes are as inexpensive to create as they are nice to look at. 
To make this holiday gift, you'll need clean jars with lids. You can either use recycled mason jars or purchase something unique. Just be sure to use a jar that has smooth, clear sides so you can see inside the jar. It helps if the jar comes with a well-fitting lid too. You'll also need distilled water, glycerin, tinsel glitter, water-resistant epoxy, sandpaper, and figurines. 
Think about what kind of scene you want to create in your custom snow globe when picking out your figurines. You can go simple and choose a Holiday theme like Christmas trees or a menorah, or you can choose something that is meaningful to the recipient, like an animal, a beach scene, or a landmark. Once you have your figurines, you'll want to use epoxy to glue the figurines to the lid. Rubbing sandpaper along the lid before gluing the figurines can help ensure a more secure attachment. 
Fill the jar with the distilled water, glycerin, and tinsel glitter, attach the lid, and voila, a homemade snow globe!
7. DIY Agate Coasters
For the gift recipient who is always entertaining, you can create custom agate coasters. Williams Sonoma sells a set of four agate coasters for $155, but using this DIY technique, you can make similar-looking coasters for a fraction of the cost! 
For this gift you'll need polymer clay, acrylic paint, gloss glaze, gold leaf paint, a rolling pin, and paintbrushes. To begin, take the polymer clay and create circular shapes that are about a quarter of an inch thick and three-and-a-half to four inches in diameter. Your dimensions don't need to be perfect because these coasters are designed to resemble agates found in nature.
Once you have your clay rolled out, put them in an oven preheated to 275 degrees for 15 minutes. Allow the clay to cool, and then begin painting the top and bottom of the coasters. You can create any design you would like, but for an agate-inspired look, you'll want to pick a primary color like blue, pink, purple, red, or green and use varied shades of that color on the coasters. You'll want to paint rings around the coaster, using one shade per ring until the entire coaster is filled in. You can add white in between the different shades of the primary color you've selected and also use water to create a watercolor effect and allow some of the shades to run together. 
Allow the paint to dry before adding a couple of coats of gloss glaze. Once the glaze dries, take the gold leaf paint and paint the edges of the coaster gold. Allow that to dry. And if you prefer, you can add some adhesive bumpers to the bottom of the coaster, but this is optional. Wrap up a set of four coasters with a ribbon and be prepared for a look of awe on the gift recipient's face, especially when they find out you made these yourself.
8. DIY Gift Box
If you're not feeling inspired to make a DIY gift but can't quite find a gift for a loved one, consider creating a DIY Gift Box. One of our favorite gift boxes to create are for those loved ones who love a little bit of pampering. Shop the dollar stores and clearance aisles to find bath salts, chocolates, a magazine, and even a fuzzy pair of socks or slippers. 
For movie lovers, consider a DIY Movie Lovers gift box by gifting a reusable popcorn bucket with some air-popped popcorn, chocolates, or even a gift card to a movie theater or to purchase a digital movie of their choice.
9. Stovetop Potpourri DIY Gift
It's beginning to smell a lot like Christmas! To fill your loved ones' homes with the scent of Holiday cheer, consider creating a customized DIY stovetop potpourri gift. 
To create a Christmas-scented potpourri gift, combine half a cup of fresh cranberries, one sliced orange, four cinnamon sticks, one tablespoon of cloves, and one-eighth teaspoon of nutmeg into a mason jar or other custom container. Once your recipient gets home, they can add the contents of the potpourri jar to a small pot with three cups of water and bring to a simmer on low heat, uncovered. 
It may benefit your gift recipient to add instructions to this gift as well, so consider cutting out a small square of cardstock, punching out a hole, and using festive ribbon to tie around the top of the jar. 
For other Holiday-inspired potpourri scents, check out sites like Pinterest. 
10. Kiss the Chef Gift Set
For your loved one who loves to cook, create a DIY kitchen apron monogrammed with iron-on transfer letters, throw in some wooden utensils and a blank recipe book, and *chef's kiss* you have a perfect gift.
11. Slippers Gift Set
During the Holiday season, you can often find a variety of slippers to choose from. And it makes sense, during the winter months, it's easy for your feet to get cold quickly. So why not pair some cozy slippers with relatable goodies like nail polish, candy, or lip balm? This gift may be particularly attractive to the pre-teens on your Holiday gift list. 
12. Instant Digital Download
Sometimes we do our best to find gifts for everyone on our list, only to discover we've forgotten someone. If you're in need of a last-minute gift, check out sites like Etsy, where you can buy an instantly-downloadable digital file of an image that you can print and put in a frame in a matter of a few hours. Have a Star Wars fan in your life? Buy a digital watercolor image of Luke Skywalker dueling Darth Vader, print it out, and pop that iconic image into a frame, and you've got a one-of-a-kind gift on your hands. 
13. Bath Bombs
For the bath lovers in your life, consider making custom bath bombs to help them relax and let the stress of the season fizz away. 
To make bath bombs, you'll need baking soda, Epsom salt, citric acid, olive oil, water, food coloring, essential oil, and silicone molds, or a muffin tin. 
Mix the dry ingredients in a large bowl and the wet ingredients in a small bowl. Then combine both mixtures together in the large bowl. This will create a damp sand mixture. Take that mixture and press it into your silicone molds or muffin tins. Make sure you really pack it down. Let your bath bombs dry overnight, and be sure they're completely dry before you try to pop them out.  
When you're ready to gift the bath bombs, place them in mason jars or shrink-wrap bags and tie on a cute ribbon as the final touch. 
14. Gold Leaf Papier-Mâché Bowls
These beautiful paper mache bowls can be used as jewelry dishes, a place to put your keys, spare change, or a beautiful item to add to your bookshelf. 
To make this gift, you'll need balloons, newspaper, mod podge, craft paint, and gold leaf paint.  
These bowls can be customized in size, not just what they look like, so to begin, inflate a balloon to your desired size and tie it closed. Cut newspaper into one-inch strips and use a foam brush to coat the newspaper with Mod Podge and adhere to the larger end of the balloon. Repeat this process until you create a bowl shape that is several layers thick in each location. Make sure to use a generous amount of Mod Podge to ensure proper adhesion.
Once you're done adding newspaper to your bowl, place the small end of the balloon in a cup to allow the newspaper-Mod Podge mixture to dry completely, waiting overnight if possible. Once the papier-mâché has dried, pop the balloon and gently peel it from your bowl. It's likely the top of your bowl is a little uneven, so carefully trim it so that all sides are approximately the same height. 
Now it's time to paint. Use a paintbrush to give your bowl an even base of color using acrylic paint. Allow the paint to dry for at least an hour. If you want to apply a pattern such as polka dots, you can place small circular stickers in even intervals on the inside or outside of the bowl and apply a second coat of paint. Let the paint dry, and if you applied stickers, carefully peel them off. Repeat until you are happy with the coverage and colors of your bowl.
15. DIY Ombre Kitchen Utensils
This is a great generic DIY gift to have on hand for any last-minute invites to Holiday parties. Buy some wooden kitchen utensils and use acrylic paint on the handles of the wooden utensils to create a custom, colorful look. 
16. DIY Marble Dipped Mug
For coffee lovers, create a custom marble-dipped mug using nail polish. These mugs are not microwave or dishwasher-safe, but they sure are pretty to look at, and the price isn't bad either. To make these mugs, you'll need white coffee mugs, nail polish, toothpicks, and a disposable or old Tupperware container. 
To make these mugs, fill your Tupperware container halfway with very hot water. The hotter, the better! Once the nail polish touches the water, it is going to want to set. Heat is one way we can slow the process. Take nail polish and pour a drop or two into the water. You want to get as close to the surface of the water as possible to keep the polish from sinking. Once you pour your polish into the water, use a toothpick to swirl the polish around in the water and quickly dip your mug in the water, bottom first. Be sure to allow some space near the top of the cup to allow polish-free sips. 
Once you are satisfied with the watercolor polish design on the mug, place your mug on a paper towel to dry overnight, placing the mug top down. If you prefer, you can use nail polish remover to take any excess polish off the bottom of the mug.
17. Photo book
Especially if you have little ones in your life, creating a custom photo book filled with memories over the last year is a heartwarming DIY gift that is sure to bring smiles to faces beyond the Holiday season. Some photobook companies offer sales during Cyber Monday and if you're lucky, you can even score a free photo book in some cases. 
If you don't have enough photos for a photo book, you can always pick a few good photos and turn them into photo magnets or even a customized calendar.
18. Mini Succulent Magnets
For the plant lover on your Holiday list, consider gifting them custom-made mini succulent magnets. You'll need glass vials, moss, artificial succulents, magnets, hot glue, and a glue gun. Using a pencil or tweezers, stuff the glass vial with moss, add the artificial succulents, and use a glue gun to secure magnets on the back. 
19. Agate Pendant
For the jewelry aficionado, why not create an agate slice pendant necklace? To create this gift, you can either purchase an agate slice with a pre-drilled hole or use polymer clay, acrylic paint, gold leaf paint, and gloss glaze, like we used to create the agate coasters, to create your own agate pendant slice. You'll also need a gold chain, gold jump ring, and jewelry pliers. 
If you buy an agate slice with a pre-drilled hole, you'll add the gold jump ring and string the gold chain through it, using the jewelry pliers to ensure a tight fit. If you make your own agate slice, follow the above steps for the agate coasters, making the agate slice slightly smaller and adding a hole for the chain. Wrap in a small velvet gift bag to really impress the recipient. 
20. Water Bead Stress Balls
For the loved one who is always stressed out, or perhaps your colleague who is always under pressure, consider making a DIY water bead stress ball. You'll need water beads, water and balloons for this gift. 
To make the stress balls, fill a bowl with water and let the water beads sit in the bowl for at least six hours. Drain any excess water out of the bowl and put the water beads into an empty water bottle either by hand or using a funnel. Genly place a balloon over the opening of the water bottle and squeeze the beads into the balloon. Once the beads are inside the balloon, carefully pull the balloon off the water bottle, let out the excess air, and tie the balloon. 
Are you making DIY Holiday gifts to save money this Holiday Season? Share your favorite budget-friendly DIY gifts with us in the comments below!