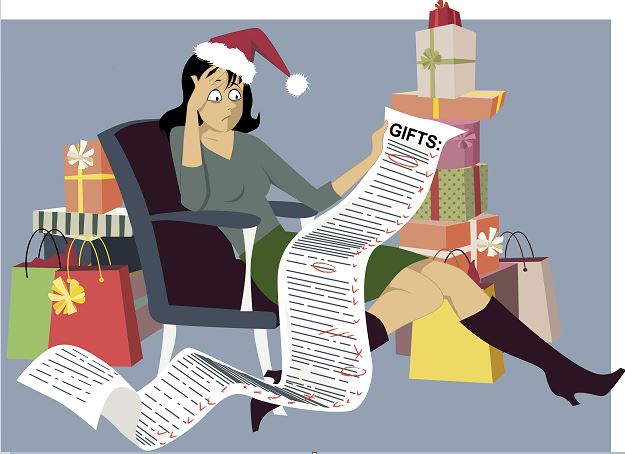 Gift giving is expensive. It's so expensive in fact, that a survey from OfferUp found that 24 percent of Americans consider holiday spending their most stressful one-time expense of the year!
The biggest holiday expense is typically the cost of gifts, with the average consumer predicted to spend upwards of $637.67 on gifts for family, friends, and coworkers.
Non-gift holiday items like food, decorations, flowers, and greeting cards are the second-largest spending category, with the average consumer spending $215.04 on those items alone. The third category – non-gift purchases – or "me" presents, will cost the average consumer $154.53.
While the NRF expects Holiday shopping sales to rise, many shoppers are looking for ways to save this Holiday season.
5 Money-Savings Ideas for Christmas Gifts & Presents
Below we share five ways to spread Holiday cheer, without starting the New Year off in debt.
1. Skip Gifts for Adults
While many of us enjoy gifting our friends and family with items we hope will bring cheer to their lives, the reality is many holiday gifts are returned, trashed or completely forgotten about. Especially if you have a large family, getting gifts for every person can be extremely expensive.
For families with children, the idea of celebrating the holidays without any gifts can be rather hard to swallow. So, consider scaling back on the number of gifts you give this year by only buying gifts for the kids.
2. Set a Spending Limit – And Stick to it!
Minimize your stress before you even get to the mall by creating a shopping list ahead of time. This way you'll be less likely to stray from your list and add items to your cart just because they're on sale.
If you're not sure what you want to get anyone on your list, come up with a mental budget for how much you are willing to spend total as well as how much you're willing to spend on each person. This will ensure you don't spend $50 on a gift too good to pass up for your brother and then blow your budget because you feel compelled to spend $50 on your other siblings too.
Tip: When setting your budget, don't forget to consider the cost of shipping packages to family and friends who live out of state.
3. Gift Exchange
Celebrating the holidays with close friends has increasingly become a tradition for many Americans. But buying 15 gifts for each of your friends is costly. Reduce the chaos by agreeing to a gift exchange or Secret Santa!
Draw names out of a hat so you only buy a gift for one of your friends. Come up with a gift limit amongst your friend group to ensure you're not spending more than you can afford.
Tip: Save money on gift wrap by purchasing wrapping paper, bows, and ribbons at your local dollar store. 
4. The Gift of Time
If you feel strongly about giving gifts to each of your family and friends, but are strapped for cash, consider giving the gift of time!
It's the gift that keeps on giving and can be done on a one-on-one basis such as taking someone out for coffee or buying them a membership to their local zoo.
You can also try to save money by buying gifts for an entire family by gifting tickets to an Escape Room or the local theater.
For more experience gifts ideas, check out this blog from Wellness Mama.
5. DIY Gifts
If you're creative or have access to Pinterest, you can find budget-friendly DIY versions of gifts you'd like to give your friends, family, and colleagues! Whether it be homemade cookies, soaps, candles, jewelry, household goods, blankets or pillows, you can make gifts for everyone on your list if you have the patience and time.
What are your favorite ways to save money on gifts during the Holidays? Share your best budget tips with us in the comments below!