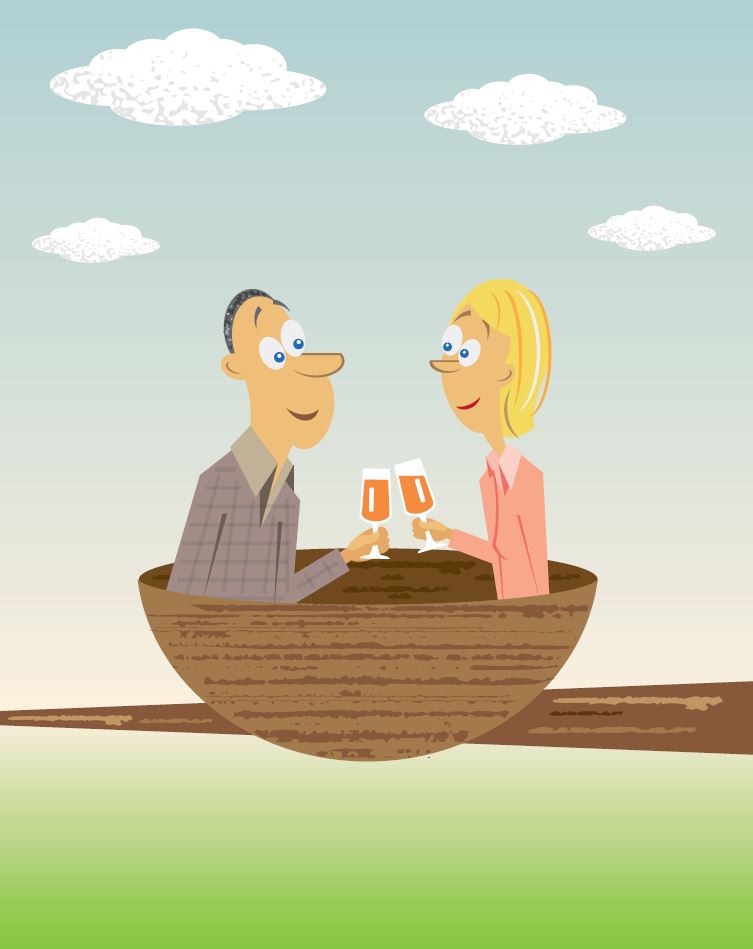 Kids moving out on their own is a monumental life event for everyone involved.
After so many years of being your child's primary caregiver in every sense of the word, they set off into the world, leaving literal and figurative empty spaces behind.
Once the dust has settled and the tears have dried, you may find that you now have a lot more time and money on your hands than you used to.
As with any other huge life event, this one comes with financial changes that you cannot ignore. Because this life change is happening while you are nearing retirement, it is crucial to your future that you take the right steps.
5 Downsizing Tips & Financial Advice for Empty Nesters
Keep reading to learn more about how to financially adjust when you become an empty nester. 
Re-evaluate Your Household Budget
An empty nest affects every aspect of your household budget, from grocery bills to utilities. Track your new expenses to see where you are spending less – there are plenty of apps to make this easy and accurate. Many empty nesters are surprised at how drastic the changes are once they take a look at their adjusted household expenditures.
However, some may find that their children still require a bit of financial help from time to time. If this is the case, be sure to add that to your expenses. Also, consider that if your children relocate far away, there will be newly added expenditures to go visit them, especially once they settle and begin families of their own.
A word of caution: In the past, empty nesters could rely on downsizing as a profitable avenue, this is no longer true. With the housing market still showing signs of weakness, you may not be able to sell your home as quickly or you may find that the costs would outweigh the benefits of selling.
Many empty nesters are excited to get involved in new hobbies that were previously unfeasible while raising children. While this is definitely a perk of having your children move out, it would be wise to do free or cheap things at the outset of this new life stage.
Research shows that empty nesters who dive into expensive hobbies will eventually find themselves in financial trouble. It's natural to want to splurge on yourself after all those years of caring for your children, but the years before retirement are the time to ensure that you've done as much as possible for your future.
Before you have a chance to get used to having extra money on hand, turn any newly freed-up funds toward high-interest debt. This is a great time to free yourself from debt from credit cards, personal loans or other financial liabilities that will keep you from thoroughly enjoying having more money on hand, especially since you're nearing retirement.
When it comes down to it, most empty nesters find themselves with the conundrum of spending or saving. What you decide to do will determine the quality of life in your golden years. The Center for Retirement Research (CRR) published a study in 2015 that concluded that retirees who decided to save instead of spend had a more modest retirement target to achieve than those who spent the money previously allocated to their children on themselves.
Turn your attention to your retirement and health care needs
Studies show that most Americans aren't saving enough for retirement. Chances are good that your retirement savings could benefit from a boost. Once you have freed yourself from high-interest debt, catch-up with your retirement account. It may not be as much fun as spending, but you will thank yourself later.
Reconsider your insurance and healthcare needs
Chances are, you are still carrying the insurance policy that needed to support your family when your children were at home, along with the cost of the premiums for that kind of protection. Now that your children are grown and out of the house, you can simplify your coverage and remove your children as dependents on your life insurance policy.
This is also the time to begin considering your long-term health care needs. Long-term care insurance is not covered by Medicare. It is not a pleasant thing to think about, but is a hard reality, as people are living longer. The younger you are when you purchase coverage, the less your premiums will be, plus the more options you can explore.
Make Sure the Financial Cord is Cut
While it's hard to financially cut off your children, they need to learn to survive on their own, and you need to look out for your own financial future. Financially supporting an adult child only hurts you both; the more money you send them for daily living expenses, the less money you are able to save for retirement, which may make your children financially responsible for your care toward the end of your life.
However, that doesn't mean you can't lend a hand. You can still help with occasional expenditures, like some college expenses and apartment deposits, and still, keep on track for your own goals. However gradual the adjustment, the point is to make sure that there's a deadline on regular financial support.
Some empty nesters may find themselves in a boomerang situation, where their adult children return home after being on their own for a time. It is not an ideal situation for anyone, but if your children need to return to the nest, they will at least be able to pull more of the financial weight in the household after earning an education or getting some experience in the workplace.
You will always worry about the well-being of your children, financially and otherwise, but don't forget to take care of yourself as well.