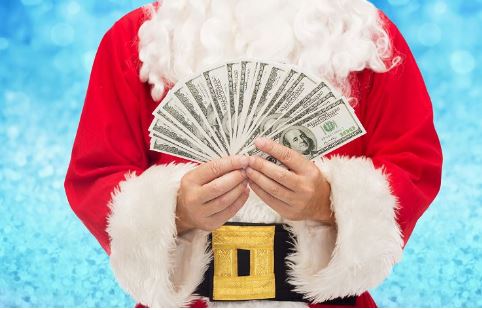 Personal finance experts recommend consumers start saving money in June specifically to buy Christmas presents. The idea is that by putting away $20 to $50 per week starting in June, you would have around $1,000 saved come December to buy gifts for family and friends without going deep into credit card debt.
If you didn't start saving for Holiday expenses early on and are at a loss for how you'll pay for gifts this Holiday season, check out the below list of side hustles! While these part-time jobs may not make you millions overnight, you'll be one step closer to celebrating a debt-free holiday.
How to Make Quick Cash for Christmas & The Holidays
Personal Shopping
The Winter Holidays are a busy time of year – and one of the biggest stressors for many people is finding the time to go shopping. Whether it's shopping for Christmas presents, groceries or running errands, you can earn extra money advertising your services for free on sites like Facebook Marketplace, Craigslist or via word of mouth. If you would rather work for an organization, Instacart Shopper pays shoppers up to $20 per hour to shop for and deliver groceries to customers.
Take Surveys
Taking surveys online is not a get-rich-quick scheme, nor is it necessarily quick; but if you are willing to take a survey or two while you're watching TV or waiting at the doctor's office, you can earn a few extra dollars to go toward your Holiday expenses.
Here are some survey sites to get you started:
This site pays you cash via PayPal or lets you redeem rewards for Amazon gift cards.
This site pays $3 per survey and you can choose between PayPal, Amazon or restaurant gift cards for your payment.
Earn money for taking surveys, watching TV, or making purchases online. Get $5 just for signing up.
Deliver Meals
Schedules can get rather hectic around the Holiday season. As a result, more people order takeout instead of cooking at home. You can make some good money delivering meals around the Holidays by working for Uber Eats or DoorDash. Even if you don't have a car, you can deliver meals! If the weather permits, you can use a scooter, motorcycle, or even a bicycle.
Become a Virtual Assistant
A virtual assistant or VA helps people with tasks – from social media and email management to data entry, scheduling meetings and invoicing clients. VA's also help out with online research and blog management. A new VA can earn between $15 and $20 per hour, while more experienced VA's can earn $30 or more per hour.
Rent Out Your Car
If you don't use your car daily and you're comfortable with strangers driving your car, you can rent out your vehicle! Some peer-to-peer sites like Turo, which you can use to rent out your car if it has less than 130,000 miles and is less than 12 years old, will even handle all of the administrative aspects of renting out your vehicle and will provide insurance equal to the cash value of your car. Make sure to check with your own car insurance company first to ensure damages would be covered in the event of an accident.
House Sitter
The Holiday season is also a busy travel time for many Americans. If you don't have travel plans yourself this Holiday season and would like to earn extra cash or experience a change of scenery, consider taking care of someone's home while they are away. Advertise your services on Facebook Marketplace, use word of mouth, or try creating a profile on HouseSitter.com to start getting clients.
Run Errands
Running to the Post Office during the Holidays can be a headache and time-consuming. Offer to run errands, like mailing Holiday packages for Auntie Becky in Florida or Uncle Jesse in Denver, to earn some extra cash.
Babysitting
With a plethora of holiday parties, December is a busy time of year and the demand for babysitters is high. Advertise your services on sites like Sitter.com, so parents can do a background check and verify your experience with references.
Hang Christmas Lights
Many people like to go big when it comes to Christmas decorations, but some people are not physically able to hang decorations outside of their home. If you enjoy hanging up Christmas lights, post an ad on Facebook Marketplace or via word of mouth that you're happy to decorate yards in your community in exchange for a little extra money.
Sell something on Etsy
Are you skilled at arts and crafts? Do you make one-of-a-kind Christmas or Hanukah gifts? Sell your items on Etsy!
Wrap presents
Many people get frustrated when it comes time to wrapping presents and others don't really know how to properly wrap a gift. Retailers typically offer gift-wrapping services, but they can be expensive – $5 and more per item. Offer a slight discount compared to the retailers' prices and you could have yourself a Holiday gift wrap service. 
Bake
What's better than a homemade Christmas cookie? A homemade Christmas cookie that earns you cash! Sell your baked goodies for office parties, Holiday parties, gifts and more! 
Clean Homes
The chaos of the Holiday season means that many people fall behind on household chores. Others may need some extra hands to clean their home before and/or after hosting a Holiday party in their home. If you don't mind vacuuming, dusting and sweeping, offer to clean homes in your neighborhood. 
Shovel Snow
If you live in a part of the country where the snow has carpeted the ground, and you are physically able to lift heavy items, advertise snow removal services! Even if you don't have a plow on your vehicle, many elderly homeowners need help removing snow from their sidewalks and around their mailboxes. 
Work at Holiday Parties
Do you have experience as a bartender? Cocktail waitress? DJ? Valet? Consider using your skills at a Holiday party or two to earn some extra cash.