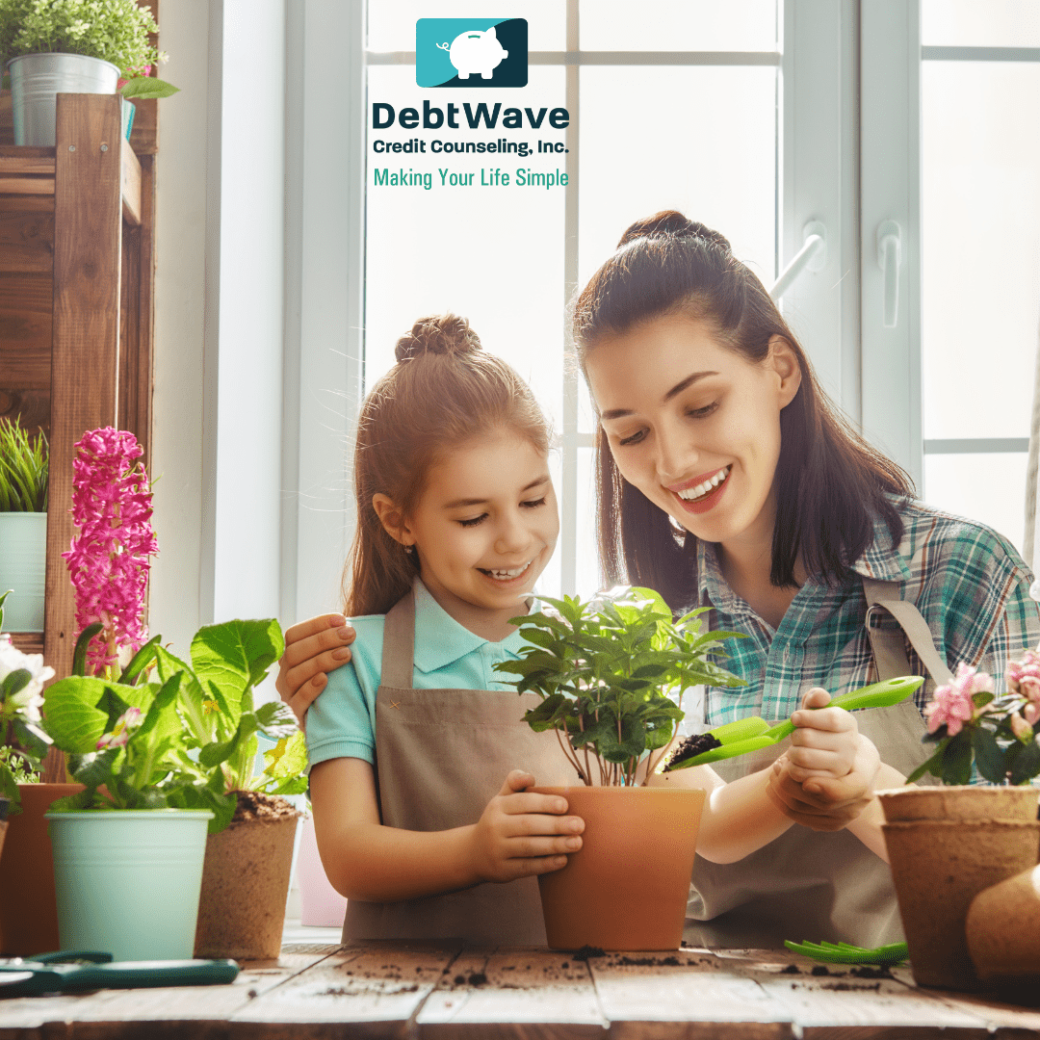 The snow is melting, the sun is shining, and the tulips are blooming. This can only mean one thing: Spring is officially here. After months of cold-wintry weather, you may be itching to go outside, try something new, and create memories with your family and friends.
But if you're on a debt-free journey, working hard to pay off high-interest credit card debt, you may feel stuck regarding how to have fun without taking on more debt.
Rest assured, we've come up with 50 Springtime budget-friendly, family-fun ideas that will allow you to experience the best of Spring without adding more financial stress to your budget.
50 Budget-Friendly Springtime Family Fun Ideas
1. Water Balloon Fight
Water balloons are something that keeps all ages entertained. For older kids or some adult fun, consider having a water balloon fight! If you get the kids involved, you could make it a battle between kids vs parents. For younger kids, have them throw the balloons on the ground and watch the water splash! Make sure to pick up all of the balloon scraps so that little ones and animals don't ingest the balloon remanents by accident. 
2. Visit a Farmer's Market
In some parts of the country, farmers' markets are a year-round event. But for some portions of the country, Spring means the return of farmer's markets. We love farmer's markets because they allow you to get outside and buy locally grown produce and flowers, as well as eat some delicious cuisine. But if you don't want to spend any money, you can always walk around, enjoy the scenery, and make a mental note of what you may want to come back and buy at a later date. Another tip: Some farmer's markets offer free samples!
3. Paint Rocks
Head outdoors and collect rocks for you and your kids to paint. They can paint unique designs or even kind words on the rocks before hiding them around the yard, your neighborhood, or even leave the rocks on a friend's doorstep to bring some cheer to loved ones!
To get the best results with painting rocks, take the time to wash and dry the rocks before applying any paint. The second step then is to apply a sealer to the rocks, which allows acrylic paint or paint markers to stick to the rocks a lot better. After your art dries, spray another coat of sealer, and voila! You have uniquely painted rocks. Although a spray sealer, acrylic paint, and/or paint markets stick to the rocks the best, no worries if you don't have the materials and don't want to shell out any money to buy them. You can make do with what you have; they are just rocks, after all!
4. Go Fishing
Did you know that fishing is fastly becoming a number one recreational activity enjoyed by families of all ages and sizes? Find a nearby lake, pond, ocean boardwalk, or river, and spend the day fishing with your family! If you already have fishing gear, then this could be practically free. Check with your local Department of Natural Resources for any fishing permit requirements. And if you don't have any fishing gear, consider heading out to a local spot that offers rental fishing equipment, including bait. 
Depending on your luck and local fishing laws, whatever you catch could also turn into dinner.
5. Baseball Games
Spring is the start of the major league baseball season, but you don't need to attend an MLB game to enjoy the sport! If it's better aligned with your budget, consider supporting your local high school team or a minor league team in your area. Tickets won't be as expensive, which means you could probably afford to treat your family to some yummy food at the park's concession stand.
6. Berry Picking
Are you a fan of berries? Instead of picking up a tub of berries at the local grocery store, why not consider picking your own berries at a local berry farm! Strawberry picking typically runs from early March to late June. Spring is also when wild blackberries and raspberries are ready for harvest. And picking your own berries could mean saving money in addition to having memorable fun.
7. Sidewalk Chalk Contest
Bust out the sidewalk chalk and color your very best mural on the driveway!  Your family can vote on their favorite design or work together to create a beautiful masterpiece. If you don't want to have a chalk competition, you can create beautiful images or inspirational images for passersby to enjoy.
8. Go for a Bike Ride
Biking is often a family-favorite activity that allows you to get outside and enjoy the fresh air while getting in some exercise. If your kids are old enough, consider getting on your bikes and exploring your area by heading out on a new bike trail. Maybe bike to a new park or playground. If you have younger kids, there are various bike attachments you can add to safely and securely take the whole family biking. If you don't own bikes, there are likely bike rental locations in your local area you can take advantage of, saving you the cost of buying the entire family new bikes. 
9. Skating Around
Is biking not your thing? Do you prefer to skate instead? Perhaps you've got roller skates, rollerblades, a skateboard, a scooter, or one of those Flinstone-style cars for your toddlers? 
Let the kids zoom around the driveway or the sidewalk and make an afternoon of skating around in the Spring sunshine.
10. Feed the Ducks
Especially if you have small children, feeding the wild ducks can be a fun, memorable activity that brings lots of smiles. Wild ducks often hang out near pounds and walking trails, but make sure to follow any local ordinances that prohibit feeding the ducks in certain locations. Also, be mindful of what you're feeding the wild ducks. You'll want to avoid bread and crackers as they can be harmful to the animals. Instead, feed the ducks cracked corn, oats, rice, birdseed, frozen peas, chopped lettuce, or sliced grapes.
11. Bird Watching
If feeding the birds is not allowed in your area, consider bird watching. One way to make this activity more interesting for little ones is to remind them that birds are descendants of dinosaurs. Plus, Spring is often when many birds are migrating, meaning you have the opportunity to see hundreds of species of birds in your local area. If you're new to bird watching, the Merlin Bird ID and Audobon Birds both have free apps that can help you get started and understand what kind of birds you can see.
12. Play in an April Rain Shower
Grab some rainboots and raincoats, or if you don't have those, grab the kids' oldest shoes and outfits that you don't mind mud getting on, and get outside while the April showers are falling. Splash in the puddles. Catch raindrops on your tongue. Look up and watch the raindrops as they fall. Close your eyes and listen to the sound the rain makes as it hits the ground.
When you are all done, go inside the house, get dried off, and warm up with some homemade hot cocoa. If your kids are interested in what makes rain clouds and rain possible, consider reading a book about rain, clouds, and weather. 
13. Plant an Herb or Vegetable Garden
Although this isn't 100 percent free, planting an herb or small vegetable garden can save you money on groceries depending on the success of your harvest. Even if you don't have a large plot of land to plant a garden, many herbs and vegetables can thrive by growing in a pot, including tomatoes and lettuce. Plus, rumor has it that picky eaters are more likely to try foods that they grew themselves.
14. Plant Flowers
Spring is the perfect time to plant flowers. Visit your local plant nursery to find what grows best in your area, or take a chance and sprinkle a packet of wildflower mix in an area of your yard or a plant container and see if any bloom.
15. Search for Wild Spring Flowers
If you don't have a green thumb and would rather seek out flowers in the wild rather than plant your own, consider going on a wild spring flower hunt. Take a walk through your neighborhood or a nearby park and see if you can find a daffodil, a pansy, or a tulip blooming in the wild. If you live near the desert, consider visiting the desert wildflower blooms. Resist the urge to pick any of these flowers so that others can enjoy them too.
16. Blow Bubbles
Bubbles are fun to play with and simple to make. Of course, if you don't want to mess with making your own, the premade bubble solution is pretty inexpensive. And if your kids really enjoy bubbles, it may make sense to invest in some no-spill bubble containers with wands. Or some large rope to create giant bubbles that your kids can chase around the yard.
17. Go Backyard Camping 
Find a local camping spot, or set up a tent in your backyard to enjoy the fresh spring weather. If you don't want to spend the full night outside, or if you have little ones who can't quite handle the cold, you can always set up a tent and read bedtime stories and roast smores outside before heading inside to sleep. For older kids or areas where the weather is a little warmer, consider spending the night outside – you can even add an inflatable mattress to make sleeping on the ground a little more tolerable. 
18. Go Kayaking or Canoeing
The ice has thawed, but the water may not be warm enough for tubing or water skiing quite yet. But the warm sunshine glistening on the water may have you craving a day out on the lake, river, or ocean bay. Chances are there's a nearby state or local park or even a boat rental spot that will rent out kayaks or canoes by the hour. They'll also have lifejackets available too, allowing you to safely enjoy a day on the water.
19. Fly a Kite
One family favorite spring activity is to go fly a kite! Take a kite out to a wide-open area and let your kids run around with them. Kites are available in a variety of shapes, sizes, and colors, and the windy spring air is the perfect opportunity to fly a kite high in the sky. 
20. Spring Break Staycation 
When the kids are out of school for Spring Break, the temptation to travel somewhere warm, new, and exciting can feel gargantuan. But when you have high-interest credit card debt, the thought of adding to the debt for a week of fun in the sun doesn't sound all that relaxing after all. To make the best of both worlds, consider a Spring Break staycation! Check out our blog for 20 budget-friendly staycation ideas here. 
21. Have a Picnic
Having a picnic can be a great way to get family, friends, kids, and others together. If each person brings something, this can be a cost-effective and fun way to enjoy some good food and good company. You can pick up some deli meats, cheese, fruit, salads, and bread from a local deli or buy some yummy appetizers from a local restaurant, or even pick up food from a fast food restaurant as a treat for your kids. To add to the springtime fun, you can plan your picnic after a day of hiking, biking, canoeing, flying a kite, or a day at the playground. 
22. Take Out the Sports Equipment
Is your garage filled with sports equipment that you put away for winter? Well, now that it's Spring, it's time to take it all out. If you have an outdoor basketball hoop, set it up and play a game of HORSE or shoot some hoops. Throw a frisbee or baseball around. Pass around a soccer ball, play some volleyball, spikeball, badminton, or cornhole.
23. Celebrate Earth Day
April 22nd is Earth Day. Many communities often have free celebrations and activities for kids. If there aren't any Earth Day activities in your area, you can still celebrate Mother Nature with a local Cherry Blossom, tulip, or another nature-inspired festival during the Spring.
24. Participate in a Community Clean-Up Day
Does your community throw a family clean-up day? If it does, see if your family can volunteer together to rake parks, replant community flower beds, pick up trash at the beach, or whatever help they need. Volunteering helps little ones feel more connected to the greater community and it always feels good to give back.
25. Find a free (or inexpensive) Museum
Some museums offer free or reduced admission during the Spring before the busy summer season kicks in. Check out local museum discounts in your area for a list of free and cheap museum admission costs.
26. Go on a Hike
Being outdoors and walking around feels so good for the soul! Find a park with some trails and just surround yourself with nature for a while.
27. Spring Coloring Sheets
Google and Pinterest often have free Spring-themed coloring sheets you can print out. Gather some coloring supplies (crayons, markers, colored pencils, gel pens) and sit down with your kids at the table and color together. 
28. Go to a Soccer Game
Spring means soccer is back! If you don't want to pay to attend a major league soccer game, consider checking out the local college or high school varsity teams games in your area.
29. Spring-Themed Scavenger Hunt
There are many forms of scavenger hunts. You can make a list of things to find in your local park, such as a pinecone, oak leaf, or wildflowers, or have a Spring-themed Easter egg scavenger hunt. There are often community Easter egg hunts you can participate in or you can host your own and invite family and friends over if you'd like to spread the joy. If you opt to have your own Easter egg hunt, prepare colorful plastic eggs by filling them with small toys, candy, or numbers that correspond to bigger prizes like stuffed animals, chocolate bunnies, or gift certificates. 
30. Celebrate April Fool's Days With A Few Harmless Pranks
Are you a prankster? Do your kids enjoy playing harmless jokes on you and your spouse or close family and friends? Check out some harmless prank ideas on Google and Pinterest, or consider renting a joke book from the library to read on April Fool's Day.
31. Teach The Kids Hopscotch
Did you buy some sidewalk chalk to create a beautiful mural but still have leftovers? Consider creating a hopscotch grid using the sidewalk chalk and teach your kids how to play this free and fun outdoor game.
32. Have a Jump Rope Contest
Are your kids bouncing off the walls after staying inside during much of the winter? Why not challenge them to a Spring jump rope contest? You can vary the rules of the contest based on your kids' abilities, such as who can jump the longest or who can jump the fastest.
33. Hulu Hoop Contest
All you really need for this is one hula hoop and the timer on your smartphone. Have your kids take turns seeing who can hula hoop the longest. For an added challenge for those who are skilled at hula-hooping, have them try to clap their hands above their head while hula-hooping. And to make it even more difficult, clap your hands while spinning around in a circle while hula-hooping. Whoever can keep going the longest wins.
34. Playground Hop
Using Google maps or a similar app, find all the age-appropriate public playgrounds in your area. Make a list of the ones you want to check out, or list all of them on a piece of paper and hang it on the fridge. Every day that the sun is shining and your kids are begging to go play at the park, pick a park from the list and check it out. You can invite friends along or make a day out of it by having a picnic at the park too!
35. Spring Science Experiments
Kid-friendly science experiments are fun year-round, but in the Spring, you can choose to focus on Spring-related science experiments such as how caterpillars turn into butterflies, creating watercolor coffee filter butterflies and flowers, learning how plants, flowers, and vegetables grow, and so much more. For age-appropriate Spring-themed science experiments, check out Pinterest and Google.
36. Cloud Gaze
This activity is particularly great for kids who are daydreamers and more on the creative side. Grab a blanket and lay it out on the grass in your backyard or at a park on a day when the sky is a mix of cloud and sun and watch the clouds roll by. Ask the kids what they see in the clouds. What does the shape of each one remind them of? Does it look like a dog wearing a bow tie? A dolphin wearing a sun hat? There are no wrong answers in this free activity!
37. Host a Potluck
Invite your friends and family over for a potluck-themed Spring dinner. Ask your guests to bring their favorite Spring-inspired appetizer or dessert while you provide the drinks and main course for an inexpensive and fun night in. 
38. Game Night
On one of those rainy Spring days, why not host an indoor game night? This can be an activity you include family and friends in or something you do as a solo family. Board games, video games, charades, and the floor is lava are all fun options to consider for a night of entertainment.
39. Free Classes at the Library
Local libraries often offer classes for free that vary from education-based informational classes to how-to-hobby classes, they even offer free classes and events for children ranging from magic shows to demonstrations featuring exotic animals. 
40. Bake Something New
Find a fun recipe and bake something that you've never made before! For example, you can make sourdough bread and use food-based paint to put spring flowers and rainbows on the bread or try a spring-inspired recipe like lavender lemon cookies. Include your children in this activity so that they can not only spend quality time together with you but they'll get to experience baking in the kitchen as well as pick up some science and math skills. To make this activity even sweeter, package up part of what you made and drop it at a friend or loved one's house!
41. Paint a Picture
Pull up your favorite Spring wildflower scene or rainy day picture and try to recreate it for yourself! Sketch it out first, and then once you're satisfied with the outline, add some paint to your picture.
42. Attend a Home Depot Workshop
Home Depot hosts workshops every weekend, some for adults, while others are designed specifically for kids! Check your local Home Depot for a schedule of events, which may include free kids' events.
43. Visit a Splashpad
On a warmer Spring Day, consider heading to a splashpad! Splashpads are free parks that offer a variety of fountains, sprinklers, and water-based toys for children to enjoy. For younger children, a splashpad is a perfect way to cool down and burn off some energy. If you don't have a splashpad in your area, you can always buy one, attach your garden hose to it, and let your kids go wild in the backyard.
44. Watch the Stars
Stargazing is not only relaxing, it can be a great opportunity to get your children interested in science and help them see the vastness of our universe. If the light pollution in your area makes it difficult to see the nighttime stars, consider checking out a local planetarium. By attending a planetarium star show, you'll learn more about the constellations and what's happening in the skies in your neighborhood.
45. Dine Outdoors
One of the best ways to enjoy the warmer weather is to dine al fresco. Set up your backyard patio early this Spring so you can serve lunch or dinners outside. Consider using some blankets to keep yourself warm or a heat lamp if you have one. If it's too cold to enjoy a full meal outdoors, consider having hot cocoa or smores for dessert outside.
46. Spring-Inspired Crafts
For kids who love arts and crafts, consider checking out Pinterest and Google for Spring-inspired arts and crafts projects. For example, you can dye some easter eggs and make Passover cards for family and friends. Another popular Spring craft idea is to make a wooden birdhouse, have your kids custom paint it, and wait for the birds to arrive in your yard. 
47. Spring-Themed Puzzle
Puzzles come in all shapes and sizes and designs. See if you can find a Spring-inspired design and work together as a family to put the puzzle together. If you choose a puzzle with a design that looks like art, you can always frame the finished puzzle and hang it on your wall. Or dismantle the puzzle once you finish and put it away for next Spring. 
48. Spring-Themed Movie Night
Even if you don't pay for a single steaming service, it's likely you can find a family-friendly spring movie on a free streaming site such as Tubi, Peakcock, or Freevee. You can also check out a list of Spring-inspired movies on Google and rent your favorites from your local library. During your movie night, make a bowl of freshly popped popcorn and some fresh lemonade, and you will still spend much less than you would for a movie night at the local movie theater.
49. Host A Spring Tea Party
Imaginary tea parties are a favorite activity for many preschoolers. Why not surprise them with a real tea party? Use what you have to create a fancy spread of snacks, teas, and lemonades. You can even use Spring-inspired cookie cutters to cut out bite-sized tea sandwiches. Check out Pinterest for a list of recipes for tea party goodies like cucumber-cream cheese sandwiches, macarons, and some kid-approved teas.
50. Hold A Spa Day For Your Feet
Spring means it's practically flip-flops and sandals season. Are your feet ready after a long winter? If not, consider an at-home spa day for your feet. Grab a bag of Epsom salts and some bubbles. No worries if you don't have an at-home foot bath. You can use dishpans or have everyone sit on the side of the bathtub and soak their feet. Follow up with foot lotion and a bottle of dollar store nail polish to complete the look.
What are your favorite budget-friendly Springtime activities? Share with us in the comments below!