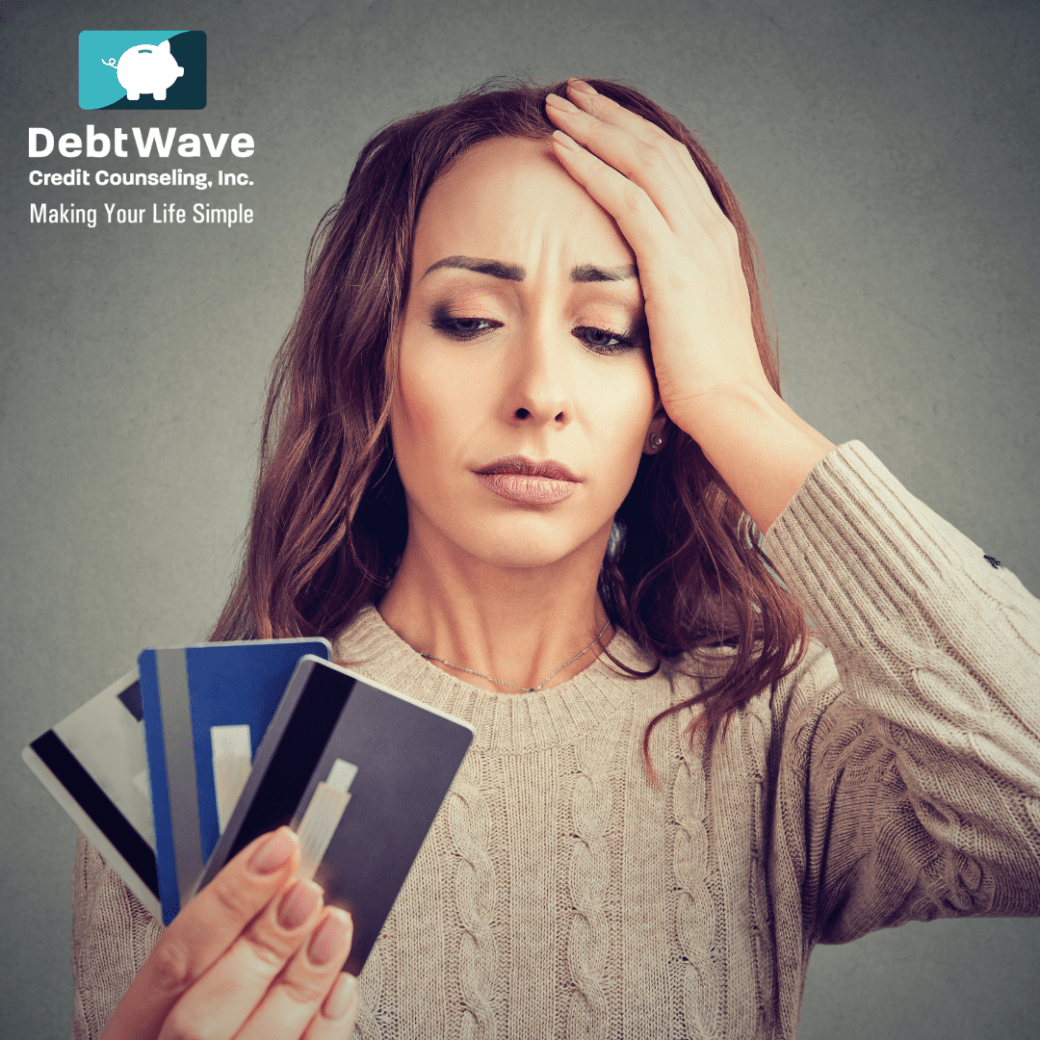 If you found yourself struggling to pay off your credit cards in full at the end of 2022 and into the first few months of 2023, you're not alone.
Between inflation and rising interest rates, a majority of Americans have found themselves leaning on credit cards to make ends meet, especially to pay for necessary items such as food, gas, and rent. As a result, total credit card debt in the United States has reached a record high. 
As of the fourth quarter of 2022, the total outstanding balance on credit cards reached $986 billion, according to consumer debt data from the Federal Reserve Bank of New York. 
To put that $986 billion debt number in perspective, it's the highest amount of credit card debt on record since the New York Fed began tracking Americans' outstanding credit card debt in 1999. It also shows a $61 billion increase in credit card debt from the third quarter of 2022 to the fourth quarter, which set a record for the largest quarterly increase in the history of the New York Fed's report.
This puts credit card debt at the end of 2022 nearly 20 percent higher than it was at the end of 2021, according to the latest quarterly report by TransUnion.
According to Lending Tree, the national average credit card debt as of December 2022 was around $7,279 per person. That includes debt from bank cards and retail credit cards. In other words, a majority of Americans are dealing with thousands of dollars of debt, much more than they had in early 2022. According to data from Experian, the average American had $5,589 in credit card debt in Q1 2022.
This debt does not include mortgages, auto loans, and student loans, which are also rising.
To make paying off this credit card debt even more complicated, interest rates are climbing with no clear end in sight.
At the end of 2022, the average credit card interest rate was 20 percent. Given that the Federal Reserve is likely to continue to raise interest rates to combat inflation, that number is expected to increase, making it even harder for Americans to pay off credit card debt as more and more of their payment will likely go toward interest payments and not their principal debt.
Already in the first quarter of 2023, the average interest rate for new credit card offers averages around 23.55 percent, which is the highest rate Lending Tree has seen since they started tracking monthly interest rates in 2019.
The growing number of Americans with debt, plus the growing debt balances, have caught the attention of many, including the credit bureaus and credit card companies. 
"Whether it's shopping for a new car or buying eggs in the grocery store, consumers continue to be impacted in ways big and small by both high inflation and the interest rate hikes implemented by the Federal Reserve," said Michele Raneri, vice president of U.S. research and consulting at TransUnion.
US Kicks Off 2023 with Record-High Credit Card Debt
Many Americans have credit card debt, and there's no shame in having racked up credit card debt balances in the past. However, a January 2023 Bankrate survey of 2,458 U.S. adults found that 35 percent of Americans carry credit card debt from month to month, an increase of 6 percent from 2022. Credit experts cite too much of a focus on earning credit card rewards rather than controlling and paying off debt as a factor for this shift.
Additionally, the Bankrate survey found 43 percent of Americans don't know the interest rate they're being charged on their credit card debt. When the average credit card interest rate is nearly 20 percent, that can be a costly mistake.
Similarly, a November 2022 LendingTree survey found that just 35 percent of cardholders say they always pay their credit card balance in full every month, while 65 percent say they carry a balance at least some of the time. Nearly half (46 percent) of cardholders with card debt say it would take them at least a year to pay it off.
Credit Card Debt State-by-State
According to LendingTree data, credit cardholders in Connecticut have the highest average credit card debt of any state, while those in Kentucky have the lowest. Connecticut cardholders owe an average of $9,408, while those in Kentucky owe an average of $5,408. That means the average Connecticut balance is 74.0 percent higher than the average balance in Kentucky.
Another interesting observation from LendingTree's debt data found that the four states with the highest debt are in the Northeast, while three of the four with the lowest are in the South. Additionally, LendingTree found that 25 of the 50 states saw their average credit card debt grow by 10 percent or more during the last year, while two states' average debt grew by more than 20 percent — Mississippi at 25.2 percent and North Dakota at 24.4 percent. 
Some good news for Colorado, California, and Virginia residents – the average credit card debt actually decreased. Colorado residents saw a 0.3 percent decline, California residents saw a 1.7 percent decline, and those in Virginia experienced a 2.5 percent decrease in credit card debt averages.
How does your state's average credit card debt load compare?
Connecticut | $9,408

New York | $9,165

New Jersey | $9,044

Rhode Island | $8,728

Texas | $8,701

Florida | $8,573

Hawaii | $8,556

Maryland | $8,463

Massachusetts | $8,405

Alaska | $8,185

Colorado | $8,011

Delaware | $7,993

Nevada | $7,905

Georgia | $7,790

California | $7,758

Illinois | $7,756

North Dakota | $7,714

Virginia | $7,663

Maine | $7,518

Utah | $7,489

New Hampshire | $7,415

Vermont | $7,368

Washington | $7,365

Minnesota | $7,217

Arizona | $7,213

Wyoming | $7,098

South Carolina | $7,063

North Carolina | $6,955

Nebraska | $6,900

Kansas | $6,762

Michigan | $6,744

Oregon | $6,682

Pennsylvania | $6,620

Missouri | $6,599

Louisiana | $6,475

Alabama | $6,453

Oklahoma | $6,401

Ohio | $6,394

South Dakota | $6,367

New Mexico | $6,355

Iowa | $6,315

Tennessee | $6,240

Montana | $6,160

Arkansas | $6,117

Wisconsin | $6,090

Idaho | $6,073

Mississippi | $6,035

West Virginia | $6,008

Indiana | $5,642

Kentucky | $5,408
Help with Credit Card Debt
"If you struggle with personal finance and serious debt, it can be hard to make the minimum required payments and can lead to bad credit. In that case, you may want to consider credit counseling to learn more about debt relief options," according to a recommendation from Discover.
Credit counseling is a free service offered by nonprofit credit counseling service providers like DebtWave Credit Counseling. Credit counseling is designed to help consumers of all financial backgrounds avoid bankruptcy and stop living paycheck-to-paycheck.
When you call DebtWave Credit Counseling, Inc. for a free credit counseling session, you'll speak one-on-one with a certified credit counselor about your finances for about 60 minutes.
At DebtWave Credit Counseling, Inc., our team of certified credit counselors focus not only on helping you get out of debt, we teach you how to properly manage your finances, reducing the likelihood you fall into debt again.
In addition to our debt management program, our community outreach team, D.B.A. the San Diego Financial Literacy Center, provides free educational workshops to youth, military, and low-to-moderate income families.