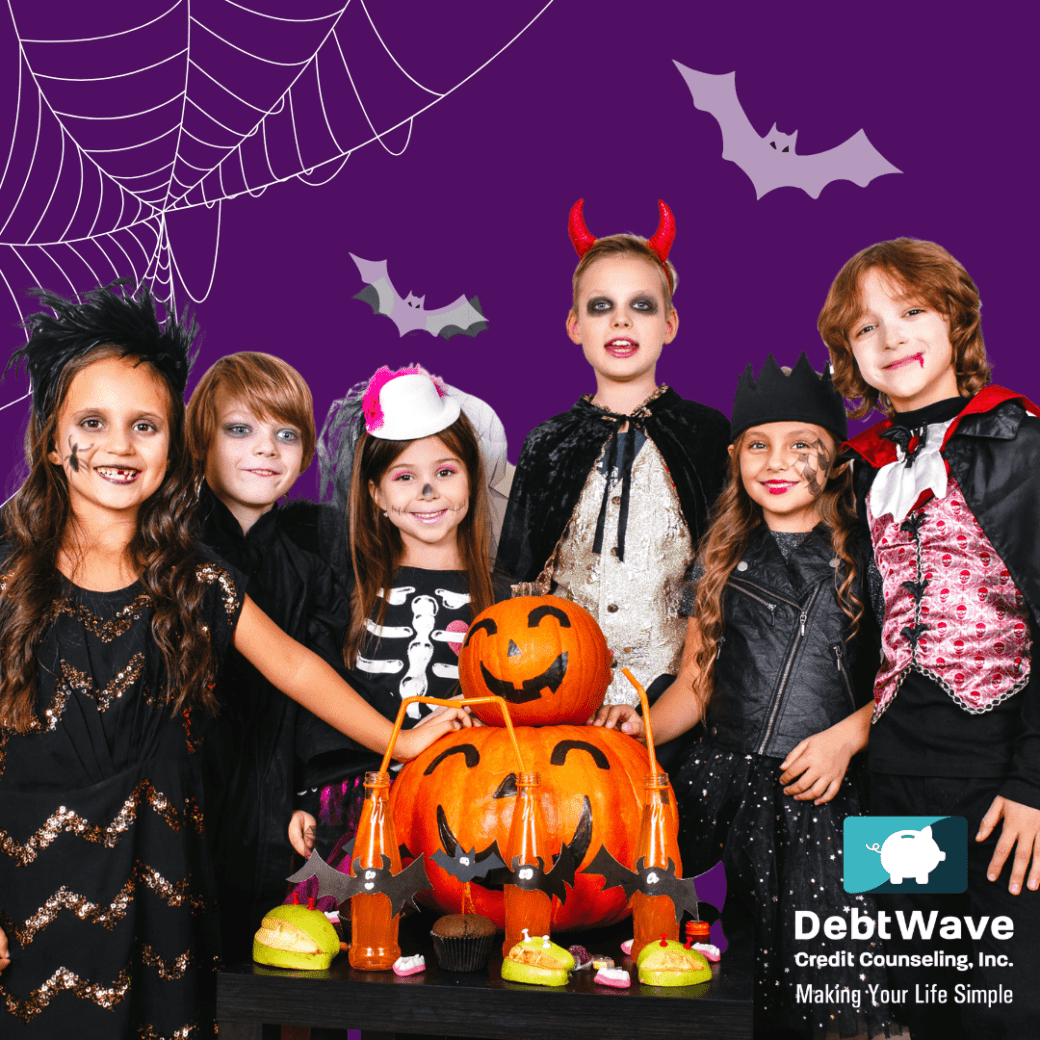 Trick-or-treating used to be synonymous with Halloween. But in the past few years, the number of kids trick-or-treating seems to be at an all-time low for various health and safety reasons. 
To protect young ones, some cities even enforce curfews when trick-or-treating can occur. The idea is to ensure that little ones are home and off the streets before it gets too dark. Plus, the weather is a factor for many trick-or-treaters depending on where you live. It can be snowing, rainy, or hot and humid, all of which can make the entire experience miserable, not just for young ones but for parents as well.
To keep the spooktacular season alive, some parents increasingly turn to Halloween events at malls or even organized trick-or-trunk events where young ones go car to car in a roped-off parking lot looking for goodies while dressed up in their costumes. While this can be enjoyable for young ones, it can be a less-than-ideal experience for kids over the age of 5, not to mention it can be stressful for parents.
Enter Halloween parties. 
Whether you have toddlers, tweens, or teens, Halloween parties are a great alternative to trick-or-treating that allows you to enjoy a night of safe food, games, fun, and of course, candy in a safe environment where the biggest danger may lie in your kid visiting the candy bar one too many times.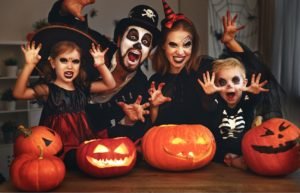 Although the idea of throwing a Halloween bash may sound expensive, it doesn't have to cost an arm and a leg to have a spooktacular time. We found eight ways to host a Halloween party without busting your budget.
8 Tips to Throw an Affordable Halloween Party
1. Skip the Fancy Venue, Throw Your Halloween Party at Home
Throwing a Halloween party doesn't require you to rent out a haunted house in your city or a party room. You can throw a party at your home – either inside your home, in the garage, or in your backyard.
If your home is too small to host the party, you can ask a friend or relative to co-host the Halloween party with you at their home. Another option is to have your Halloween party at a nearby park. You can either rent a pavilion if your city requires it or make sure you have someone available and willing to head to the park early to save the space for your group if first come, first serve rules apply in your area.
2. Limit Your Guest List
Whether you're throwing a Halloween party for adults or kids, make sure when you are creating your guest list that you keep your budget in mind. In other words, do not feel pressured to invite the whole neighborhood or your kid's entire class, plus their soccer team. It's ok to just invite your close friends or neighbors with kids similar in age to yours in order to keep costs reasonable. If you are having a Halloween party for kids, keep in mind that it's common for parents to stick around at parties when young ones are involved, so take those extra adults into account when it comes to food, drink, and space considerations. 
3. Skip Fancy Invites, Send a Text or Evite
Skip the cost of printed invitations and postage and send a digital invitation to guests via text or email. Just because you're sending these invitations digitally doesn't mean it has to be a boring text-only invite. You can create your own invitations or a short video to send out using a free online service like Canva.
4. Budget Halloween Decor
When it comes to Halloween parties, ambiance plays a big role in how much fun your guests will have. One way to create the perfect spooky ambiance is with Halloween decor. While the thought of spending money on Halloween decorations can excite some and terrify others, the good news is you can create the perfect Halloween atmosphere on a budget by buying items at a local Dollar Store or Amazon, as well as reusing what you already own.
Step One: 
Pick the colors that you want to use for your party theme. Some popular Halloween party color combinations include:
Orange and Black

Green and Purple

Black and White

Black and Purple

Black, White, and Orange
Step Two: 
Look around your house for decorations. Supplies left over from other parties or your normal Halloween decorations that you use to decorate your house can also be used to decorate the space where you're hosting the party. And keep in mind that you don't have to fully decorate every inch of your home to create the perfect Halloween ambiance. Choose one spot, one room, to outdo yourself with a centerpiece that boggles their brains. If your budget allows, you can add Halloween decor to other rooms as you see fit. 
Milk Jugs Ghosts. If you have empty gallons of milk, just draw a ghost face on the front of them. You can even fill them with water and drop a glow stick in the jug for a spooky glow. Place the milk jug ghosts along a walkway, stairs, or hidden around the house.
If you have a party in your home, create a spooky look and protect your furniture by covering items in large white or black sheets.
Set a mood with strategic Halloween lighting. 

Fake Flames

Floating Candles

Glow-in-the-Dark

String Lights

Sky Lights

Swap Regular Light Bulbs for Colored Ones
Set half-melted candles on the window sills. 
Print free Halloween printables and stick them in $1 picture frames from the dollar store.
Decorate the walls, stairs, doorways, and chairs by hanging spider webs, and put some plastic bats in the corners of the room you are having the party in. You can find stretchable spider web material at an affordable rate on Amazon.
Decorate the bathroom with toilet paper ghosts. Take a roll of toilet paper (or a few) and draw ghost faces on them and have them on the back of the toilet.
Step Three: 
Let the party food be part of the decor. Decorate the food table using cheap tablecloths with a Halloween feel from the Dollar Store, and set out Halloween-themed treats paired with spooky name tags. Is that a hot dog, or is it a monster's finger? Is that fruit punch, or is that dragon's blood?
Step Four:
Your music will be your finishing touch, the coup de grace, so make sure you choose a killer vibe. Set up a Bluetooth speaker and create a playlist on Spotify or YouTube with either creepy cello sounds or a classic Halloween bash playlist that includes hits like "Monster Mash" and "Thriller."
5. Halloween Munchies
When having a Halloween party, you need to decide if you, as the host, are providing food or if you want to have a potluck-style event and have the guests bring something to share. Having guests bring a dish to share reduces the financial expenses you will incur, but not all hosts want to throw a potluck Halloween party. If you prefer to handle the food yourself, there are a few routes you can go: you can create heartier dishes like pasta, salads, and sandwiches, or you can let your guests know that you'll provide snacks but to eat before the party.
If you're using the food to create a spooky ambiance, some foods to consider include: 
Hot Dog Fingers. Cook the hotdogs and cut a portion from the top off to look like a fingernail, along with a few cuts to replicate the horizontal creases where your fingers bend. Place the finished hot dog finger in a hot dog bun with ketchup.
Hot Dog Octopus. Cut hotdogs in half about two-thirds of the way up, and then cut the flayed hot dog pieces in half until you have eight slices, forming the eight legs of an octopus. Boil the hot dogs in water until the "legs" start to curl.
Mandarin Orange Pumpkins. Peel the mandarin oranges and place either a small piece of cucumber or celery on the top to act as the pumpkin's stem.  
Ghost Bananas. Peel the bananas and cut them in half. Use melted chocolate or mini chocolate chips to make a face on each banana half.
Ghost Cheese Sticks. Draw a spooky face on string chees wrappers.
Jack-O-Lantern Quesadillas. If you're looking for heartier dishes to serve, consider quesadillas with one tortilla carved to replicate the face of a jack-o-lantern. Serve them with homemade salsa, homemade guacamole, and/or sour cream.
Candy Corn Fruit Salad. Combine pineapple, oranges, and whipped cream to make this Halloween-inspired fruit salad.
Popcorn Cauldron. Fill a witch's cauldron with popcorn.
And don't forget about dessert. You can go the simple route and have a candy bar. Or, for those who are committed to the Halloween theme, you can create the following:
Dirt-N-Worms: Chocolate or vanilla pudding dyed green, topped with crumbled Oreos and gummy worms.
Spider Cookies: Decorate chocolate chip cookies or sugar cookies with spider designs. You can use melted chocolate or frosting for edible versions or plastic spiders for non-edible spooky flair.
Oreo Eyeballs. Twist an Oreo in half. Take the side of the cookie with the most frosting, add melted chocolate in the middle to create an iris, and use red frosting to draw red veins around the iris. The melted chocolate can be white chocolate dyed green or blue, or you can use milk or dark chocolate to create brown eyes. 
Horror Cake Contest. To get your guests involved in the Halloween food, consider having guests bring a cake to your event decorated in a Halloween-inspired theme. In addition to enjoying these tasty cakes, you can have attendees vote for the spookiest cake decoration to create a little competition at your event too.
And, of course, to wash down all of this delicious food, you'll want to have some tasty beverages on hand. Non-alcoholic drinks can be as simple as fruit punch, red raspberry, strawberry lemonade, or mountain dew. 
Consider having attendees help themselves to your Witches Potion Punch by serving it out of a witch's cauldron. For a spooky flair, freeze some juice or water in a rubber glove to create hand-shaped ice you can add to the punch bowl. Or freeze plastic spiders in ice cubes and put the spider ice cubes in the lemonade.
Of course, you can always create an adult version of your Potion Punch by adding alcohol either directly to the punch, or you can create single portions using plastic syringes for a spooky 'shot' effect.
6. Spooky Activities
While some Halloween party hosts find that between the music, costumes, and food, their guests are entertained, others like to have specific activities planned to keep guests from boredom, especially if there are kids at your Halloween bash.
Some budget-friendly Halloween party activities include:
Pumpkin Pinata: It doesn't have to be a pumpkin; it could be a bat, witch, ghost, or any other Halloween-inspired pinata. Fill with candy or small Halloween-inspired prizes like fake monster teeth, temporary tattoos, or small jars of playdough or slime.
Pin the Nose on the Pumpkin. Inspired by Pin the Tail on the Donkey, this Halloween-inspired game requires either a store-bought or homemade poster with a pumpkin. Draw on the jack-o-lantern's eyes and mouth, and create cut-outs of the nose that attendees can use to attempt to pin the pumpkin perfectly – while blindfolded. 
Glow in the Dark Sidewalk Chalk. You can either have a Halloween sidewalk art contest or just let attendees draw to keep them entertained and allow them to show off their talents.
Donuts on a String: Bobbing for apples is a traditional Halloween game, but trying to polish off a donut hanging from a string is much funnier. Contestants have to keep their hands behind their backs as they race to finish the sweet treat first without letting it fall.
Play a Classic Game like Hide-And-Seek, Soccer, Tag, Bingo, or Musical Chairs.
Carve or Paint Pumpkins. Have your guests bring pumpkins with them to either carve or paint.
Spooky Movie. Host a haunted movie night – indoors or outdoors. Some Halloween classics include: 

Hocus Pocus

The Addams Family

Monsters Inc

Scooby Doo

Young Frankenstein

The Witches

ET

Casper

Corpse Bride

Beetlejuice

Harry Potter
7. Delay Your Party Until the Day After Halloween
If you are on a really tight budget or if you're having a hard time finding a date when everyone is available, consider hosting your event the day after Halloween. Everyone will still be in a spooky mood, and you can get a great deal on Halloween decor and candy, as most of it will be heavily discounted by the time your party rolls around. 
8. Halloween Brunch
Another way to throw a Halloween event on a tight budget or busy schedule is to skip the traditional evening party and throw a Halloween Brunch instead. You can host the brunch potluck style and ask attendees to bring something to share, or you can create party-pleasing dishes yourself, such as:
Quiche

Hashbrowns

Fruit Bowls

Veggie Platters

Doughnuts
Have you thrown a Halloween party on a budget? Share your tips and tricks with us in the comments below!