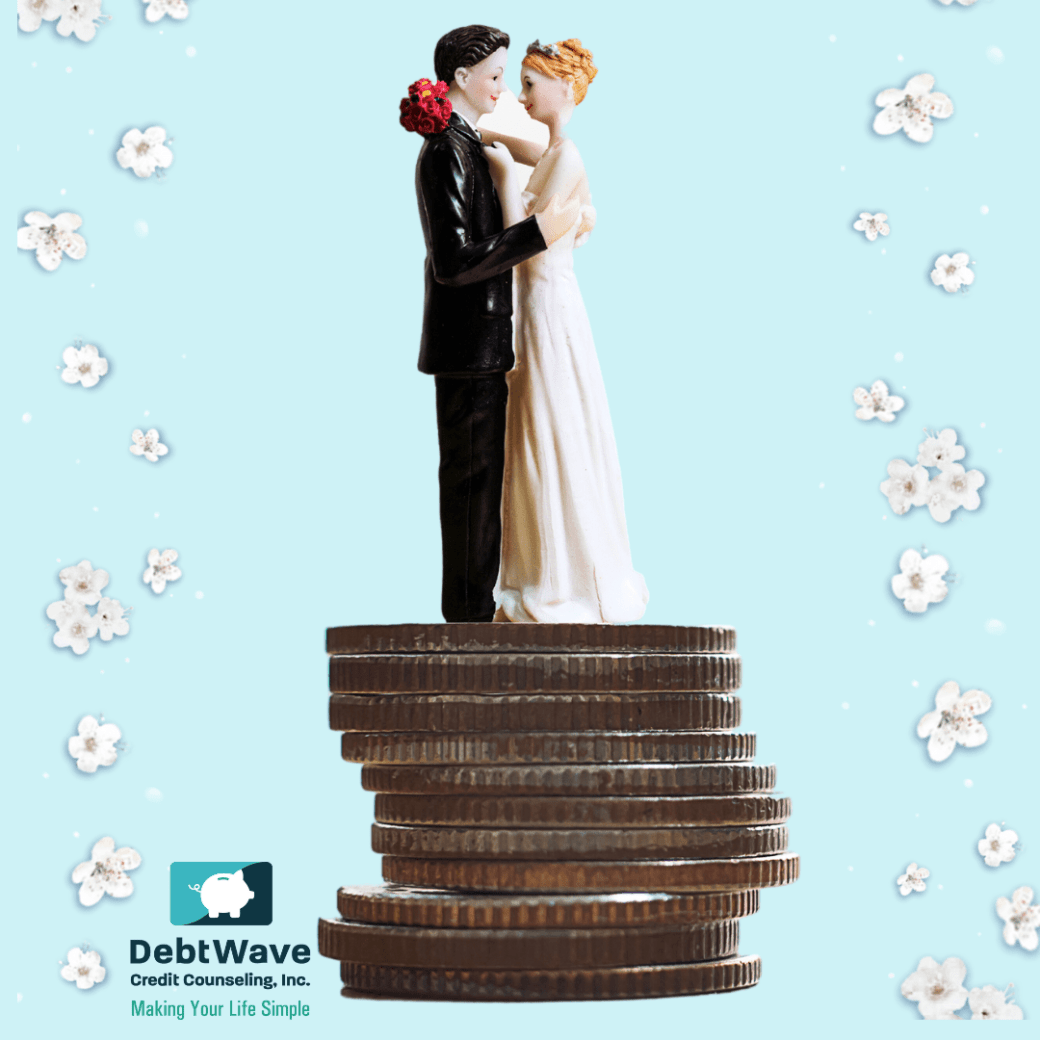 It's summer, which means we're in the thick of wedding season. And like gas and groceries, weddings are not immune from the impacts of inflation and higher interest rates either, for both the happy couple and the wedding guests.
Nationally the average cost of a wedding increased by $1,000 in 2023 compared to 2022, with the average U.S. wedding costing around $29,000, according to a 2023 report from the online wedding planning site Zola. 
The cost of weddings in bigger cities is higher, averaging closer to $35,000.
Here's how much weddings cost on average across the country, according to Zola:
Washington, DC: $45,400 

New Jersey: $44,219 

New York: $43,863 

Massachusetts: $40,097 

Illinois: $36,844 

West Virginia: $33,333 

Pennsylvania: $32,562 

California: $32,369 

Connecticut: $31,350 

Louisiana: $31,100 

Virginia: $30,205 

Maryland: $29,928 

Rhode Island: $29,531 

South Carolina: $28,456 

Montana: $28,214 

North Carolina: $28,170 

Florida: $28,121 

Hawaii: $28,000 

Colorado: $25,625 

Minnesota: $25,377 

Georgia: $25,284 

Wisconsin: $25,242 

Mississippi: $25,000 

Kentucky: $24,565 

Indiana: $24,531 

Missouri: $24,293 

Ohio: $24,157 

Texas: $24,063 

South Dakota: $23,750 

Tennessee: $23,698 

Michigan: $23,586 

Arizona: $22,845 

Maine: $22,750 

New Hampshire: $22,667 

Nevada: $22,353 

Washington: $21,352 

Oregon: $20,955 

Alabama: $20,208 

Iowa: $20,000 

Nebraska: $19,643 

Delaware: $19,643 

Kansas: $18,690 

Utah: $18,409 

Wyoming: $16,111 

Idaho: $15,769 

Vermont: $15,000 

Arkansas: $14,545 

Oklahoma: $14,464 

New Mexico: $13,500 

North Dakota: $12,917 

Alaska: $12,083
Why such a dramatic increase in the cost of planning a wedding? 
Inflation, along with demand exceeding the supply for wedding-related goods and services, is largely what's driving up the cost of weddings in 2023, according to Zola. "Wedding industry vendors have had to raise their rates because they're also paying more for goods and services like food, flowers, and labor," Emily Forrest, Zola's director of communications, told CNN.
In a January 2023 survey of about 300 wedding vendors, 83 percent reported they expected the cost to run their business would increase in 2023. As a result, more than 77 percent of vendors surveyed reported they raised their rates accordingly for 2023.
Emma Dykstra is the office manager of Deborah's Specialty Cakes in Athens, Georgia. She said that supplier costs have "tripled or worse," forcing the family-run bakery to raise prices twice in the last year. 
"We've had to kind of adjust for that, and then also we want to make sure we pay our employees as well, so we've had to up their hourly rates," said Dykstra, whose mom started the bakery. "That translates to slightly higher costs for the customer." 
Because of the price increases, the bakery's wedding cakes cost about a third higher, sometimes even more, than they did before, forcing some would-be customers to take their business elsewhere.
"We haven't raised our price in ages and we hate having to do that because we really want to be as accessible to people as possible, but we're definitely having to cater to a higher income clientele," she said. 
It's not just wedding cakes that are costing couples more. In order to save money, Forrest said Zola has noticed a trend of couples forgoing typical wedding traditions, shopping for second-hand items, and opting for weekday or morning wedding celebrations instead.
"They're really very eyes open about what the cost of a wedding is and what decisions they need to make that fit their personal style and fit the day that they've maybe been thinking about for a long time," she said.
When it comes to a wedding budget, the biggest expenses to consider typically include where your big day takes place, the venue, and catering. 
Other expenses to consider, according to Zola, include:
Wedding Venue: $6,500–$12,000

Catering: $6,500–$10,000 

Band or DJ: $2,000–$7,000 

Wedding planner: $1,500–$4,750 

Photographer: $3,500–$6,500 

Videographer: $3,000–$6,000 

Flowers: $2,500–$6,000 

Transportation: $700–$1,200 

Cake: $600–$900 

Ceremony music: $500–$800 

Hair and makeup: $550–$850
Because the cost of the venue and catering are the largest expenses, one way to save money when planning a wedding is to trim the guest list because the number of guests you invite will impact the size of the venue and catering expenses you'll need.
For example, the Zola study found the following figures relating the cost of an average wedding to the number of guests attending:
Over 200 Guests: $40,000 and up

150-200 Guests: $36,000

100-150 Guests: $31,000

75-100 Guests: $22,000

50-75 Guests: $18,000

Under 50 Guests: Below $15,000
The average wedding guest list includes between 130 to 150 guests, according to Zola, but the guest list is getting tighter in 2023 as couples attempt to find ways to save on their big day.
"In 2022, we saw an average of 117 wedding guests, but in 2023, we discovered 39 percent of couples are trimming their guest list. It's no surprise that people may be prioritizing more intimate ceremonies this year," said Esther Lee, deputy editor at The Knot, a wedding planning and vendor marketplace company.
How are Couples Paying for their Wedding in 2023?
While a wedding budget is recommended for every couple planning a wedding, nearly half, 47 percent, reported that sticking to their budget is the greatest wedding challenge, according to a 2022 report from The Knot. An even higher number of wedding couples, 60 percent, reported feeling overwhelmed by setting a wedding budget to begin with.
Could it be that part of the stress of setting a wedding budget is having to discuss your finances with your partner and coming to an agreement on what is important to spend money on and where you can cut back?
Money is often a sensitive topic for couples, even after marriage. And while 87 percent of couples getting married in 2023 have taken the step of moving in together, just 38 percent have combined finances. Combining finances doesn't necessarily mean sharing the same account, it's deciding how each partner will contribute to the household finances (i.e., rent/mortgage, groceries, utilities, etc.), how you will pay back any debt, and how much money you will set aside for goals including an emergency fund, retirement and more.
Given that money is one of the biggest leading causes of divorce, some newlyweds and engaged couples may be wondering how they can prevent arguments over money, especially while paying for a wedding. According to one Fidelity adviser, the answer is simple: communicate with one another.
"Communication is key when it comes to merging finances as a couple," Fidelity Life Events Experience Lead Meredith Stoddard told Fox News Digital. "While these might be sensitive or challenging topics to discuss, it's important to have a line of open dialogue when it comes to money including income, debts or loans, expenses, future financial goals and more."
"Every relationship is unique, including how each couple approaches finances," Stoddard said. "Whether you combine all assets, keep them separate, or do a hybrid, it's crucial to be aligned on your shared short and long-term financial goals to best determine which approach works best for you."
As difficult as money conversations can be, Stoddard said financial secrets can not only negatively impact your finances, but it can put a strain on your relationship.
"It's rare for two different people to be on the same page about everything all the time. The most important thing you can do is to find something that enables you to meet your needs, both as individuals and as a couple," Stoddard encouraged. 
When it comes to how you manage your money, "you don't have to follow one model," reminds Christina Cianci, a speech pathologist who's been married since 2020. "You can make up your own system of what works best for you and your family."
The important thing is to communicate and communicate often.
"Create an open and honest dialogue around money early on to set you up for success in the future," Stoddard said. "Consider setting aside dedicated time each month for a financial check-in to ensure you're tracking against your shared goals," she said, noting it may take multiple conversations for you and your partner to align on your goals and as your situation evolves."
And keep in mind that although it's tempting to splurge on your wedding, it's just one day, and you and your partner are creating a life together that will require working together toward financial goals, says Jessie Vallillo, a Human Resources specialist who has been married since 2022.
"Wedding planning can be stressful, but throwing all your money into one day may cause stress for the rest of your life, which will most likely cause resentment towards your partner," Vallillo said. "It's not the way you want to start your happily ever after." 
How can you avoid spending unnecessarily on your big day?
"Don't overdo it on the details," Vallillo said. "It's not worth the extra cost for that bigger centerpiece or those gorgeous invitations."
That advice may sound harsh to some couples, but it may be a comforting reminder for others, especially since inflation is increasing costs for just about every aspect of having a wedding, more than half of couples married in 2022 reported they had to increase their overall wedding budget at least once, according to The Knot.
Not every couple has the ability to increase their budget spending, which is why nearly one in ten couples, 7 percent, delayed their wedding due to the state of the economy, specifically rising inflation and interest rates, Bankrate found.
In order to pay for their wedding:
32.5 percent of couples are getting financial assistance from their parents or in-laws to pay for their wedding

29 percent of couples will optimize credit cards to pay for their wedding

26 percent will use funds they have saved for years to pay for their wedding. Couples getting married in 2023 have been engaged for an average of 18-24 months, compared to pre-pandemic couples who were engaged for ~12 months.

24 percent are adding cash funds to their registries to supplement wedding costs specifically. 

9.4 percent of couples said their parents or in-laws are paying for the entire wedding.
While 24 percent of couples are asking for cash to help them pay for the wedding, 81 percent of couples have added cash funds to their registry to support them with other financial responsibilities such as:
Honeymoon / Travel

Purchasing a Home

Home Renovations & Upgrades

Debts

Special Date Nights

Education & Student Loans

Family Planning

Pets

Charity
What About Wedding Guests?
Couples planning their weddings in 2023 are not the only ones paying more for weddings, thanks to inflation and higher interest rates. The higher costs are being passed along to wedding guests and bridal party members as well.
According to a March 2023 Bankrate survey, the average wedding guest can expect to pay $611 to attend a wedding in 2023. That breaks down to spending:
$456 on travel and accommodations

$321 on gifts

$274 on attire and grooming
Note that this average cost doesn't include additional costs that come with being in the wedding party, nor does it consider additional expenses that come from attending auxiliary events such as wedding showers and/or bachelor/bachelorette parties. 
Wedding guests who identify as male are actually likely to spend more than those who identify as female, the survey found, with men spending around $694 compared to women who plan to spend $530.
You can also expect to pay more to attend a wedding in the Northeast portion of the United States compared to the West. Bankrate found the average wedding guest will spend:
$774 in the Northeast

$605 in the Midwest

$569 in the South

$531 in the West
"People talk a lot about how expensive it is to organize a wedding, and it is, but sometimes the cost of attending is understated," says Ted Rossman, senior analyst at Bankrate. "It can really add up, especially if you're invited to multiple weddings in a given year."
For example, if you're invited to eight weddings in 2023, spending an average of $611 per wedding means you'll spend nearly $5,000 attending weddings in 2023 alone. 
Because of the higher cost to even attend a wedding in 2023, more than 6 in 10 wedding guests (62 percent) reported they have at least one financial concern about attending a friend or loved one's wedding, according to the Bankrate report.
Roughly 4 in 10 wedding guests (36 percent) reported they'll have to be more conservative with their spending to attend a wedding, cutting back on gifts, travel, and attire.

1 in 5 (21 percent) believe that attending a wedding will put a strain on their budget

1 in 5 (21 percent) reported they feel pressured to spend more than they are comfortable with in order to attend a wedding
While the cost of attending a wedding has increased due to inflation and higher interest rates, the idea of not going is too much for some to swallow. As a result, nearly one in five wedding guests, 18 percent, reported they will incur credit card debt in order to attend a wedding.
Rossman understands why some are willing to incur credit card debt to attend a wedding, but he cautioned against using credit card debt to attend celebrations, noting that the average credit card interest rate is around 20 percent currently.
If you are going to use a credit card to attend a wedding, make sure you are using a credit card that allows you to earn rewards and that you can pay it off in full, says Jessica Bishop, founder of The Budget Savvy Bride, a website that helps couples budget for their wedding. 
"I'm a huge fan of credit card rewards to get free travel," Bishop said. "But that being said, it does take the discipline of knowing what you can afford each month."
If you can't afford to attend a wedding, it's ok to decline an invitation, says Diane Gottsman, an etiquette expert and owner of the Protocol School of Texas. "You don't have to accept every invitation. An invitation is an opportunity to go if you want to. Don't feel compelled."
As uncomfortable as it may be to decline, it's important to let the couple know as soon as possible, Gottman says. You don't have to share your financial situation with them in order to explain why you can't attend. But if you are close to the couple, consider sending a gift or making plans to celebrate with them at a later date.
If you feel you must attend every wedding celebration you are invited to, there are a few ways you can prepare your finances:
1. Include Wedding Guest Costs in Your Yearly Budget
Figure out your average spending on outfits, gifts, travel, lodging, etc., and include this in your budget every year. Given couples are engaged for an average of 18-24 months, as soon as you hear about your friend or loved one's engagement, start setting money aside to attend their big day. 
"A budget is essentially a reflection of your values," Bishop said. "If you're budgeting according to what matters to you, then you're saving every month to be able to afford to participate in these big life events for the people that you really care about."
2. Lower Your Costs
If you didn't set aside money, or the money you saved isn't quite enough to cover the cost of attending a wedding, there are ways you can lower your costs. For example, instead of buying a new outfit, consider recycling an outfit you already own, borrowing something to wear from a friend, buying something secondhand, or even renting your outfit. 
Another way to lower costs is by going in on a group gift or giving the couple something homemade, Rossman suggested. 
Ask your family or friends who've been invited if they're willing to split the price of a nicer gift on the couple's registry. If you're on a tight budget, consider purchasing something affordable yet meaningful because it's the thought that counts.
"Pooling resources with other friends towards a bigger item can be a great way to be careful about how much you're contributing but still be a part of giving something meaningful to the couple," Bishop said.
3. Giving Yourself Permission to Say No
If you're going to incur debt or your finances would be negatively affected by attending a wedding, remember that it's ok to say no.
If the idea of missing your friend's wedding is unfathomable to you, consider saving money in other ways, such as declining pre-wedding events such as a wedding shower or a bachelorette party. Or vice versa, perhaps you prefer to prioritize the bachelorette party over the wedding because it allows you a chance to celebrate and spend time with your loved one more so than if you attended the wedding itself. 
Remember that your finances are important to consider too.
What money-saving tips have you used to make it through the wedding planning or wedding season without breaking the bank? Share with us in the comments below!