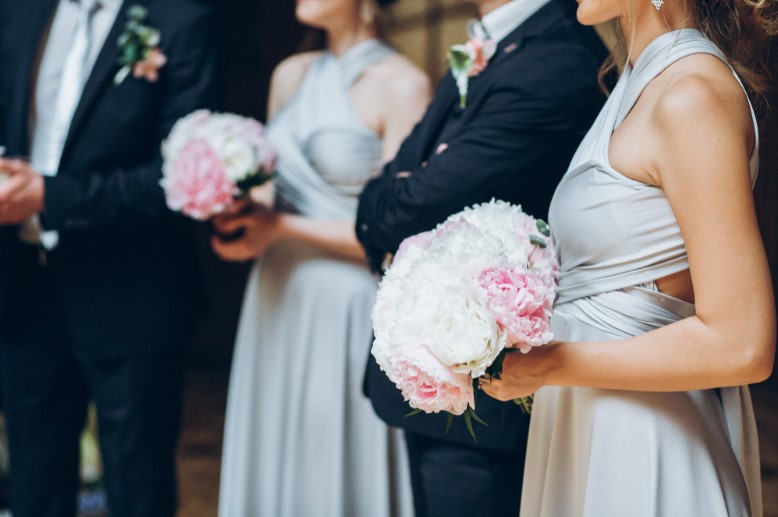 I was browsing on social media the other day and I came upon a story about a 'Bridezilla' who asked her wedding guests to give her $1,500 *each* so that her $60,000 dream wedding in Aruba was not going to leave her with a crippling amount of debt. The bride-to-be had saved $15,000 toward a wedding with the father of her child but wanted the chance to "live like a Kardashian for a day" hence the hefty cost of admission to attend this wedding.
The thing is, only eight guests RSVP'd yes, they'd be delighted to journey to Aruba and pay the bride the $1,500 cost of admission. So, four days before the wedding, irritated that the groom even suggested a Las Vegas wedding instead, the bride announced that the wedding had been canceled. Not only was the wedding off, but her relationship with her groom was also over – citing irreconcilable differences.
Would You Pay Thousands to Attend a Wedding?
Weddings are expensive. I think there are few people who would even dare disagree with that statement because the high cost of weddings has become not just factual, it's cultural. For heaven's sake, there's even a reality show whose entire premise is based on the idea of Netflix's Marriage or Mortgage aka you can only afford one.
While our focus and attention have largely been on the cost the bride and groom incur for their special day, what about the wedding party and the wedding guests? How much money are they spending? How much debt are they incurring just to help a happy couple kickoff the start of their happily ever after?
While there are obviously layers of things wrong with the Bridezilla scenario I described above, the truth is it's hard to find someone who has not paid hundreds if not thousands to attend a wedding. We just usually give them fancier titles like "bridesmaid," "groomsmen," "maid of honor," and "best man" to justify the exorbitant amount of money they're asked to pay.
Pay to Celebrate
According to a 2017 WeddingWire study, bridesmaids should expect to spend about $1,200 per wedding, with costs rising as high as $1,800. The hefty cost of being a bridesmaid is why some have equated being a bridesmaid to having an unpaid internship.
Groomsmen should expect to spend similarly to bridesmaids – anywhere from about $1,025 to $2,770, according to a Canadian study from Gotstyle, a Canadian menswear brand.
This cost includes:
Bridesmaid dress: $208
Shoes and accessories like jewelry: $120
Professional hair and makeup: $132
Accommodations: $205
Hosting responsibilities, travel, and gifts for all wedding-related events: $800
Destination bachelorette party: $400
Alterations: $50
Lingerie: $50
Groomsmen can expect to invest in formal wear, travel, gifts, and bachelor party activities too.
Limited Savings, Big Expenses
Did you know the average woman gets married at the age of 27?
This means for most brides and grooms; their friend group will likely range in age from 25 to 34 years old and will likely have less than $1,000 in their savings account. This is concerning because bridesmaids and groomsmen are spending even more – about $1,200 per wedding – to support the happy couple.
If it seems ridiculous that someone would essentially force their friends to pay thousands of dollars, they don't have for one night, well, it happens way more frequently in our current society than perhaps we'd like to admit.
A recent CompareCards survey found that wedding party spending pressure is real and a little more than half – 51 percent –  of all wedding party members felt pressured to spend money for a friend or family member's wedding.
Bridal Party Financial Stress
The financial stress numbers were even higher for the bridal party members who identified as bridesmaids (58 percent) and maids of honor (61 percent), so much so that 32 percent of bridesmaids reported the financial pressure strained their friendship with the bride, along with 42 percent of maids of honor.
Men were not able to escape the financial pressure either – 43 percent of groomsmen reported feeling pressured to spend more money, as did 50 percent of those who identified as the best man. The person most likely to make a bridal party member feel pressured to spend money? The bride, with 48 percent of survey respondents reporting the bride had made them feel pressure to spend money – even if they didn't have it.
Fewer than 20 percent of bridal party members have been able to successfully limit spending to under $500. For those who are unable to keep their spending low, 68 percent of bridal party members turn to credit cards to help them make ends meet. Maids of honor and bridesmaids were most likely to have to reach for their plastic money.
Almost 40 percent of bridal party members who used a credit card ended up charging more than $1,000 in wedding expenses, leaving at least one-third in debt. And that third that winds up in debt? Two years after the wedding, most of them regret spending that much money and report that their finances negatively affected their relationship with the bride, groom, or both.
Bridal Party Famous
So why do we pay these high prices for dresses we'll wear once and tuxes that are rented?
As Nick Miller said on "New Girl," you're "wedding famous" when you are part of the bridal party – a particularly attractive accomplishment for those in their early 20s. Everyone knows who you are, everyone wants to take your picture – it's like you have all of this fame and power for the night. But as it turns out, becoming "wedding famous" for one night will likely cost you thousands of dollars, which is why there's now a trend to just not have a bridal party at all.
I've been in a handful of weddings as a flower girl, bridesmaid, maid of honor, and a personal attendant. I've planned and paid for bridal showers, bachelorette parties, dresses I've only worn once, hairdos, makeup artists, and more – so when I got married, I consciously made the choice to not have a bridal party. This was not a punishment for my close friends and family members who were waiting to hear if they had been selected to be in the wedding party; rather it was a choice to allow our loved ones to enjoy themselves and not be financially liable for all that comes with one of those titles.
No Bridal Party, No Problem
I did have a maid of honor, but I let her pick her own dress, her own shoes, her own hair, makeup, jewelry, everything, and that was because I know what it felt like to have to pay hundreds of dollars for a dress that's in a color, a fabric, a cut, that does not match what you would pick out for yourself. And feeling uncomfortable for hours while someone is constantly taking your picture is not my cup of tea, so I made the choice to not put someone else in that scenario.
My husband did have a few groomsmen in addition to his best man. Since they live scattered throughout the country, we found a tux rental company that worked with tailors throughout the U.S. to collect measurements for free, and then the cost of the rental was relatively inexpensive compared to other rental services. Our rental package also included shoes, socks, a belt, and cufflinks, so there wasn't a surprise like you needed to pay $7 extra for socks or something at the last minute.
We opted to have our groomsmen rent instead of buying a suit because no one likes having to pay hundreds of dollars for a suit they will only wear once. And just like a bridesmaid dress, it's hard to find a suit that magically transforms a bunch of dudes into runway-ready male models as guys come in a variety of shapes and sizes too – some with a preference for more fitted suit jackets and pants, others prefer a looser fit. I did not want to open that can of worms.
As a couple, we were prepared to help any of our bridal party members with the cost of attire because we were taking into consideration other expenses they incurred to attend our wedding, which included airfare, accommodations, time off work, and more. No one took us up on our offer, but as it turns out the high cost of weddings has led more and more couples to eliminate or significantly reduce their bridal party because of the financial concern.
There's also been an increase in the number of individuals declining a bridal party invitation due to financial health.
According to the CompareCards survey, 37 percent of respondents reported declining a bridal party invitation due to the costs associated with being in a wedding.
Tips for Financial Boundaries
Heather Lyons is a licensed psychologist who frequently hears from her clients about the financial stress they're feeling when they're asked to be in a wedding party. She says talking to the bride and groom about limiting wedding expenses is "tricky because drawing a financial boundary can be interpreted as a lack of support for the union or can draw unwarranted scrutiny on spending habits."
If you feel the need to discuss the topic of wedding party expenses with the couple, you want to do it early, directly, and kindly, recommends Lyons. "Those getting married are so overwhelmed with planning and are also taking a financial hit, so it might be difficult for them to put themselves in your shoes."
Still, Lyons recommends being open about your budget from the get-go. A bachelorette party in Vegas or a destination wedding may sound great, but if you can't afford to do it all or any of it, you simply can't afford it. Have a heart-to-heart with your friend and explain your current financial situation, Lyons recommends.
"Most people don't want to cause their closest friends and family undue hardships, so if you are unable to financially cover everything, ask the couple where they would like you to focus your spending," Lyons said.
For example, buying a matching bridesmaid dress might be more of a priority in this case than bringing a gift to the bridal shower, bachelorette party, lingerie shower, and wedding. Or perhaps a bride will tell you that she could use your non-financial support in the form of helping her decorate the reception hall or ceremony location the day before the wedding.
"Though it may be slightly uncomfortable, you should also open up to the rest of the bridal party. Splitting the planning and financial details amongst all members of the group has become an accepted practice," Lyons said.
Have you incurred debt because you were in a wedding? Have you had to open up about your finances because your friend's wedding spending is out of control? Have you declined a bridal party invitation due to the cost? Share your experience with us in the comments below!