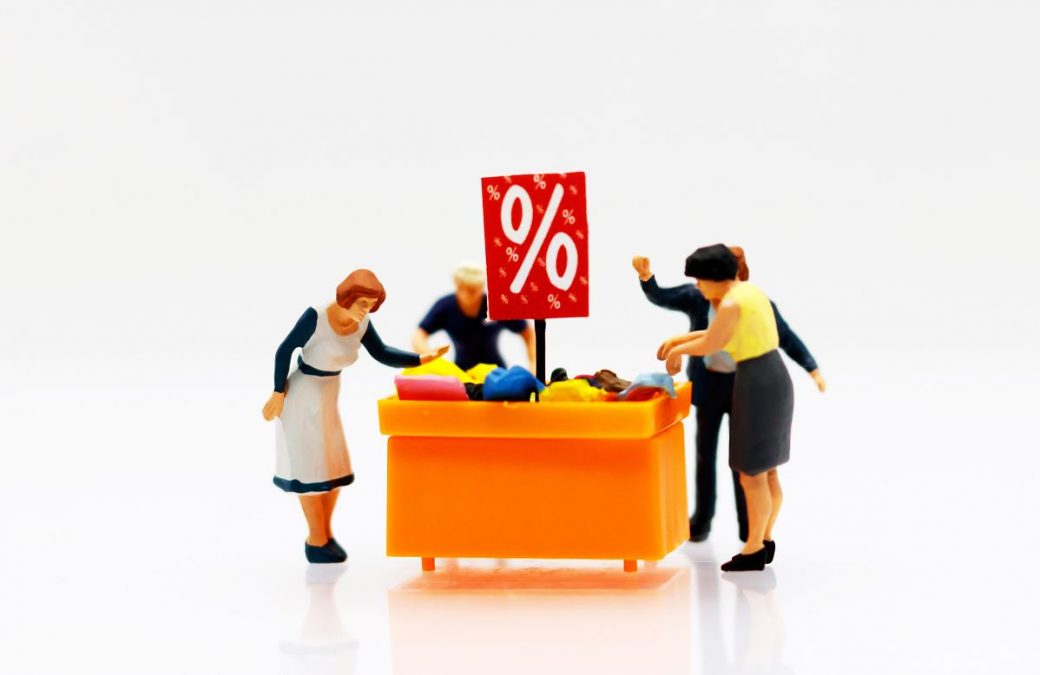 Close to 90 percent of American consumers regularly shop at discount retailers regardless of their age or income, according to an October 2018 Consumer View report from the National Retail Federation.
The survey of more than 3,000 U.S. adults found that:
89 percent of respondents reported shopping at a discount retailer.
Specifically, 58 percent reported shopping at dollar stores
50 percent reported shopping at off-price retailers like Ross, T.J. Maxx, as well as discount grocers like Aldi or Lidl
44 percent reported shopping at outlet stores
36 percent reported shopping at thrift stores
Clothing is the number one item American consumers are most likely to purchase at bargain retailers.
That's followed by:
groceries
home décor and furnishings
personal care and beauty products
electronics.
So while it seems department stores are economically struggling and filing for bankruptcy (RIP Sears), discount retailers, which surged in popularity following the 2007 recession, continues to be a shopping haven for a majority of the American public, who continue to hunt for deals and discounts eight years into the economic recovery.
"Looking for the best price is a habit that cuts across almost every demographic," NRF Vice President for Research Development and Industry Analysis Mark Mathews said.
"Regardless of income or generation, virtually everyone wants a bargain whether it's for everyday necessities or big-ticket splurges. Even those who can afford to shop elsewhere love finding a 'steal,' and it's a habit that's here to stay."
Study Shows Discount Retailers in the US Appeal to Everyone
One of the most interesting aspects of the NRF's survey is that American consumers reported shopping at discount retailers regardless of their income.
Specifically, the study found:
89 percent of respondents who make under $50,000 a year shop at discount retailers
88 percent of respondents earning between $50,000 and $100,000 shop at discount retailers
90 percent of respondents earning more than $100,000 shop at discount retailers.
Here's why this is interesting from a financial perspective:
Before I entered the realm of personal finance, I had the mindset that if I earned more money that meant I could not only buy more things but that I could afford to shop exclusively at high-end department stores.
Well, I never really created a budget so while my salary had increased, I still wasn't living within my means. I really couldn't afford to shop at high-end stores, but I assumed I had to buy expensive items in order to keep up the same professional appearance as my colleagues and more well-off friends.
I was so wrong.
And as this study points out, an overwhelming number of Americans earning high salaries still continue to shop for deals at discount retailers.
One of the most important things to remember when it comes to budgeting is that if you don't create a budget to help you live within your means, you are essentially playing with fire and risking your financial future.
In other words, even if you earn a million dollars each week, if you don't budget and are frequently spending money, you could wind up with more credit card debt and a lower net worth than say someone who budgeted and lived within their means on a $50,000 bi-weekly salary.
America: Land of the Bargain Hunter
In addition to Americans of all incomes shopping at discount retailers, the NRF's survey found that there wasn't a specific age demographic that attracted bargain shoppers more than others. Ninety-three percent of Millennials (born between 1981 to 1994) and Generation Z-ers (born in 1995 or later) reported shopping at discount retailers.
The largest discrepancy in the survey was seen when it comes to regions, with 38 percent of shoppers in the South identifying themselves as bargain shoppers compared to 18 percent in the Northeast; 21 percent in the Midwest; and 23 percent in the West.
Slightly more women than men also reported shopping at discount retailers – 53 percent compared to 47 percent. And about 46 percent of bargain shoppers have children.
For those that do shop at discounted retailers, the NRF survey found value shopping has become a way of life for many consumers.
43 percent visit a discount grocer weekly
66 percent shopping at a dollar store at least twice per month
58 percent shopping at an outlet at least once per month
63 percent choose to buy items that are on sale more frequently than they did five years ago.
What's evident based on these findings is that for a majority of American consumers who self-identify as value shoppers, they are "willing to give up almost anything for the satisfaction of a good bargain."
That includes not expecting to buy online/pick-up in-store; free two-day shipping; product reviews; or an "entertaining" shopping experience, the NRF report concluded.
Are you a bargain hunter? Share stories of your favorite discount deals with us in the comments below!