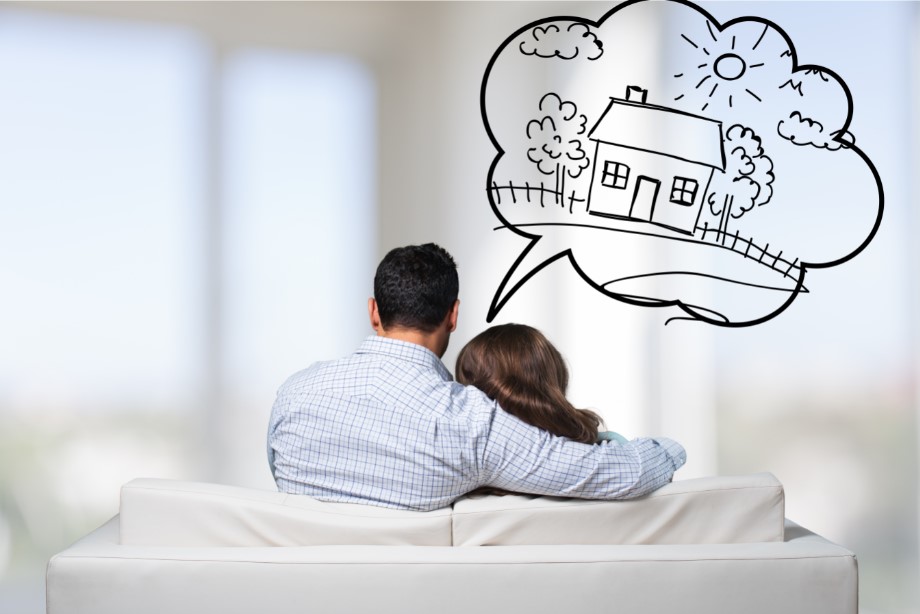 The housing market has been red hot for years. Not just in attractive climates or coastal cities that attracted high-paying jobs such as California, Atlanta, Phoenix, Denver, New York, and Austin, Texas, but throughout the United States. 
Historically low-interest rates have meant that first-time homeowners are competing amongst dozens of people for a handful of properties, driving up the costs of nearly every property through bidding wars. 
Take the housing market in San Diego for example. Home prices in America's Finest City increased 10.2 percent in price since the coronavirus pandemic began and everyone began looking for more room, more space.
Despite these record-high prices, the houses are getting snatched up really quickly. The median number of days on market in San Diego County was 14 days for the week ending Oct. 25, according to the Redfin data center. That compares to 28 days around the same time in 2019, 34.5 days in 2018, and 24 days in 2017.
"While interest rates are at historic lows — an average 2.89 percent in September — it is hard to find many scenarios where it is cheaper to buy than it was a year ago," the San Diego Union-Tribune reported. "This makes the process of purchasing a house stressful for even the most hardcore money savers."
San Diego Home Prices
The San Diego County median home price in September was $650,000, up from $570,000 at the same time last year. In September, the interest rate for a 30-year, fixed-rate mortgage was 2.89 percent, according to Freddie Mac, down from 3.61 percent the year before.
This means the monthly cost of a median-priced home would be around $2,445 a month, assuming the homebuyers were able to put 20 percent down on a 30-year, fixed-rate loan, as well as pay monthly property taxes and home insurance. That is only up slightly from roughly $2,360 a month for a median home at last year's prices and interest rates. 
Still, to make that work would require a roughly $130,000 down payment, compared to $114,000 a year earlier. And there are always extra costs besides the down payment — taxes, appraisal fees, and homeowners insurance — but San Diego homes might have hidden costs for people trying to buy at the low end.
Anyone shopping for a single-family home in San Diego County under $500,000 is familiar with "permits unknown!" written into listings and photos that show homes that appear about to fall over. This means new buyers that bought older properties might have to shell out a lot of money just to fix a leaky roof or get a toilet working.
"(Zillow senior economist Cheryl) Young urges buyers to consider how much home improvement projects might cost — and how urgent those renovations are — and factor those into your budget, as well" stated a new Zillow guide for buyers. "While new kitchen countertops can most likely wait, fixing a leaky roof cannot."
So if you're in the market for a new home or if you're a first-time homebuyer, what can you do to get a financial advantage over your competition? 
4 Financial To-Do's Before Buying A Home
1. Get Pre-Approved for a Mortgage
When you have approvals from a lender that shows you are financially secure, it may give you a leg up on the competition for the home you're after for a few reasons. 
First, you'll be able to act quickly. 

Second, you'll already know whether you'd be able to secure financing for a home, which may make your offer more attractive to the seller if there are multiple offers on a home. Many sellers fear that a sale will fall through because of financing.
Tip from Dan Beer of the Beer Home Team of eXp Realty of California: "Contact the listing agent to see what lender they like working with and trust, and then get approval from them."
2. Talk to Those Helping You Financially Ahead of Time
National data from Zillow shows that about 40 percent of buyers with a mortgage and 52 percent of first-time buyers, received a loan or monetary gift from friends and/or family to help them secure a down payment.
If you are looking at buying a home, have a frank conversation with your parents or a friend ahead of time to see how much money they'd be willing to either gift you money or loan you cash to help you secure a home. That way you know how much you could be pre-approved for and help you in determining a realistic budget when home shopping. 
Tip from Zillow Senior Economist Jeff Tucker: If you are receiving financial help, try and get that money in an account ahead of time so it can be factored in the pre-approval amount. 
3. Do Your Research
About 12 percent of homebuyers nationally purchased a property sight unseen, meaning most home buyers want to visit the property in person before they decide to proceed with the purchase. 
Under current California COVID-19 restrictions, real estate agents cannot hold open houses, and agents are limited to one home showing at a time; but many listings now offer virtual and 3D tours that help you learn a lot about a home without even stepping foot on the property itself. Do your research ahead of time and see if this property meets your needs and wants before you take the time to visit in-person or consider making an offer. 
Once you are ready to visit the property in person, note that home viewings are limited to one showing at a time right now in many parts of the country. Typical requirements include wearing a mask and signing waivers. 
4. Shop for Homes Under Your Budget
The next advice is more on the mental end and involves shopping for homes with the assumption that you may have to increase the price to win the bidding war. So, if you are searching for houses at $400,000, it might be a good idea to search somewhere around $390,000 because you might end up having to increase that price to seal the deal.
Bidding wars don't always happen but occur frequently enough — especially in super tight markets like San Diego — that it might be a good idea to prepare for it. According to Zillow, 34 percent of homes in San Diego County in August sold for over the asking price. That compares to 15.6 percent at the same time last year and 15.3 percent in 2018.
Raylene Brundage, an agent who sells in several northern San Diego County communities told the San Diego Union-Tribune in October that she's noticed a trend of buyers shopping under the purchase price they qualified for — especially millennial buyers.
Brundage said many buyers are already factoring in the money needed to improve a home and are cautious in general.
"What I found in the last three to five years, they are naturally doing that. I have not had a buyer who went to the limit," she said. "Because of what happened with the crash, and even with younger buyers, they are looking for [homes] under what buyers say they are qualified for."
2021: Return of the Buyer's Market?
While the housing market remains hot for sellers, in a blog post for Norada Real Estate, Marco Santarelli noted that in order to reduce the high cost of housing, more inventory must be added. 
Given there's such a demand for housing right now, the housing market may remain hot even during the winter holiday season, Santarelli noted. However, Santarelli notes that if there isn't further financial protection or assistance due to the ongoing coronavirus pandemic, we may see the beginnings of a buyer's market in 2021.
"More than 6 million households failed to make their rent or mortgage payments in September" and "millions of student debt borrowers behind on their payments also have future ramifications for the housing markets."
"One of the negative housing predictions is that the supply in the form of foreclosed homes may overwhelm the demand by many folds in 2021," Santarelli wrote. "The result would be that prices are going to plummet again and the real estate sector will likely cool off."