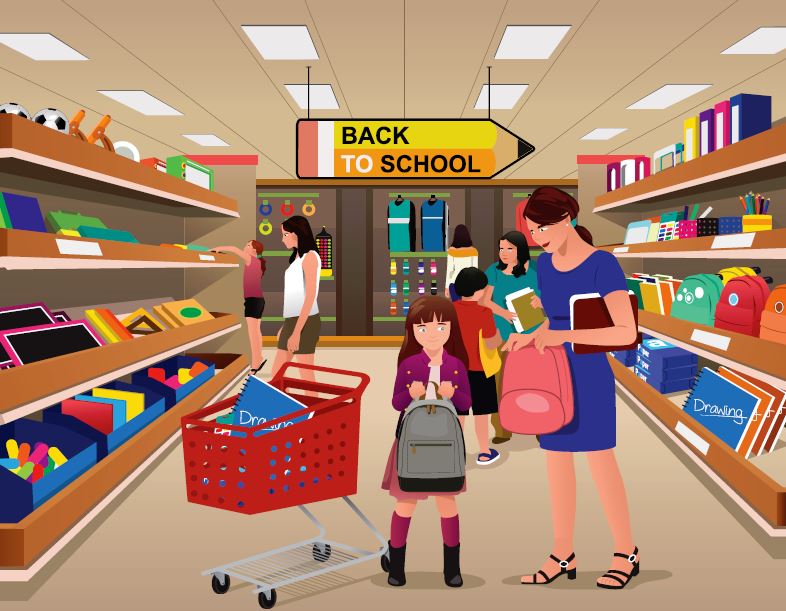 From crayons and calculators to pocket folders and USB drives: Back-to-school shopping is in full swing as the start of a new school year rapidly approaches.
Some of you may have been preparing for the cost of school supplies for a few months. Great job! You're ahead of the game!
Others of you may be in sticker shock when you see the supply list your kids' teachers have sent home with them, especially as school budgets are increasingly squeezed and teachers and parents are left to foot the bill.
In 2021, consumers are expected to spend a record $37.1 billion on back-to-school shopping, which is far greater than the $33.9 billion spent on back-to-school items in 2020. Consumers are also predicted to spend roughly $71 billion, up from $67.7 billion in 2020, on back-to-college-related items, according to the National Retail Federation.
Families with children in elementary through high school plan to spend an average of $848.90 on school items, which is $59 more than last year. College students and their families plan to spend an average of $1,200.32 on college or university items, an increase of $141 over last year. Over half ($80) of this increase is due to increased spending on electronics and dorm furnishings.
If you didn't account for the extra expenses in your budget, don't worry – we've got some tips to help you get the most for your money.
8 Tips on How to Go Back-to-School Shopping on a Budget
1. Involve your children.
Even if your child is in elementary school, it's never too early to start teaching your children about money, especially creating a budget and sticking to it.
2. Follow the teacher's instructions.
Almost every teacher will share a list of school supplies students in their class will need for the year before or on the first day of school. Resist the temptation to purchase items until you know exactly what is needed. We'd hate for you to spend $30 on a trapper keeper, only come to find your student's teacher doesn't allow them in the classroom.
3. Take inventory of what you have.
Just because it's a new school year doesn't mean you have to buy all new items! If your home is anything like mine, we have multiple rulers, staplers, boxes of crayons, notebooks and even glue sticks from past school years just lying around in a collective "craft" box.
If you have notebooks, folders, crayons, pens, and pencils from previous years that are still in good shape, consider having your child use those items during this upcoming school year. Make sure to cross those items off your back-to-school shopping list before you head to the store!
The same rule can be applied for back-to-school clothes shopping.
4. Take advantage of price comparison apps.
Amazon has an app that includes a barcode scanner you can use to immediately check how much the item retails for on Amazon.
ShopSavvy is an app that will allow you to scan or search for items to see how much they retail for both in-store and online. The app will also show you when there's a sale at major stores.
ScanLife allows users to compare prices online and locally. This app also includes product reviews from real customers. App users can also earn rewards in the form of gift cards.
5. Consider buying used or refurbished items.
For larger more expensive school supplies such as clothing, sports equipment, electronics, and musical instruments, consider shopping at consignment and resale shops to find quality merchandise at a deeply discounted price.
6. Take advantage of tax-free shopping.
A handful of states, predominantly those in the Midwest and Southeast, offer tax-free shopping days in August to allow residents to stock up on back-to-school items, including clothing, shoes, and electronics.
To see if your state is participating in a tax-free holiday, check out this article here.
7. Beware of alluring ads and discounts.
Be wary of all coupons and ads you receive via email as well as those that pop up online. Read the fine print to know if there are any restrictions or dates.
8. Read the return policy before you shop.
Be aware of any restrictions on returns, such as:
any materials you would need to have with you in order to make a return
if you need to make returns within a specified period
whether you'll received cash or store credit for a return