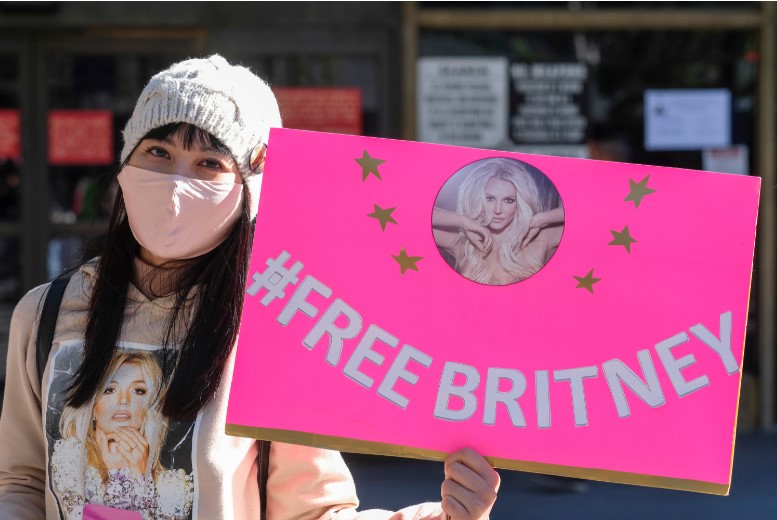 Unless you're highly skilled at avoiding all forms of news and media, you've likely at least heard about the new "Framing Britney Spears" documentary from the New York Times, which chronicles how pop star Britney Spears has been unable to control her life or her massive fortune for the past 13 years.
The documentary explains how after Britney experienced several public breakdowns in 2007 and even checked into a psychiatric hospital twice in 2008, Britney's father, Jamie Spears, petitioned the Los Angeles Superior Court for an emergency "temporary conservatorship" of his daughter.
The conservatorship — a legal guardianship typically enacted for those incapable of making their own decisions due to mental disabilities or dementia — was approved, meaning Britney's estate, financial assets, and some personal assets were now under the control of her father and a lawyer (appropriately) named Andrew Wallet.
This means at 39 years old, Britney cannot drive a car, vote, get married, have children, spend her own money, speak publicly about the conservatorship, and more without the prior explicit permission of her conservators, which up until February 2021, included her father.
#FreeBritney + Financial Abuse
In October 2008, Jamie Spears petitioned the court to make his conservatorship of Britney's estate permanent. Britney did not appear in court herself and her court-appointed attorney did not advocate against the ruling. Instead, the judge ruled in favor of the conservatorship noting it was "necessary and appropriate for the complexity of financial and business entities and [Britney] being susceptible to undue influence."
This meant that Jamie Spears was now able to oversee pretty much every aspect of Britney's life, from negotiating business opportunities, selling her property, even restricting visitors, while Wallet was assigned to help manage Britney's financial assets. In other words, Britney's dad became her financial caregiver.
When the conservatorship was implemented, some of Britney's fans believed the conservatorship was a secret way to control and manipulate Britney behind the scenes. In response, they launched a #FreeBritney movement on social media to bring awareness to what they believed was conservatorship abuse, which included financial abuse.
Some in the legal field were also suspicious of the conservatorship because of Britney's financial success.
In an interview with the LA Times in 2019, several law experts noted "it is unusual for someone as young and productive as Spears to be in a probate conservatorship, typically used to protect the old, infirm and mentally disabled." The legal scholars noted conservatorships are "intended for people who are not likely to get better and often remain in effect until the person dies."
So in other words, in order to end the conservatorship, Britney needs to prove she no longer needs the assistance of the conservatorship to get through life.
Easier said than done.
Piece of Me
Even if you are not a Britney fan, it's hard to ignore just how much of an influence Britney has had on everything from music to perfume to just how much many of us were willing to pay for a designer sweatsuit in the early 2000s.
Plus, it's hard to remember a time when she wasn't working on something new.
Until 2019, Britney dropped a new album every two to three years. She also had a four-year Las Vegas residency; her final performance grossed $1.1 million, the highest ever reported for a single theater Las Vegas residency show, according to the Las Vegas Review-Journal. Not to mention Britney's "Piece of Me Tour" in 2018 grossed an estimated $54.6 million, according to Touring Data.
During this time, Britney also launched clothing and perfume lines, landed a luxury fashion campaign, and served as a judge on "The X Factor." Britney was also scheduled to start her new Las Vegas residency show, "Domination," but ended up putting that show on hold.
The exact reason why "Domination" was put on hold is debated, as seen in the documentary. Some claim it was a judgment made for her mental health, others argue it was proof Britney was a cash-cow for her conservators and she refused to perform because she was tired of being controlled. Tired of being the one working hard and making all the money.
But Jamie Spears doesn't quite agree Britney is a money maven. A lawyer for Jamie argued that, under the conservatorship, Britney has actually gotten out of debt and has managed to reach a net worth of roughly $60 million.
You Better Work
Since every purchase Britney makes must be logged in an annual court report of her spending due to the conservatorship, we know that as of 2018, Britney's financial documents showed the pop princess had a net worth of around $59 million.
Thanks to these court records, we also know that in 2018 Britney spent $400,000 on living expenses and $66,000 on household supplies. She also spent $1.1 million on her legal and conservator fees that year, of which her father pocketed $128,000, according to documents cited by ET.
While some argue Britney's professional success proves she is capable to make her own decisions, others argue Britney's immense and complicated estate requires assistance from a team of professionals. To add to the confusion, in the latest court documents, Britney declared that her conservatorship is voluntary and that she would rather have more gradual autonomy over her life.
"I imagine a person with that kind of wealth would be attracting a lot of people toward them, many of whom may not have their best interest in mind," said psychologist Stacey Wood, an expert witness in probate conservatorship cases. "This could protect them from that."
Wallet personally claims to have prevented "many hundreds" of people working with Spears from giving her drugs, saving her from what he calls a financial crisis. But Wallet also referred to Britney's conservatorship arrangement as a "hybrid business model" before he abruptly resigned as co-conservator of Britney's estate in 2019, leaving Jamie Spears as the sole conservator.
When he resigned, Wallet wrote in court filings that the "conservatorship is engaged in numerous ongoing business activities requiring immediate attention" and that it was best he resign immediately, according to the LA Times. Otherwise, Britney Spears would suffer "substantial detriment, irreparable harm, and immediate danger," he wrote.
This left some to wonder if Wallet was no longer ok with how Jamie was managing Britney's estate. Wallet was interviewed in the documentary, and although he says he is unable to comment on the specifics of the case, he pointed out how a conservatorship is not a business model but that Jamie Spears was trying to turn it into one. Or at least a hybrid.
'Toxic' Financial Control
While a conservatorship could protect Britney from bad actors in theory, including those who want a piece of her fortune, others argue that it is Britney's conservator father Jamie Spears, who is one of those bad actors who is using the singer for her financial success. Given that Britney is the one paying the legal fees of her conservators, as well as their salaries, in addition to her own legal fees, there may not be much motivation to hand Britney the keys back to her financial freedom unless forced to do so.
In 2019, Britney tried to regain control of her life. She asked the court to have Jamie removed as a conservator of her estate, or at least no longer act as the sole conservator.
In response, Jamie filed a petition to have Wallet reinstated as co-conservator of Britney's finances—a move that Britney's lawyers opposed, calling Wallet "uniquely unsuitable" for the role. Court filings stated that Britney would not be able to afford Wallet as a conservator due to her decision not to perform "Domination."
"Apart from the fact that Mr. Wallet has been extremely expensive in the past, based on what occurred over the 11 years he served as her co-conservator, there is no reason to believe that Mr. Wallet will be able to work with Britney to explain and implement any difficult budgetary choices that must be made," the filings read.
Jamie Spears also requested to extend his daughter's conservatorship to more than 10 states, including Hawaii, Florida, and Louisiana.
Conservatorship Questions
About a month later, citing health troubles, Jamie temporarily relinquished his control of Britney's person to Britney's care manager, Jodi Montgomery. However, Jamie preserved his control over Britney's finances.
According to police filings, the changes to Britney's conservatorship came after an alleged domestic violence dispute between Jamie and one of Britney's son's who was then 13. A judge granted a restraining order against Jamie to both of Britney's sons. But Jamie was still the sole conservator of Britney's estate and person.
In a court filing in late 2020, Britney's lawyer wrote the #FreeBritney movement is "far from being a conspiracy theory," and pledged to continue to help Britney regain control over her life by removing her father from acting as a conservator of her estate.
"My client has informed me that she is afraid of her father," Britney's attorney told the judge. "She will not perform again if her father is in charge of her career."
Specifically, Britney asked the judge to remove Jamie from acting as the conservator of both her person and her finances, replacing him as her personal caretaker with her care manager Jodi Montgomery and replacing Jamie's control over her finances with a qualified corporate fiduciary.
In November 2020, a judge agreed to appoint Bessemer Trust, a corporate fiduciary, as co-conservator of Britney's estate, per Britney's request. Jamie objected to this shared financial duty, but his objection was overruled.
As far as the legal proceedings surrounding Britney's conservatorship go, additional hearings on the case are currently scheduled for March 17 and April 27.
A Girl Named 'Lucky'
Since the airing of the documentary, many fans, celebrities, and organizations including the American Civil Liberties Union have publicly declared support for Britney, her right to autonomy, and the rights of all persons who end up in conservatorships.
"People with disabilities have a right to lead self-directed lives and retain their civil rights," the ACLU tweeted. "If Britney Spears wants to regain her civil liberties and get out of her conservatorship, we are here to help her."
While Britney's case is unique because of her fame and fortune, Zoe Brennan-Krohn, a staff attorney with the ACLU, says Britney's case is also quite typical. Britney's story is one of the thousands of stories we see across the country that people get into conservatorships and guardianships that they can't get out of, she said.
Brennan-Krohn, who works on the ACLU's Disability Rights Program, said there are certain risks that come with the appointment of a sole conservator including "financial, physical and emotional abuse."
"Even when there is no abuse, conservatorships limit a person's ability to advocate for themselves, learn from their decisions and mistakes, and grow and develop. There is a risk in being told that your opinions, your likes, and dislikes, don't matter — it makes it harder to stand up to abuse or neglect," she said.
"In any conservatorship, we would want to know that the real risks (and benefits) of both conservatorship and its alternatives have been seriously weighed."