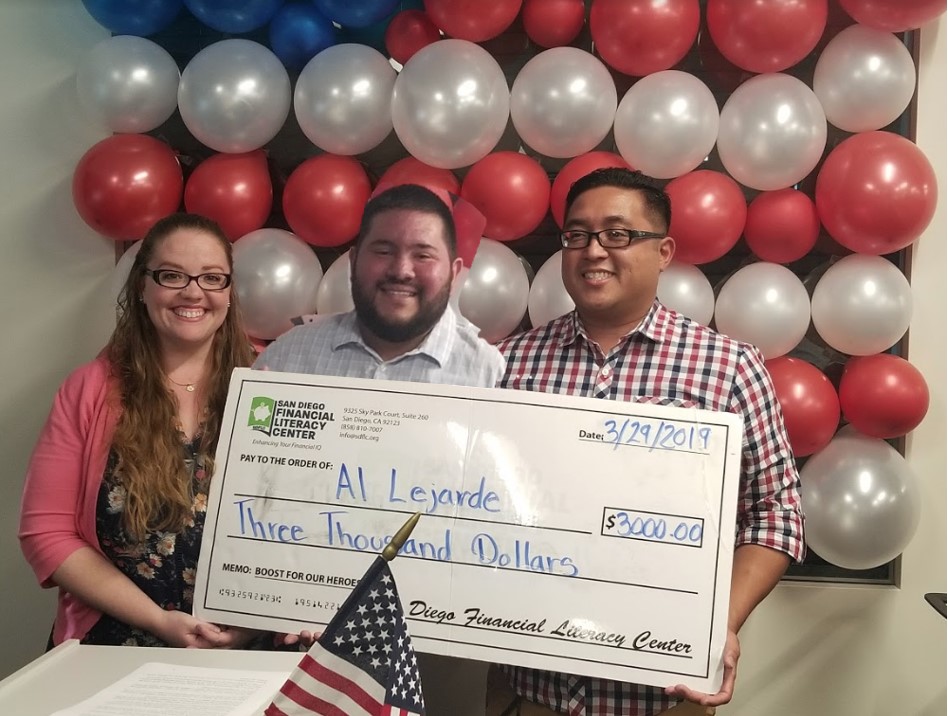 Each quarter, DebtWave's outreach group DBA the San Diego Financial Literacy Center, hosts a financial assistance and education program geared toward active, transitioning, and veteran military members. At the conclusion of each quarterly event, the SDFLC awards a military member with $3,000. These are their stories.
Boost for Our Heroes: Al Lejarde
History of Family Service
It wasn't just growing up in San Diego – surrounded by a community of dedicated military service members – that would inspire Al Lejarde to later enlist in the U.S. Armed Forces. Joining the military was a natural decision for Lejarde, whose Filipino family, including uncles and cousins, had all served in the U.S. Navy in order to earn their U.S. citizenship.
In 2004, Lejarde continued his family's long-standing tradition of military service by enlisting in the U.S. Marine Corps. After completing military police officer training, Lejarde was recruited to serve as a security guard for Marine One – the U.S. military helicopter that's tasked with transporting the President of the United States.
From 2004-2009, Lejarde worked to ensure that then-President George W. Bush was safe inside and out of Marine One.
"Wherever the President went, I went," Lejarde recalls. "Instead of being in foreign places, I traveled all over the U.S. – I even went to Camp David."
Once in awhile, Lejarde would travel with the President overseas as well as participate in ceremonies that required he dress in the Marine's ceremonial blue uniform.
Everything seemed to be going well for Lejarde. He met and married the love of his life, Kristin. And in 2016, the two welcomed a baby boy into the world: Michael. But trouble was brewing for the Lejarde family's financial situation.
A Lifetime of Financial Illiteracy
Between their two extended families, Lejarde and Kristin had already experienced homelessness, foreclosures, and bankruptcies by the time they got together. All that financial dysfunction and un-wellness affected Lejarde. So when he had the opportunity to help Kristin dig out of debt earlier on in their relationship, Lejarde did exactly that. He even made a pledge to create the best environment for her and their future children.
In 2016, the same year the family welcomed baby Michael into the world, the family purchased their forever home through San Diego Habitat for Humanity's affordable housing program. Lejarde had been made aware of the program due to his volunteer work with Habitat for Humanity's San Diego chapter.
Lejarde, Kristin, Michael, and Kristin's mother, Nina, all moved into their new home. The plan was for Nina, who medically retired around 2009, to watch Michael at the family home, so that Lejarde could continue to work full-time, and Kristin could continue to work part-time while attending night school to obtain her teaching credentials.
But as they say, life happens.
No Financial Plan
During the winter holidays in 2017, Nina, who has both physical and mental health issues, suffered a debilitating injury. Lejarde took about four weeks of Paid Family Leave at the beginning of 2018 to help care for Nina as she transitioned from inpatient care at the hospital to living in the family's Escondido home once again.
Nina was no longer able to care for Michael, who was now a full-fledged toddler. Lejarde and Kristin knew that enrolling Michael in a daycare facility was their best option, only they didn't have the money.
Adopting the "we'll just figure it out" attitude, the Lejarde family's plan was for Kristin to pick up extra hours to make up for the temporary change in income, but the work wasn't available.
When Lejarde's pay was temporarily delayed by about a week-and-a-half, things really started to financially unravel for the family.
The Lejarde family had borrowed money from family and friends in amounts ranging from $250 to $500 so they could pay their bills. They also pushed the final grace period due dates as far as they could and maxed out their credit cards.
"We did what we could to stay afloat," Lejarde recalled. "My family started asking questions about our financial situation because we were always asking for money. I realized at that point we were living beyond our means."
Unable to keep up with their expenses after car repairs tipped this family over the financial edge, by the end of 2018, the family fell behind on all of their bills, including the most important bill of all: their mortgage.
"We knew our instability was coming," Lejarde says. "We never let go of our emotional triggers and it created a dysfunctional barrier that prevented us from implementing a sound budget or educating ourselves with the help of experts."
A Glimmer of Hope
Lejarde was referred to the San Diego Financial Literacy Center's Boost for Our Heroes program by his employer, who thought Lejarde may benefit from a $3,000 boost, along with the SDFLC's free financial education offerings.
With the help of the SDFLC, the Lejarde family established a balanced budget and spending plan that will help them get out of debt as well as save for the future.
Lejarde was presented with a $3,000 award on March 29, 2019. The money will go toward the delinquent amount owed on the family's Habitat for Humanity Home Mortgage, which was in jeopardy of foreclosure.
Lejarde says he's also motivated to pass along strong financial literacy skills, with the help of the SDFLC, to his young son. He's already started teaching Michael about savings by filling a small jar in the family home with pennies, nickels, and dimes.
"He's our future," Lejarde says of Michael. "It's important to plant those financial seeds."
If you or someone you know is an active, transitioning or veteran military member facing any type of financial hardship, please download and fill out our application to be considered for a future Boost For Our Heroes Award. Details and eligibility requirements are included in the application.