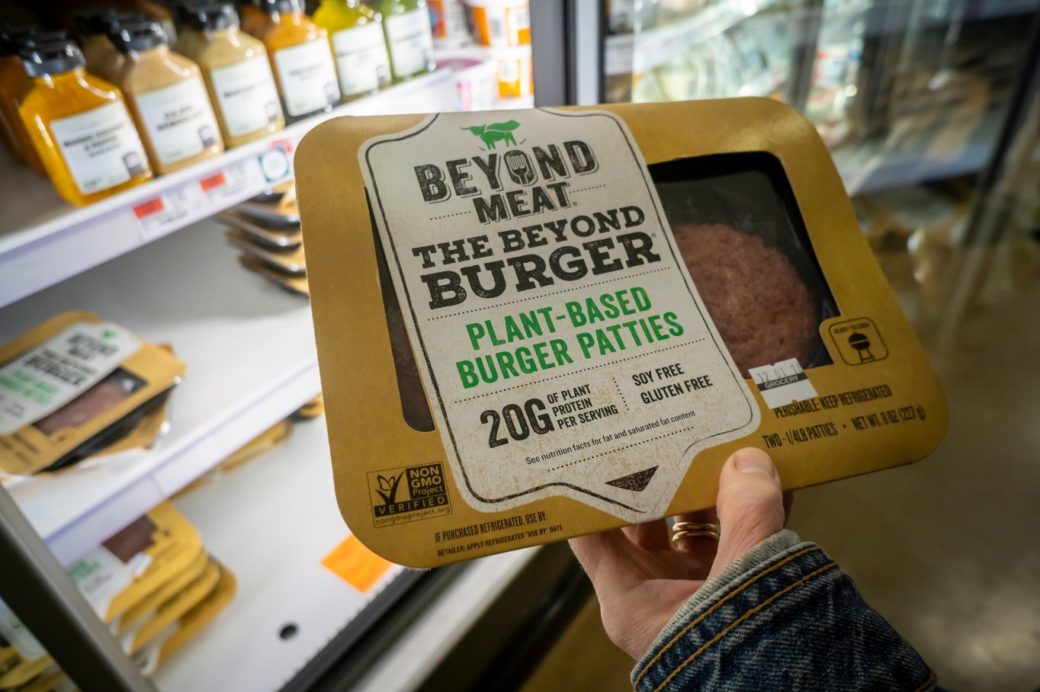 The coronavirus has forced many of us to get back in the kitchen and make our own meals. Sure, take out and fast food still exists, but having to order food multiple times per day from a food delivery service just isn't sustainable – at least not for most family or individual budgets. Issues in the food supply chain as well have also led to widespread price increases on most grocery items.
The increased price for groceries could not have come at a less opportune time. Millions of Americans are unemployed, there's uncertainty when businesses will return to pre-COVID-19 operations, additional unemployment assistance is close to sunsetting, as are other protections for consumers including eviction moratoriums, and hits to the supply chain have led to higher prices across the board.
One of the hardest-hit areas of the food supply chain was the meat department. In response, grocery stores and chains like Costco were forced to limit how many meat items a consumer could purchase at a time. Food scarcity became top of mind for many.
But what if I told you that going meatless one day a week could save you $40 a month or $500 a year? If you're eating meat that is nitrate-free or organic the savings could be even higher. 
It's Called Meatless Monday
From coast to coast, Americans have been celebrating Meatless Mondays for years. 
Washington, D.C. has celebrated "Meat-Free Mondays" since June 2010. There are even some restaurants that offer a 100 percent meat-free menu on Mondays in our nation's capitol. 

The Baltimore City Public School System was the first in the nation to implement Meatless Mondays when it did so in 2009.

Los Angeles. In 2012, the Los Angeles City Council adopted a Meatless Monday resolution. To show its support, the Los Angeles Unified School District, the second-largest public school system, adopted a 100 percent meatless Monday menu in all its cafeterias.

Montgomery County, Maryland. In July 2013, the Montgomery County Council in Maryland issued a proclamation endorsing Meatless Monday.
Other cities that celebrate Meatless Mondays include:
San Francisco

San Jose

Oakland

Cleveland, Ohio

Minneapolis

Boone, North Carolina

Philadelphia

Aspen, Colorado
While Meatless Mondays began as a way to cut down on meat or animal product consumption it's also touted as a way to save money on groceries.
Save money?
Yes, you read that right. Cutting down on your meat consumption is not just good for the planet and your waistline – it's really good for your wallet/bank account/budget. Of course, that's if you purchase fruits and vegetables that are "in-season." Here's a Seasonal Produce Guide from the U.S. Department of Agriculture (USDA).
Look at it this way: let's say you have a family of four and you spend $20 making a meat lasagna. Using that same meal, if you remove the meat product from the lasagna, the cost to feed a family of four is halved – $10. If you save $10 a week that adds up to $520 per year!
But the thing is, most of us don't have meat with just one meal. How many of us have enjoyed bacon, sausage, or ham with breakfast, before we go on to consume a hamburger or turkey sandwich for lunch, and a meat-filled pasta or steak for dinner? I'm guessing most of us. 
Meat is expensive, not just to produce, but to buy. If we're consuming meat with every meal, we could be spending upwards of $10 on just our meat consumption alone. For me, that spending does not align with my money goals. AKA I would much rather eat a few meatless meals and be able to pay off my debt, build up my emergency fund, buy a home, save for retirement, etc. 
By intentionally eating meatless meals one day each week, we force ourselves to meal plan. We can't rely on the food inside of our pantry or refrigerator to just "speak to us" because we have to ensure we have meatless options. And when we meal plan, we end up spending less on groceries.
How Meal Planning Saves Money
When we plan our meals for the day, week, month, we end up saving ourselves not only the headache of "what's for dinner," but we also save time, energy, and yes, money. When we come up with a meal plan we have a list of all the ingredients we need to make the meals we've planned for, which gives us the opportunity to shop at home first.
When we shop at home first we may learn we have ingredients we thought we needed and that we're out of ingredients we thought we had on hand. This helps cut down on food waste, another way to save money. 
Once we parse our list down to the items we need to buy, we have the opportunity to just stick to our list. We don't need to browse every aisle looking for "inspiration" or "deals." If we stick to our list we have a chance of leaving the grocery store without adding additional impromptu items.
Additionally, when we create a meal plan, we set an expectation for when and where our meals are coming from. Spontaneously ordering takeout may happen less frequently, which is another huge win if you're consciously saving money!
I'm not a Vegetarian… Can I do Meatless Monday?
One common question that comes up with Meatless Monday: Do you have to be vegan or vegetarian to participate? Not at all! 
Many of us eat meatless meals all the time – we just don't notice. Others of us fall into the trap of building our meals around a meat item, which can be really expensive over time. 
If you're new(er) to going meatless take it slow. Try to cut meat out of one meal instead of one day. Have some fun with this too – don't be afraid to try out new recipes. I've included some of my favorites below!
Pinterest is your friend! Don't be afraid to experiment with new recipes and produce like jack fruit.
Affordable Meatless Monday Recipes
Falafels are typically found in Middle Eastern or Mediterranean dishes and are made of chickpeas and herbs. What I love about making falafel is how universal they are. I can put falafel in a wrap, a pita, a sandwich, or a salad.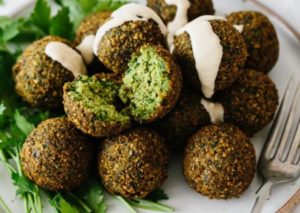 Click here for this falafel recipe my family can't get enough of!
Indian food has several vegetarian options. If you're looking to feed a larger family or you want delicious leftovers, consider an Indian curry! One of my favorites is called Mattar Paneer or as I refer to it at home: peas and cheese curry. You can have this curry as more of a soup or enjoy it on top of rice.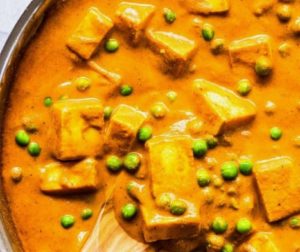 Click here for a recipe.
Sweet & Spicy Garlic Noodles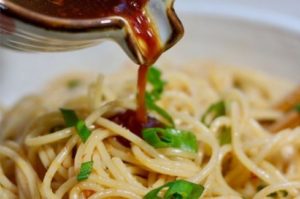 This is a nice quick meal when you're craving Asian takeout. This is one of our household favorites! Part of the reason it's a favorite at our home is that in making your own sauce you get to customize how spicy your noodles turn out to be and you can add your favorite veggies to the noodles. At my home, we love spice challenges, cabbage, peppers, snow peas, broccoli, and bok choy. Here's the recipe. 
Avocado Fries & Cilantro Lime Sauce
Okay, this is less of a meal and more of a delicious appetizer or side item. But it's delicious and meat-free! You can find the recipe for the avocado fries here. 
Crispy Vegan Potato Tacos with Jalapeno Cilantro Sauce
Potato tacos with jalapeno cilantro sauce. Do I really need to say more? You can find the recipe for these potato tacos here.
What are your favorite meatless recipes? Share your favorite(s) in the comments below!