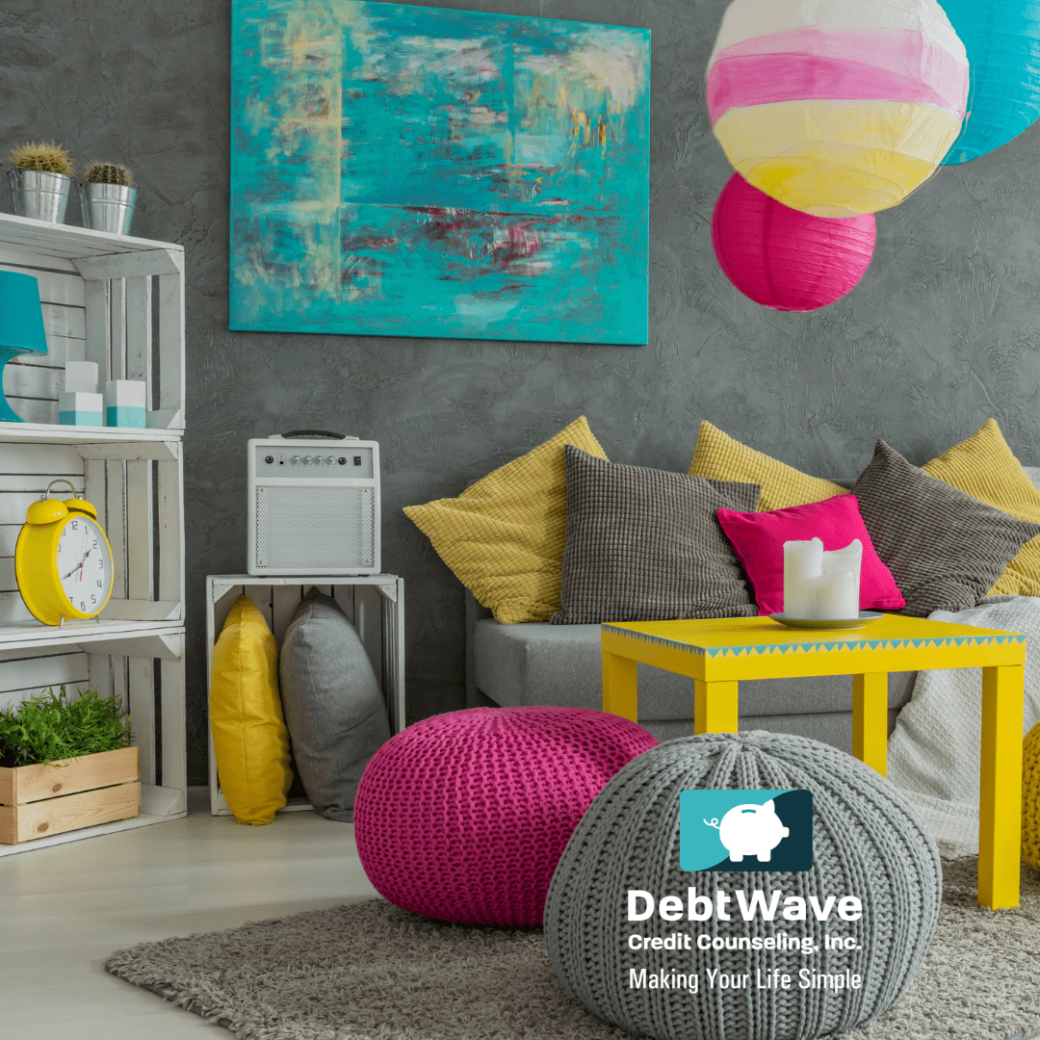 Prior to the pandemic, minimalism dominated home design trends. It was a budget-savvy shopper's dream as we were encouraged by experts like Marie Kondo to only keep items in our homes that warmed our hearts and sparked joy. 
This less is more design trend was a big sigh of relief to design-conscious consumers on a debt-free journey, especially after fans of Keeping Up with The Kardashians noted that trendsetter Kim Kardashian had caught the minimalism bug, decorating her home with nude tones and getting rid of any and all clutter, including the absence of any knick-knacks or family heirlooms.  
But after stay-at-home orders were enacted, a new design trend emerged as consumers longed to feel their personality represented in their homes, thanks in part to Zoom meetings and social media, namely TikTok. It's called cluttercore, and yes, as the name implies, it essentially involves taking out clutter we once used to hide under our beds or in storage closets and displaying it for all to see.
"Cluttercore is pretty much about collecting things you have an interest in and, instead of storing them in a closet somewhere, you actually display them," said Chris Kelley. "You cover your walls and whatnot — within reason."
In other words, cluttercore is the opposite of minimalism. 
Achieving the cluttercore aesthetic involves embracing your own authentic sense of what works in your space and what you love because, at its core, cluttercore is focused on individuality and creating a space that tells a story. It doesn't rely on themes in order to bring a space together. Rather, it's a design trend driven by what makes you personally happy, like childhood mementos, thrift-store finds, meaningful souvenirs from travels around the world, collectible figurines or trinkets, or anything else particularly meaningful to you.
Minimalism is Out, Cluttercore is In
Essentially cluttercore is a direct response to years of minimalism and the less-is-more aesthetic dominating home design, along with the pandemic, which changed our relationships with our homes. As people spent more time at home over the past few years, the desire for a space that is cozy but also highly personal became more prevalent.
"Surrounding ourselves with special objects that have meaning can [bring] a large sense of comfort. … After years of uncertainty and tension brought on by a pandemic, it makes sense that people would gravitate towards elements that feel like an emotional security blanket in a sense," said Amber Dunford, design psychologist, and style director at Overstock.
Beyond a relatable social media presence, some are embracing the cluttercore mess in order to make their house feel like a home – their home. 
A space without clutter can seem more sterile than a cozy home, said Jonah Weiner, a journalist who co-authors the popular fashion and design newsletter Blackbird Spyplane. "The model has been these zero-clutter, very formally organized places with a lot of negative space, a lot of air and, interestingly, not a lot of signs of life," Weiner said.
Francesca Edouard, a library assistant, agrees with Weiner's assessment of cluttercore creating more of a homely feel compared to minimalistic design trends, noting that in Vogue's video tour of Kim Kardashian's mostly beige home, there was almost nothing representative of Kardashian or her family inside of the reality star's home. "When I look at it, I think, are you afraid to truly live in it?" Edouard said.
Before cluttercore took over the interior design world, clutter was the villain of home design. 
If you think back to the start of the pandemic, many of us angled cameras away from messy corners of our homes, attempting to portray ourselves as having our lives at least somewhat in order. But the quiet truth is that spotless homes are hard to maintain, especially if you are working full-time and have children. In other words, the minimalist design trend started to further make people feel isolated and alone during the pandemic as they scrolled through social media and engaged with others on Zoom or social media.
Kate Woodson is a college student at Xavier University. She told the New York Times that at the beginning of the coronavirus pandemic, when she was adjusting to virtual college classes from her messy bedroom in Chicago, her loneliness was exacerbated by images of perfectly put-together homes.
"I almost felt alone," she said. "Like, I'm struggling during COVID — am I the only one?"
Influencer Alisha Ashour, 31, felt similarly. "Putting on makeup, getting dressed, buying all these things to make my home look better isn't real life," she said. So Ashour began sharing videos of her house as it actually looks – messy parts and all. The response from viewers was immediate, she said: "Keep doing this, we love it, we never see this side of TikTok."
As influencers increasingly began to share a "messy" aesthetic, searches on Pinterest for cluttercore design trends increased by more than 500 percent, according to Swasti Sarna, Pinterest's global director of data insights.
Even Marie Kondo has since leaned into a version of cluttercore, acknowledging that after she had her third child, her home was a lot less tidy, and she was ok with it. Celebrities like Julia Fox are also embracing the messy aesthetic as Fox took fans on an impromptu tour of her New York City apartment, showing off every messy bit, such as scattered shoe boxes, moisturizers, and stuffed animals strewn about.
Organized Nostalgic Chaos
Although cluttercore is new, the trend of decorating to excess is not. 
Design aficionados may remember a similar design trend to cluttercore that emerged in the 1970s in response to minimalist design trends. It was called maximalism, and like cluttercore, it involved bold colors and mixing lots of styles. But unlike cluttercore, maximalism was more theme-based and modern compared to cluttercore, which is more so a vintage mix of fun finds from local thrift stores, collectible figurines, quirky art pieces, childhood keepsakes, bold patterns, and clashing colors. 
Although cluttercore can make some consumers feel like their home is more personalized and representative of their personality, others, like decluttering expert and The Simplicity Habit blogger Juliana note that cluttercore is not the most affordable home design trend and that being surrounded by an excessive amount of stuff can turn your home from a relaxing sanctuary to a stressful mess.
"Even if all that stuff brings you joy, it can also cause you stress," Juliana wrote on her decluttering blog. "Clutter can make it difficult to truly relax, and it can be detrimental to your ability to focus or think clearly; your brain is too busy processing the things that surround you to channel its energy appropriately."
She's not alone in her opinion. According to WebMD, clutter can decrease productivity and increase stress because our brains are wired to interpret visual and sensory stimuli constantly, so being surrounded by a lot of colors, patterns, and textures can be overwhelming to many.
Beyond the stress of too-much stuff, decorating your home in the style of cluttercore can be expensive because it requires an overabundance of everything, including stuffed shelves, covered walls, countertops, coffee tables, and accent pieces filled to the brim with stuff.
"Nobody ever said cluttercore was an affordable aesthetic," Juliana wrote. "It can get pretty pricey. Let's be honest – buying books, artwork, collectibles, and tchotchkes can add up fast, even if you're getting it secondhand."
"Not only does it cost you dollars to accumulate all of that stuff, but it costs you time, too," she continued. "Shopping and then cleaning and maintaining all of your things ends up stealing your time."
Another issue with cluttercore? It can make the line between wants and needs blurry, further making us feel our debt-free journey is more of a punishment rather than a time to be grateful for what we do have in life and thankful for what we can afford, what we have been able to experience and enjoy. 
"We can spend our lives chasing stuff looking for it to make us happy, but happiness is never found in things. And in the end, it can create additional stress and burden in your life," Juliana said.
8 Tips to Achieve Affordable Cluttercore
Although cluttercore isn't for everyone, there's some good news if you're on a budget and longing to create your own at-home cluttercore design. Below we're sharing eight tips to create a personalized cluttercore design in your home at an affordable price.
1. Colored Paint
One of the easiest ways to glamourize and personalize your home also happens to be one of the most cost-effective. A fresh coat of paint doesn't cost much, and with a little sweat equity, paint can make a dramatic difference in the look and feel of your home. To create the cluttercore effect, design experts suggest either opting for bold, dramatic colors or soft, subtle hues to create an expensive feeling in any room. You can even use painter's tape to create different shapes and patterns with different colored paint to add an extra personal touch.
If you're renting and want to create a cluttercore effect but don't want to, or perhaps per your rental agreement. you're not allowed to paint the walls, consider using peel-and-stick wallpapers. Peel-and-stick wallpaper securely attaches to the walls without damaging them, and these wallpapers come in a variety of different colors, prints, and even textures. They even have blank peel-and-stick wallpapers you can paint over to create a custom look and feel that is personal to you.
2. Statement Furniture
Ask any design expert, and they'll tell you every room needs a focal point. Given most people decorate their living room in the style of cluttercore, a piece of statement furniture like a fabulous sofa can anchor the space and add instant luxury. To find the perfect sofa that fits your budget, be strategic about the sofa's size and shape. Look for affordable versions of more luxurious sofa pieces by paying attention to the fabric and shape. Keep in mind there are ways to elevate the look of the piece to make it look more high end such as swapping the legs/feet of the sofa and opting for sofa feet in a color similar to the floor to give the illusion that your furniture is floating.
3. Varied Textures
Cluttercore is a style that involves mixing materials, not just colors. A well-placed accent rug can add texture and visual interest. You can also decorate your statement furniture by mixing the pillows and blankets on the sofa, for example, using faux fur throws with faux leather and velvet pillows. On the walls and shelves, consider combing metal pieces or frames along with wood pieces.
4. Lighting 
Great lighting is essential in interior design, but it's often overlooked. To achieve a cluttercore look, you'll want to include at least one unique lighting piece in each room, such as a chandelier or a combination of overhead or wall-mounted lights. There are even affordable tabletop options you can incorporate to create an ideal glow in every room. Thrift stores and antique shops are great places to find lighting on a budget.
5. Window Treatments
Just like the perfect sofa can create a sense of luxury in your space, window treatments can add luxury to every room in your home. When you're decorating on a budget, it can be tempting to skip this part, but it's possible to create a luxurious window treatment look on a budget.
How to do this?
Find curtains that are long enough to reach from within a few inches of the ceiling to the floor. Also, keep the rods and brackets simple so they don't distract from the height that's added to the room by the length of the curtains. 

Find curtains made of more luxurious-looking materials like cotton, linen, and silk polyester, as curtains made of other materials often look cheap.

If you don't like window curtains or it's impossible to add them to your space, consider adding wood blinds or bamboo shades to give the room a polished, textured finish.
6. Statement Artwork
Investing in large pieces of art can be expensive. To lessen the cost, look for large, focal point art pieces at estate sales or secondhand stores. Or, if you are more artistically inclined, you could create your own statement art piece or print an enlarged photo you took that brings you joy. If one large art piece doesn't sound appealing to you, you can always create a gallery wall filled with various photos and/or smaller art pieces that bring you joy.
7. High-End Accents
Metallics are in right now, especially gold. Other high-end accent materials you can add to your cluttercore home design include marble, crystal, and leather. The good news for your budget is that when it comes to high-end accents, a little goes a long way, which means you don't have to break the bank to achieve a glamorous effect. For example, a marble-topped accent table, gold-legged end tables, shimmering metallic mirrors or picture frames, leather ottomans, antique gold lamp bases, or candelabras are some of the way ways to work these accents into your home furnishings to achieve the cluttercore look.
8. Unique Extras
Cluttercore is all about the small details, and if you ask any design expert, they'll tell you that even small pieces can make a big difference in the look and feel of your home. Adding unique accents can add luxury and personality for minimal money. Scour your own attic and then head out for consignment and thrift stores to find pieces that you won't find anywhere else. Cool frames, antique chests and cabinets, unique end tables and chairs, vintage chandeliers, hardware, and even glassware can add a gorgeous, upscale touch.
One last budget-friendly cluttercore design tip:
Remember that cluttercore doesn't have to be achieved in a day. In other words, go slow when it comes to adding to your collection; your budget and bank account will thank you later. Also, keep in mind that cluttercore is essentially about displaying items that are sentimental and/or bring you joy. In other words, don't just go out and buy a bunch of random stuff just to fill your shelves. Take your time with the process.