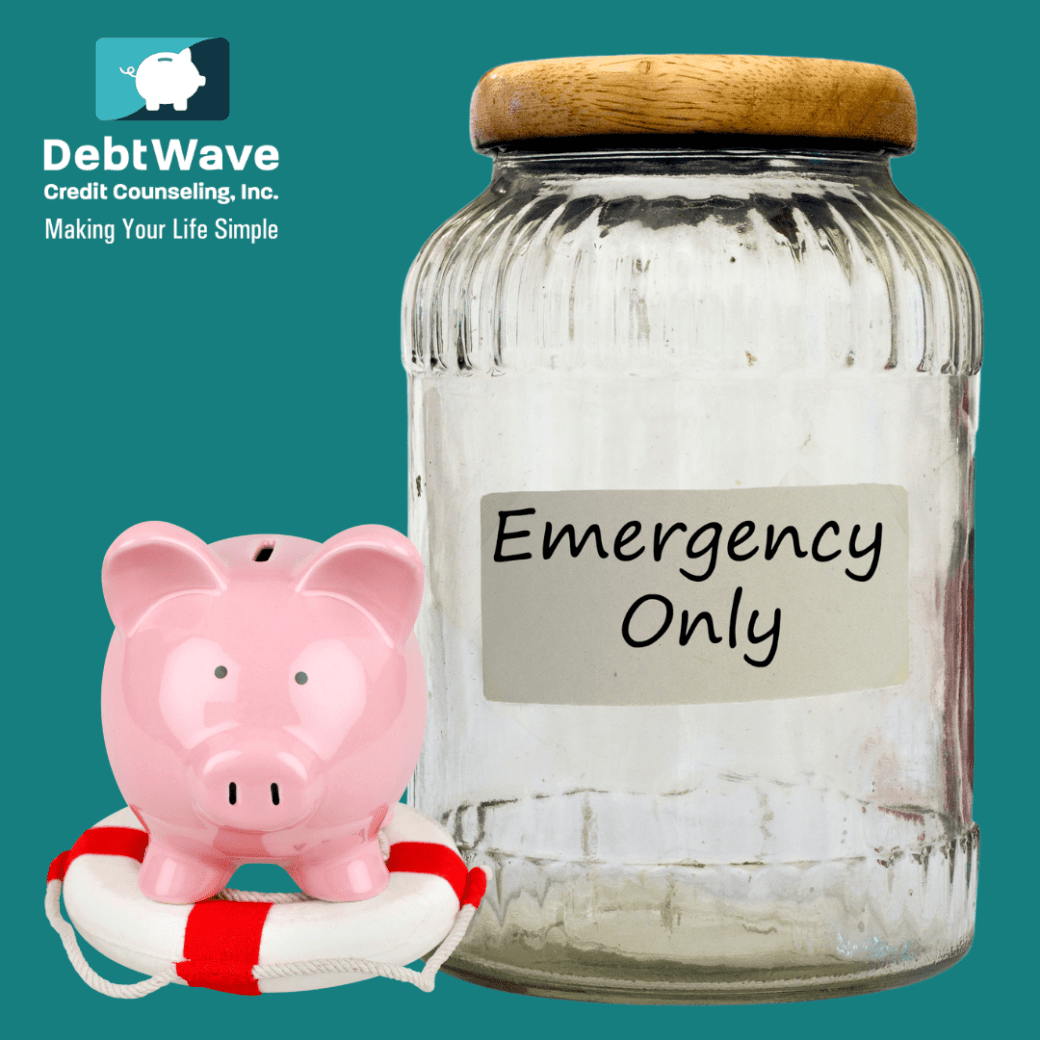 How much money do you have in your emergency savings account? Is it enough to cover your living expenses if you unexpectedly lose your job for six months? How about one month?
If the answer is no to the above questions, you're not alone.
Unfortunately, more than two-thirds of Americans, 68 percent, reported in early 2023 that they are worried they wouldn't be able to cover their living expenses for even one month if they suddenly lost their primary source of income, according to Bankrate's yearly emergency savings report. 
This number is even higher for those who identified as Generation Z, with a whopping 85 percent of Gen Z'ers reporting they are concerned they wouldn't be able to cover their living expenses for one month if they lost their job, making Gen Z the most financially stressed generation currently.
According to the Bankrate report, nearly half of U.S. adults (49 percent) reported they experienced financial challenges in the last year that lessened their ability to put away money in their savings accounts. 
Specifically, one in ten consumers reported they have no money at all in their savings account compared to a year ago, while 39 percent reported their savings account has decreased in value compared to 34 percent who reported a loss in their savings in 2022.
Survey: Credit Card Debt Higher than Savings for Many Americans
Another shocking finding from Bankrate's report? More than one-third, 36 percent, of people reported they have more credit card debt than they have in their emergency savings accounts. Further analysis of the data found that when it comes to consumers who are working full-time (ages 27-58), more than 4 in 10 reported they have more credit card debt than short-term savings.
According to Bankrate, this is the highest number of Americans who reported having more credit card debt than emergency savings in the 12 years Bankrate has conducted this survey. It's also an increase from January 2022, when 22 percent of consumers reported they had more credit card debt than emergency savings as well as an increase from January 2020, when 28 percent of people reported they had more credit card debt than emergency savings.
"It is quite stunning that such a high percentage of adults has no savings and no credit card debt," Bankrate Senior Economic Analyst Mark Hamrick said. "Anyone with no such savings, including those without access to credit, risks tremendous stress, or worse, on their personal finances when hit with a significant unplanned expense such as a major home or auto repair."
While startling, it's not exactly surprising that Americans are struggling to save money, given 62 percent of Americans reported living paycheck-to-paycheck in February 2023.
What's behind the lack of savings?
Bankrate's survey found that a majority of consumers, 74 percent, blame current economic factors for their inability to save money, including 68 percent who cited inflation as a main source, while 44 percent cited changes in income and employment as reasons they are saving less right now. 
A concern for many personal finance experts is that the current state of the economy is not exactly stable at the moment. Various industries, including the tech sector, are experiencing mass layoffs, and many companies have reported hiring freezes in preparation for a possible recession, which can make finding a new job more difficult. 
"It's clear that the less-than-optimal economy, including historically high inflation coupled with rising interest rates, has taken a double-edged toll on Americans," said Mark Hamrick, a senior economic analyst at Bankrate. "Many have resorted to tapping their emergency savings if they have it, or have taken on credit card debt, or some combination."
With consumers saving less money, it means many consumers are not only vulnerable if they lose their main source of income, but they are financially vulnerable if they experience unexpected expenses, emergency expenses.
According to Bankrate's survey, 1 in 4 Americans would accrue credit card debt in order to pay for a $1,000 emergency expense, which is a record high since polling started in 2014. 
Less than half, just 43 percent of Americans, reported they would pay for an unexpected emergency expense by using their savings. However, the survey found that lower-income households, women, and younger generations are less likely to be able to cover emergency expenses via savings.
Traditional personal financial advice recommends consumers establish an emergency savings account that would be able to cover necessary living expenses such as rent, mortgage payments, car payments, groceries, utilities, gas, childcare, health insurance, and anything else that is considered a needed expense for you and your family. 
To determine the amount of money you personally need in an emergency savings account, personal finance experts recommend you add up the cost of all necessary expenses you would need to cover for a month and then multiply that by a minimum of six, representing a financial cushion for at least six months. And yes, if you have credit card debt, make sure to include payments on that debt in your list of necessary expenses.
If you're not sure how to make room in your budget to establish an emergency savings while paying off credit card debt, consider having a complimentary budget analysis with one of DebtWave's certified credit counselors. 
When you call DebtWave Credit Counseling, Inc. for a free credit counseling session, you'll speak one-on-one with a certified credit counselor about your finances for about 60 minutes.
During the call, a financial counselor will pull a soft inquiry on your credit, meaning it won't have a negative impact on your credit score, but will allow your credit counselor to view your liabilities, account statuses, and credit score. Your financial counselor will also inquire about your financial goals, income, expenses, and debts, in order to provide general personal finance advice, including advice on budgeting and managing money.
Learn more about DebtWave's credit counseling and debt management services and schedule a complimentary budget analysis with one of our certified credit counselors here.