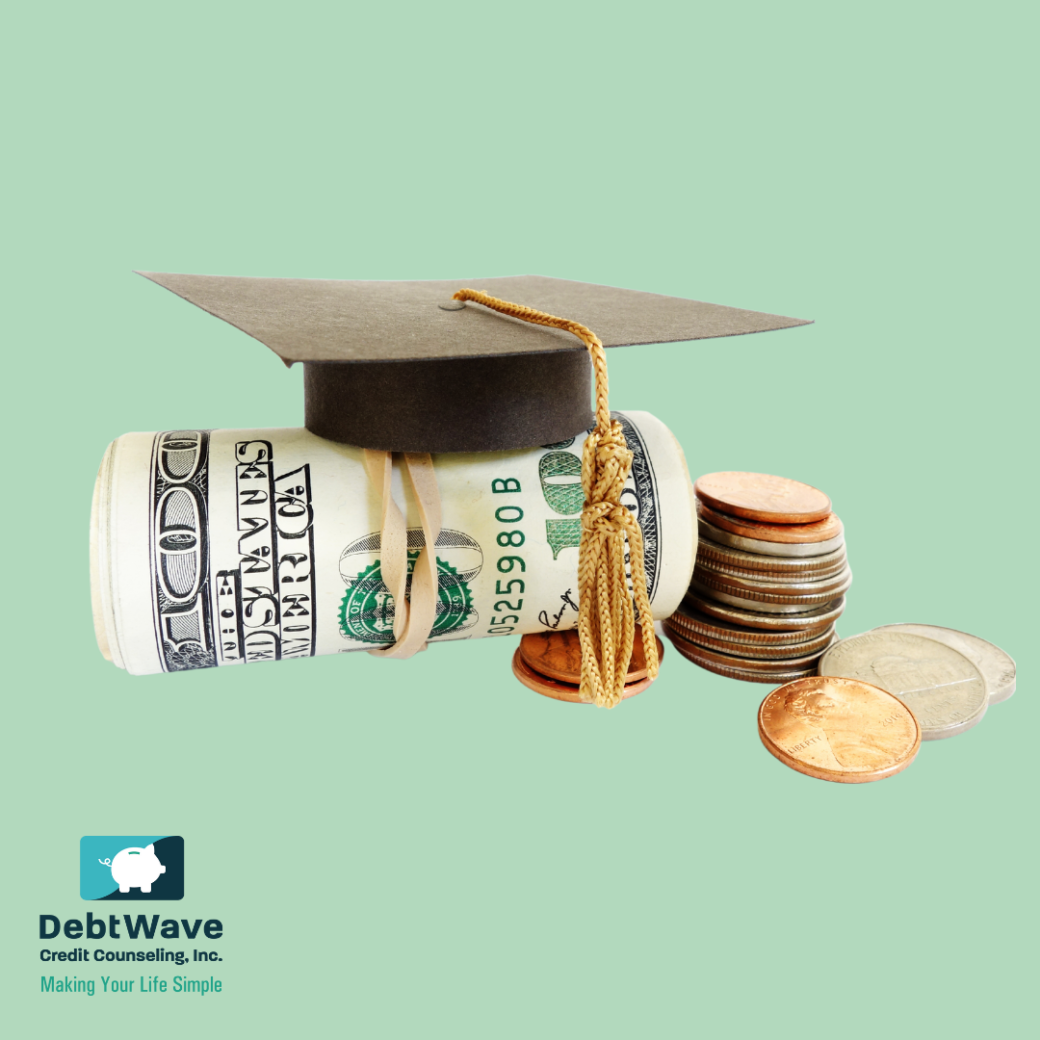 Update: On April 5, 2022, President Biden extended the student loan repayment freeze until Aug. 31, 2022.
Starting May 1, 2022, more than 50 million student loan borrowers will once again be required to make payments toward their student loans, including 41 million federal student loan borrowers.
Payments were slated to resume on Feb. 1, 2022, after multiple student loan repayment extensions under the Coronavirus Aid, Relief, and Economic Security Act (CARES Act). 
Under the CARES Act, interest accumulation and payments for federal student loans were paused in March 2020 in order to ease the economic burdens that resulted due to the pandemic. The pause on federal student loan repayments, which affected roughly 92 percent of the total student loan debt, was originally scheduled to sunset on Sept. 30, 2020, but was later extended by former President Donald Trump, former Education Secretary Betsy DeVos, and most recently by President Joe Biden. 
In December 2021, Biden announced a final student loan repayment extension from Feb. 1 until May 1, 2022, to help borrowers prepare financially for the return of these student loan payments.
"We know that millions of student loan borrowers are still coping with the impacts of the pandemic and need some more time before resuming payments," President Biden wrote in a December 2021 statement announcing a final repayment extension. 
At the end of his statement, Biden urged borrowers to financially prepare for repayments to resume.
Welcome Financial Relief
News of the repayment extension was welcome news for many American consumers, as it was reported in December 2021 that U.S. consumers were experiencing record inflation of around 7 percent. Meaning consumers were paying the highest amount for goods including groceries, gas, and electricity in more than 40 years, since 1982.
"It makes me so relieved," Brooke Jensen, a 2019 graduate of New York University with about $30,000 in individual student loan debt told NPR about the repayment extension. "I don't have to think about this immediately. And hopefully, by the time they do restart again, I will maybe be in a better place financially," Jensen said.
In addition to the student loans he took out personally, Jensen's mother also took out Parent Plus loans to help pay for Jensen's schooling, which he says he was planning to help pay off.
"There's plenty of other things to be stressed out about in the world right now," Jensen says, "but not having student loan repayments, that'll be nice not to be stressed out about that."
Student Loan Payments Resume in May: Are You Ready?
The pause on student loan payments is saving borrowers an estimated $5 billion a month, according to the U.S. Department of Education. By February 2022, that would have accounted for more than $115 billion dollars.
Now with about three months until these payments resume, a new poll from CNBC shows that student loan borrowers don't believe their federal student loan payments will restart on May 1, which could spell trouble for at least some student loan borrowers who think temporary student loan relief will continue.
According to the CNBC poll:
29% said student loan payments will resume on May 1, 2022;

26% said President Joe Biden will extend student loan relief again;

28% said some student loans will get student loan forgiveness; and

14% said all student loans will be forgiven.
Although borrowers technically have until May 1, 2022, before their student loan payments resume, the time to start thinking about how these payments will affect you financially is now, says Betsy Mayotte, founder of the nonprofit organization Institute of Student Loan Advisors.
Her biggest piece of advice? If you can afford to, start making payments toward your student loans before the pause ends.
The pause on student loan payments set loan interest rates to 0 percent. "That's a gift," says Mayotte. "That means all payments made during the pause go straight to the principal — not the interest. For borrowers who might be in a comfortable financial position, this is a great time to pay down as much of that debt as you can."
One way to set yourself up for success? Transfer your monthly student loan payments into a savings account specifically for your student loans, says Ashley Norwood-Struppa, from the AccessLex Center for Education and Financial Capability.
"If forgiveness is announced in the future, you would have cushioned your emergency fund and didn't lose out on any loan forgiveness benefits. If forgiveness does not occur, you can decide if taking the amount you saved and paying down your student loans makes financial sense for you."
Student Loan Cancellation Off The Table?
While Biden's announcement to delay student loan repayments by three months was welcomed with open arms, many were disappointed Biden didn't go farther with his presidential authority. 
Student loan borrower activists and advocacy groups, labor unions, state attorneys general, and many Democratic lawmakers in Congress have been pushing former President Trump and now President Biden for months to cancel up to $50,000 in student loan debt using his executive authority. A group of 80 lawmakers sent a letter to Biden as recently as Jan. 25, 2022, asking the POTUS to consider canceling at least a portion of student debt and to share the legal reasoning he had the authority to do so.
Some members of Congress have even warned about the financial implication that comes with not canceling at least a portion of student debt. 
"We are at such a delicate point in the financial and just general economic recovery post-COVID that to then restart payments that are essentially the size of a mortgage payment, sometimes even larger, on a generation that was already so devastated not just by this but the recession, et cetera, I believe it could very– it could throw out of balance already what is a very fragile recovery," Rep. Alexandria Ocasio-Cortez (D-NY) told Yahoo Finance. 
Debt Induced Delays
Prior to the coronavirus pandemic, student loan debt was not just rampant in the United States, the high levels of debt were delaying other big financial events for some 44 million Americans including marriage, buying a home, and having a baby.
"There is more student loan debt than credit card debt in this country, and it's saddling an entire generation with an economic burden, unlike anything we've seen before," tweeted California Senator Alex Padilla.
When you look at the numbers, it makes sense why many millennials were delaying expensive life milestones and developing record levels of financial stress.
In 2018, the average college student graduated with about $29,800 in student loan debt. This amounted to monthly payments of about $393, not including interest. The average interest rate on student loans was 5.05 percent, which added about $23 to the average monthly student loan bill.
This means there are some 44 million Americans who are paying an average of $416 each month solely toward their student loan debt. That figure is more than 10 percent of the average American's take-home pay, which is in laymen's terms, a lot of money.
Cancellation Mess
But others argued that canceling student loan debt will create other financial problems, including "moral hazard problems" if people begin to borrow money under the assumption that there will be future debt cancellations, according to a report from JP Morgan, Chase & Co.
"If people believe debt could be forgiven in the future, they may change their behavior today, taking out more debt or repaying current debt more slowly than they would otherwise," the report said.
Regardless of when student loan payments resume, experts say it will be incredibly messy given so many back and forths with borrowers. 
Even a 2020 report from the Education Department noted the resumption of payments would be messy. Loan servicers and the federal government, the report says, will "face a heavy burden in 'converting' millions of borrowers to active repayment." The transition could also be confusing to borrowers, with some "becoming delinquent, at least initially."
4 Tips to Financially Prepare for Student Loan Repayment
1. Update your contact information in your profile on your
loan servicer
's website and in your
StudentAid.gov profile
.
Once the payment pause ends, you'll receive your billing statement or other notice at least 21 days before your payment is due. This notice will include your payment amount and due date.
In the meantime, you can get an estimate of your payment amount and due date through your loan servicer. 
2. Review your auto-debit enrollment or sign up for the first time. 
For most borrowers, auto-debit payments will not restart automatically. Most borrowers will need to opt in to confirm their auto-debit enrollment before payments restart. To do so, log in to your loan servicer's website or contact your loan servicer directly.
3. Verify your interest rate, monthly payment amounts.
For many borrowers, your interest rate will be the same as it was before the 0 percent interest began.
But some borrowers will find their interest rate has changed. For example, your interest may have changed if you consolidated your loans during the payment pause. Contact your loan servicer for your exact interest rate. You may also be able to log in to your loan servicer's site to find this information.
If you're on a traditional repayment plan, such as a Standard, Graduated, or Extended Repayment Plan, then your loan servicer may recalculate your payment amount when the payment pause ends. 
Your loan servicer would base your new payment amount on:
your current balance of principal and interest and

your remaining repayment period.
If you're on an IDR plan, your payment amount will return to what it was before your payments were paused (unless you've recertified or switched plans since the payment pause began).
The payment pause also paused your repayment schedule. You will still pay the same total number of months. But the date when you were scheduled to complete repayment has been delayed.
For example, say you entered repayment on a 10-year Standard Repayment Plan on Jan. 1, 2018. You would have 10 years from that date to repay your loan. So normally, you would pay your loan in full by Dec. 31, 2028. But the payment pause is excluded from the 10-year period for the repayment plan. If the payment pause were to last two years, then you should repay the loan in full by Dec. 31, 2030.
4. Can't afford your monthly payment? 
Consider applying for an income-driven repayment (IDR) plan. An IDR plan can make your payments more affordable, depending on your income and family size. If you're not eligible for an IDR plan, reach out to your loan servicer. Your loan servicer can work with you to help you understand your options.
If you're interested in lowering your student loan payments to more aggressively pay off your credit card debt, call DebtWave Credit Counseling, Inc. at 888-686-4040.