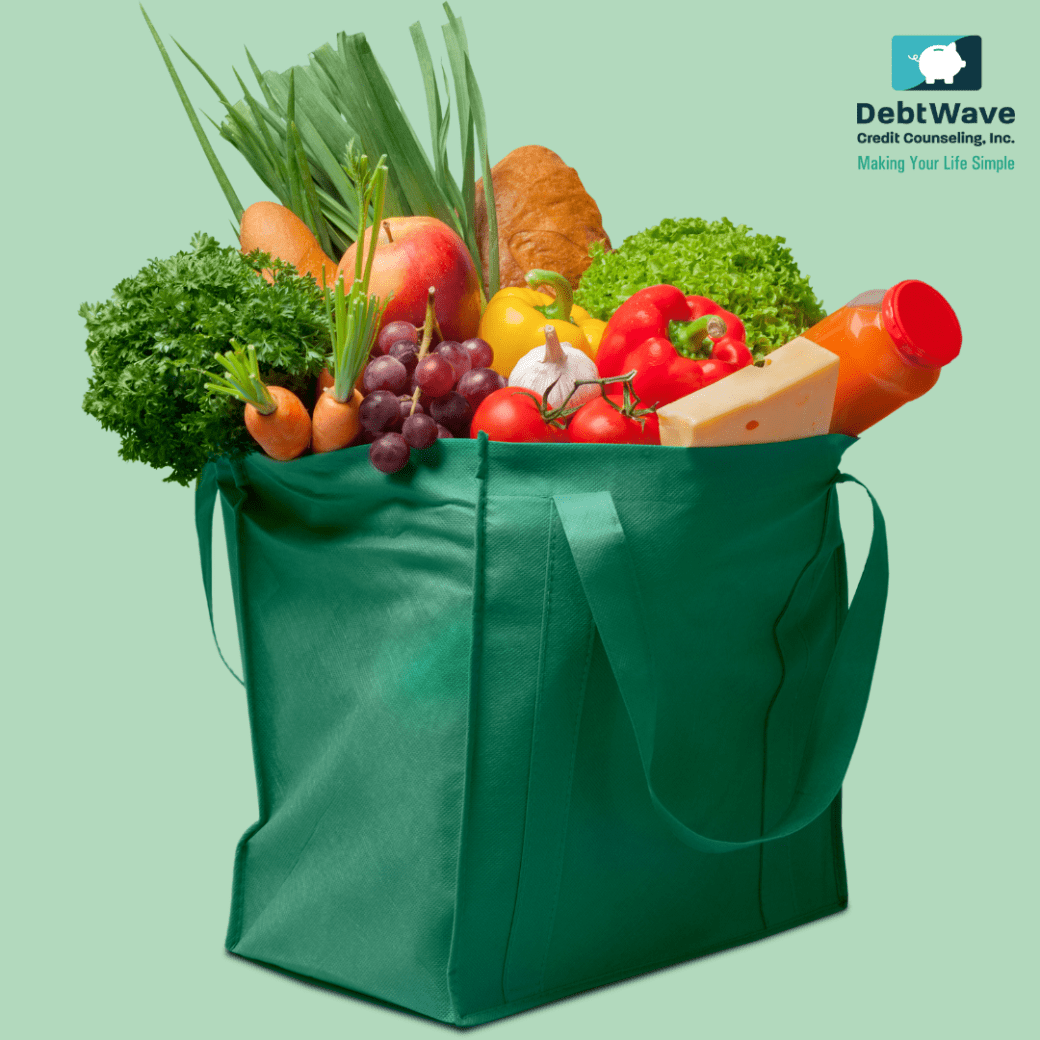 Did you know that grocery expenses tend to be the second-largest household expense, right behind your mortgage or rent?
Shopping at the grocery store and cooking meals at home used to be a guaranteed way to create extra cash flow in your budget – especially compared to grabbing lunch on the go or ordering takeout for dinner. But a new report from the Bureau of Labor Statistics found that grocery prices are up over 6 percent on average since last year, with some of the biggest hikes showing up in the price tags for beef, meat, and poultry. 
The cost of produce and wheat are also increasing due to rising costs of fertilizer, seeds, and other necessities for farms, resulting in higher price tags on food. 
Considering inflation is expected to impact food costs well into 2022, it's more important than ever to review your grocery shopping strategies to find ways to stretch your budget.
Increasing food costs have changed the way shoppers are buying food, said Carl Alguire, COO of Mother Earth Food, an online grocery store. At Mother Earth, high-cost meat cuts and luxury cheese purchases are down, and more staples are being sold, such as beans, grains, and pasta.
"People have seen a big impact at the grocery store, but there's an even greater impact when you're talking about takeaway food and picking up a to-go meal or meal kit," Alguire said. "Those kinds of things have gone up almost 5% or 6% in the past six months." 
"The food price market is very, very volatile right now," Alguire added, noting it's been tough because "food's a necessity, not a luxury."
How Much Should I Spend on Groceries?
Determining how much to spend on groceries and creating a budget is a challenge for many households. It isn't that coming up with a number to spend on food is hard – it's staying within a budget that is tricky.
Before you can lower your grocery spending you first need to understand how much money you are spending on groceries each month or week. Grocery spending can vary week by week, and monthly depending on how adventurous of a chef you are, the number of people in your home, as well as their ages and appetites.
According to the U.S. Department of Agriculture's Cost of Food Report, in February 2022, a thrifty family of four (Male and Female, 20-50 years, and two children, 6-8 and 9-11 years) was spending around $204.90 per week on groceries, that's about $887.80 per month, and close to $11,000 a year for groceries. 
A more liberal grocery shopper or those living in higher cost of living areas should expect to spend closer to $1,370.40 per month on groceries, or around $343 per week, $16,444 per year on groceries. 
While that may sound about right for some households, for others it may be way off the mark. 
27 Ways to Save on Groceries
1. Make a Meal Plan
Before you create a grocery list, it helps to know what you're making for breakfast, lunch, and dinner for the week. And if you create a meal plan, you may find that you can stretch some of your ingredients further, buy in bulk, or plan accordingly for the guests coming over for dinner on Wednesday night.
2. Shop Your Pantry, Refrigerator, Freezer First
Once you know what your meal plan is for the week, shop your pantry, refrigerator, and freezer for items you already have. You may also want to look for items close to their use-by date and make sure to include those almost-expired canned beans in your meal plan for the week.
3. Read the Grocery Flyers, Look for Sales
Another helpful tip when planning your meals and before you go shopping is to look at the grocery flyers. Some will have coupons to use in-store, but the flyer will also help guide you toward items that are on sale that week, which you can use to plan your meals for the week.
4. Shop In-Season Produce
Grocery store flyers often will hint as to what produce is fresh and in stock. In-season produce tends to be much more affordable than produce that is not in season. So even though you may love one particular fruit or veggie, try to explore other in-season produce as the seasons change. You may even find a new seasonal favorite.
5. Meatless Options
For many Americans, dinner often conjures up an image of meat, accompanied by sides like potatoes, veggies, salad, and bread. But this meat and potatoes dinner idea is actually quite expensive. Consider going meatless one night a week or more to help lower the cost of your grocery bill. 
6. Breakfast for Dinner
One easy way to go meatless during mealtime? Breakfast for dinner. Eggs are relatively inexpensive, as are pancakes, waffles, quiches, and omelets. A green-chili egg bake may even last you for a few meals!
7. Eat Your Leftovers
Instead of throwing out the food that you didn't consume, consider wrapping up your leftovers to eat the next day or even take with you to work for lunch. The two meals that consumers are most likely to order takeout or eat out? Lunch and dinner. Give your wallet an advantage and reduce temptation by getting in the habit of eating leftovers.
8. Freeze Make-Ahead Meals
Maybe you're in the mood for a big pot of chili or you wanted to make a large batch of one of your favorite recipes. Consider freezing what you know you won't be able to eat before the food spoils. This way you have an easy, ready-to-eat meal waiting for you on one of those nights you just don't feel like cooking. 
9. Use a Calculator to Add Up Expenses While You Shop
When you're shopping at the grocery store, it can be hard to figure out just how much all of these items will cost you in the end. One way to avoid this is to use a calculator app, or a pen and paper to add up the cost of your items as you add them to your grocery cart. This way when you get to the checkout stand, you will be less likely to experience sticker shock when all your items are added up.
10. Round Up the Cost of Your Items
If you're adding up the cost of items you're adding to your cart, round up the cost to account for taxes and fees you may incur at the checkout. For example, say you buy a jar of pasta sauce for $6.59. Instead of adding this expense at the sticker price, round up to $7.
11. Buy Frozen Vegetables, Fruits
Many of us have been convinced that fresh produce is better than frozen, but that's not always the case. In fact, studies show that fresh produce loses nutrient value after sitting on a store or refrigerator shelf for a couple of days, but frozen produce and vegetables are flash-frozen at peak ripeness, ensuring optimal nutrients when they're defrosted. 
Plus it's cheaper — especially if you opt for the generic or store-brand option. Stock your freezer with your favorite veggies and produce to whip up an inexpensive stir-fry, omelet, or smoothie.
12. Clearance, Closeout Items
Grocery stores mark down items that are close to their expiration date at least once a week and put these items on a clearance shelf. To take advantage of these reduced-price items, it's best to head to the grocery store early in the day to find the best closeout and clearance items at a digestible price. 
13. Shop at Peak Sales Times 
The time of the week you do your grocery shopping also affects how much you're likely to spend. Groceries tend to be marked on sale on Wednesdays, allowing week-day shoppers to get the best deals for their groceries compared to weekend grocery shoppers. The grocery store also tends to be less crowded during the week, giving you a chance to feel less rushed when price-comparing items. 
14. Watch Your Bulk Purchases
Warehouse clubs often advertise big discounts on foods, but that's because you're buying in bulk. If you're not able to eat 40 yogurts before they expire, buying in bulk may not actually be saving you money in the end. Be honest with yourself about how much you need and how quickly you will use/consume an item. Buying bulk may not actually be your friend. 
15. Get Picky with your Grocery Store
We know it's hard, but it may be time to break up with your go-to grocery store. It's not you—it's their overpriced produce. In the U.S., some of the most affordable grocery stores include Aldi, Sprouts, Market Basket, WinCo Foods, Food 4 Less, Costco, Walmart, and Trader Joe's. Prices may be different in your area, so if you're not sure which grocery stores are worth your time and dollars, shop around and compare prices.
16. Shop Local Farmers Markets
Local farmers' markets are not always cheaper than grocery stores, but in the last hour or so before the farmers market closes, you may be able to negotiate discounted prices on fresh produce, vegetables, flowers, and more as vendors try to clear out their inventory before the night ends. 
17. Skip Pre-Packaged, Pre-Made, Pre-Cut Items
Pre-packaged salads, pre-cut vegetables, fruits, and prepared meals may save you time, but they won't save you any money. Skip the pre-cut, pre-made items and get in the habit of becoming your own sous-chef.
18. Make a Grocery List – Not on the List, Don't Buy It
Have you ever made a grocery list but found yourself really impressed by the "sale" signs around an item and ended up spending way more than you intended? One way to avoid temptation? If it's not on the list, don't buy it – no exceptions. If you see an item that piques your interest, add the item to your list for your next grocery shopping trip. 
19. Curbside Pickup if You Struggle to Stick to a List
Struggling to stick to your grocery list? Do you find yourself walking out of the grocery store with a little something extra for yourself? Consider using a curbside pickup option for your groceries. Using apps or ordering groceries online allows you to edit items, see your subtotal before you checkout, and prevents you from buying that candy bar and magazine while waiting in the checkout line. 
20. Buy What You Know You'll Use
Now may not be the time to experiment with pricey, exotic delicacies. If you're not sure you'll like it, let alone eat it, skip the item for now. 
21. Buy Generic
Consumer Reports says most store brands measure up to the name brands in taste and quality—and they're usually 20–25 percent lower in price too! This means that a family of five can save up to $3,000 a year just by switching from name-brand foods to store brands.
22. Green Thumb
This might not be for everyone, but it's a great way to eat healthy on a budget. You can grow your own tomatoes, bell peppers,  potatoes, lettuce, beans, and cauliflower in your garden, and you won't have to buy any at the store. 
Don't have a yard? No problem! There are plenty of indoor garden kits out there. You can even start small by planting herbs like parsley, cilantro, and rosemary, placing them along your kitchen windowsill. If you can't use your herb harvest right away, you can always puree and pour the herbs into ice cube trays to freeze for later use. 
23. Rebate Apps
When you're searching for ways to save money on groceries, don't forget about all the rebate apps out there!
Ibotta, Receipt Hog, Checkout 51 and Fetch Rewards are some of the more well-known apps that can help you save money in the long run.
24. Bring Your Own Bags to the Store
Many grocery stores will give you a discount on your total grocery bill by using reusable bags; some will charge you if you don't bring your own grocery bags. Your savings will usually run somewhere between 5 and 10 cents per bag. Five bags could save you anywhere from 25 to 50 cents. 
Tip: Keep some reusable bags in your car so you don't forget them at home.
25. Ignore eye-level items
Have you ever noticed that the most expensive items on the grocery shelves are right at your eye level? That's no fluke. Grocery stores are smart marketers. They want you to see those splurge items. Instead of falling for those marketing tricks, look up and down as you shop. The more affordable brands tend to be higher or lower on the shelves. Think of it as a treasure hunt for the best price.
26. Buy meat when it's on sale
When it's not Meatless Monday, bring meat back into your diet by learning how to become a savvy meat shopper. Be on the lookout for great bulk deals on meat. Don't worry about it going bad before you can use it all, because you can always stash it away in the freezer. Also, look for cuts of meat that are cheaper alternatives to what you usually buy. 
27. Learn How to Cook
Don't know how to cook? There are a ton of free videos and cooking tutorials on YouTube, TikTok, Pinterest, and more, including copycat recipes for some of your favorite dishes from your favorite restaurants and amusement parks.