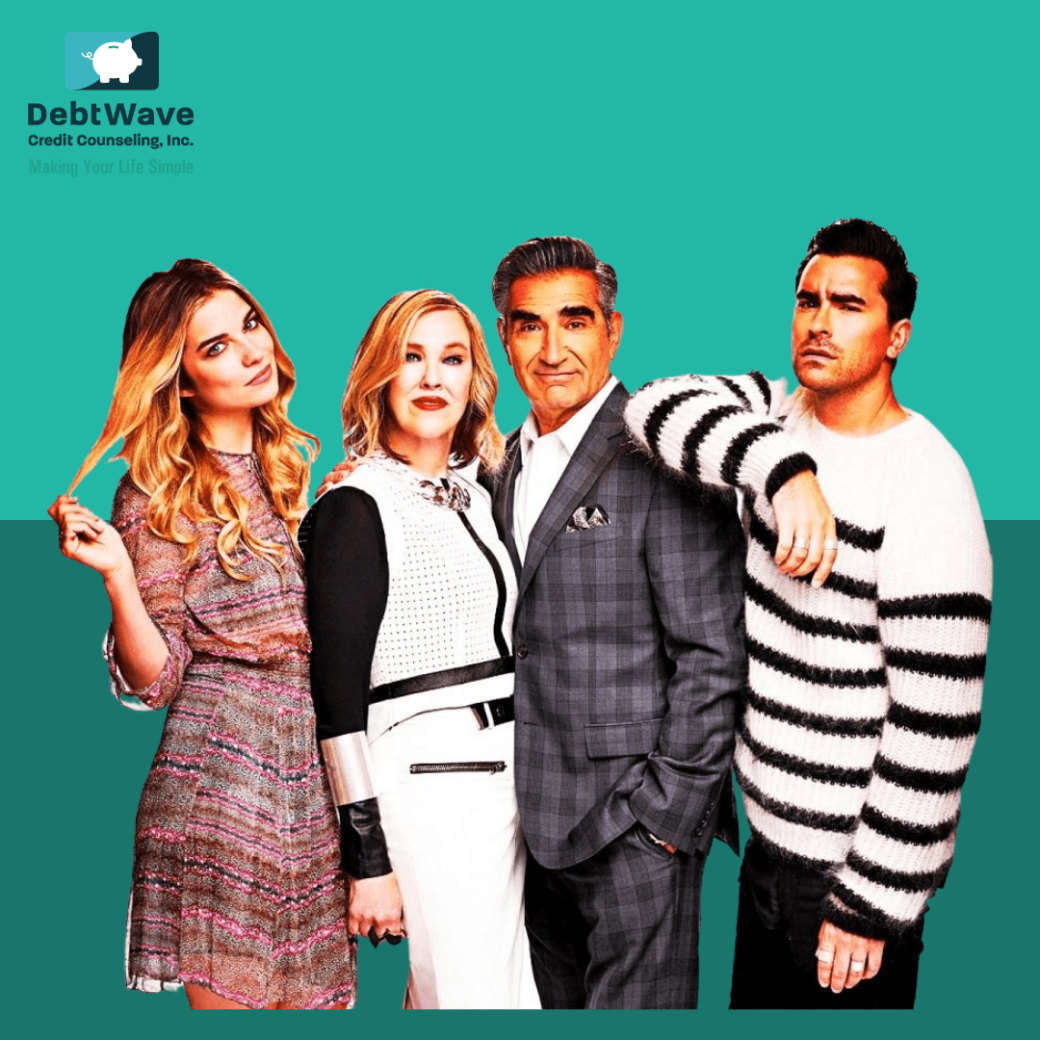 While most of us rarely discuss our financial situation with our family, including parents and siblings, research has found that most of our money habits, including spending and saving, are largely ingrained in us by age seven based on the money relationships we've witnessed firsthand.
And as actor, writer, producer Dan Levy observed, most of what we're shown in pop culture is that money is the tool required in order to give and receive love, affection, and even friendship. 
"If you look at the reality television world of Real Housewives and the Kardashians, a lot of love manifests itself in money," Levy explained. "When the money is gone, who are you? How do you love? How do you show someone you care about them when you can't buy their love or gift them anything?"
Luckily for us, Levy was inspired to explore this topic further and wrote about this seemingly simple money observation, which became the beloved television show "Schitt's Creek."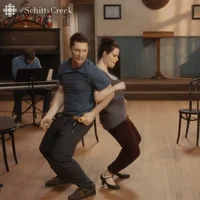 "I knew I wanted [Schitt's Creek] to be about a wealthy family that didn't know each other, that was very far away from each other in their lives and that had to be brought back together because they lost their money, and what would that look like," Dan Levy explained.
Money, Family, & Culture
For those of you who have managed to avoid all pop culture references to the hit sitcom, let me give you a brief synopsis of the show. 
"Schitt's Creek" is a tale about a wealthy family who loses millions of dollars overnight thanks to a shady business manager who neglected to pay taxes from the family's business. 
After the government takes pretty much everything from the family, essentially leaving them homeless with the clothes on their back, the Rose family's matriarch and patriarch (played by Catherine O'Hara and Eugene Levy, Dan's father), along with their two adult children (played by Annie Murphy and Dan Levy), are now forced to live out of a rundown motel in a small town the family purchased years prior as a joke. A town named Schitt's Creek.
"When we came up with the premise for 'Schitt's Creek' it was very timely," Levy said. "We were coming off of the financial crisis and the Bernie Madoff scandal and all of these stories of wealth being stripped from people. You heard stories of millionaires losing everything overnight. We know how rich people live down to the last detail thanks to the likes of the Kardashians, and we wondered what would happen if you took a Kardashian-style family with very materialistic priorities, and you watched the undoing of that until they had nothing?"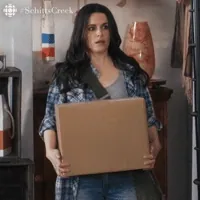 Dan Levy and his team researched how people might lose their money overnight—the way that money could be taken from people or how they might go bankrupt.
"We came across a story about Kim Basinger, who in the early '90s, she bought a town in Georgia, I think assuming it would be used as a location in film and television," Dan Levy shared. "It didn't work out that way. So we thought that could be funny: like what if this family had bought a town and that was all they were left with?"
Money Roses & Thorns
In the first two seasons of "Schitt's Creek," viewers are given a front-row seat to the Rose family's financial hardship and witness how the financial loss impacts their relationships with one another and themselves. According to Dan Levy, showing the characters' fall from grace was important to the story, as, in the later seasons, viewers experience the emotional maturity of the characters; their growth and maturity as they learn to love and live without throwing oodles of money at their problems. 
"I think money, particularly for the Roses in our show, has fixed a lot of their problems," Dan Levy explained. "By removing that Band-Aid that they've been using to patch on things their entire lives, we are now able to really explore who these people are and what they mean to each other in a very real way. Whereas in their past lives, where they had the means to cover up any flaws in their family by throwing money at the problem, now they actually have to talk it through," he said. 
"We had to have two seasons to earn the emotional power and change," Dan Levy explained. "We wanted people to know who they were so that you would cheer for them as they transformed into who they are now."
While the series concluded after six seasons, the show has had a big cultural impact on how we think about wealth, money, family, community, and the opportunities that exist during times of financial hardship. Although we could talk about this show all day long and all of the money lessons that emerged, for the sake of time, we'll just share seven of our favorite financial lessons from the sitcom.
7 Financial Lessons from Schitt's Creek
1. Manage Your Money Managers 
Johnny Rose — the head of the Rose family — left all of his money management to the family business manager, Eli. While it's perfectly acceptable to get help with your money management – especially if you struggle in this area, you still want to keep close tabs on your money and know what incomes, expenses, taxes, debt, and insurance you have. 
If you don't keep a close eye on your money and money managers you may end up just like Johnny Rose, unaware that your business manager has been embezzling money from the Rose Video company instead of paying taxes like you assumed. In the case of Schitt's Creek, Johnny Rose didn't find out that his money had been embezzled by his business manager until the government showed up at his home to repossess all of the Rose family's assets – leaving them with nothing except the town of Schitt's Creek. 
Lesson Learned: 
Take stock of what you own and owe money on, what income and expenses you have, the insurance coverage you have and be honest with yourself about your financial skills. If you hire a money manager make sure you understand what they are and are not responsible for, how much they're charging you for the service, and how to communicate with you in the event your financial situation takes a turn for the worse. 
2. Emotional Revenge Spending is Real
Money is more psychological than you might realize. About 90 percent of our money decisions are made based on our emotions. Only about 10 percent of our financial management is related to math. 
So it's understandable when you make a big win and feel like you're on top of the world — or, conversely, when you lose money and your mood deflates, you may feel the urge to spend money just as David did at the start of the series. 
Seemingly overwhelmed by the cultural shock of living in a small town, David orders a set of eye creams from Paris after the Rose family arrives in Schitt's Creek because obviously who doesn't need high-end Parisian skincare? 
Given the fact that the family was broke, Johnny was a bit flabbergasted to hear that David was still nonchalantly charging purchases to his credit card. It seemed that David thought that credit cards were a replacement for cash and he could buy whatever he wanted as long as it was charged to a card and arrived before the bank realized he couldn't actually pay for the items.
David isn't the only member of the Rose family who struggles with emotional spending – and it makes sense. Before the Rose family found themselves living in Schitt's Creek, they had every material desire fulfilled and it seemed endless money to spend for the rest of their lives until they lost it all. That's a tough mindset change.
But in that interim space between having nothing and turning their financial situation around, David began to save money from his job at the Blouse Barn, much to the disappointment of Alexis who believed the family deserved to treat themselves to a vacation. 
We've all experienced revenge spending at one time or another: It's where you diligently refuse to spend on nonnecessities for a period of time and then, BOOM, just like that you find yourself paying for whatever you want left and right. 
It's easy to justify revenge spending because you say, "Well, I barely bought anything in the last few months so I deserve this!" And you're totally right; you do deserve that thing you really want! But it's important to be careful because your spending could get a little out of hand. 
Next time you feel yourself tightening your purse strings, make a list of items you've been thinking a lot about purchasing. Then, when you feel like it's time to treat yourself, pick an item or two from your list. Knowing exactly what you've been wanting can help you avoid the temptation of spending on just anything that looks appealing.
Lesson Learned: 
While it's nice to give yourself a little treat here and there, don't underestimate the importance of saving part of your money as soon as you get it (aka, paying yourself first). When you save money and don't see it, you aren't tempted to spend it. That way you have some savings to rely on in case of surprise bills or an emergency.
When your finances feel overwhelming, lean on your loved ones for emotional support and encouragement instead of your credit card. You may surprise yourself with how resilient and creative you are in these situations just like the Rose family surprised themselves.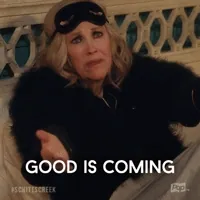 And remember, just like the Rose family got back on track financially, you can too, but it will likely take time. The average consumer enrolled in DebtWave's debt management program usually reaches their debt-free status three to five years after beginning their debt-free journey.
3. Use Your Strengths, Say Yes to New Opportunities
Despite various opportunities to leave the town throughout the series, the family chooses to stay in Schitt's Creek numerous times and finds themselves growing professionally and individually.
For example:
Johnny Rose is a serial entrepreneur, often looking for ways to take advantage of his business expertise eventually helping reinvent the motel they live in.
Alexis starts her own PR firm and creates opportunities to demonstrate her talent through planned parties and events.
David opens an apothecary goods store that exclusively sells fine goods and body products. Although a luxury skincare store didn't seem like a guaranteed success in a small town like Schitt's Creek, David was completely confident in his taste and ability to cater to fine goods in a small town. 
Even Moira won a spot on the city council, as the people of Schitt's Creek had full faith in her ability to govern. She also leads the Jazzagals, directs a local theatre production of Cabaret, before she goes on to reprise her role in the Crows Have Eyes III: The Crowening. 
Lesson Learned: 
Believing in your passions and abilities can lead to a successful life no matter where you are – even if it's a small town. David and Johnny both launched successful businesses from Schitt's Creek, Moira got her acting career back after staying in Schitt's Creek for a while, and Alexis learned she's really good at public relations.
4. Research Your Side Hustle Before You Start
Side hustles can be lucrative and a great way to speed up paying off debt or saving up for a big purchase. But side hustles often require work before you start seeing any profits and there's always the chance that your side hustle is just not in demand – at least not in your community.
This is exactly what happened to Moira. She received a package full of skincare products and instructions for getting started as a sales representative for a brand called Allez-Vous and was so enchanted by the idea of earning money that she didn't take the time to research or speak to anyone in the town about the skincare products. 
If Moira had asked around to gauge interest in the skincare products, she may have learned sooner than later that almost everyone in town had already become an Allez-Vous sales associate, and given no one was really making any real money from the product, the entire town pretty much lost interest in everything to do with Allez-Vous.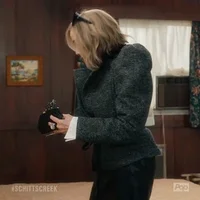 Similarly, when Twyla tells Johnny that raw milk can be sold for quite a bit more than pasteurized dairy given it's illegal, Johnny immediately sees this as an opportunity to make some extra cash fast. He enlists Alexis' help to get him a few pints of raw milk, buuuut things go awry when Alexis misunderstands the quantity Johnny requested and returns with 12 huge jugs of raw milk, which ended up costing closer to $400 instead of more like $40. 
The cost of the raw milk was more than John had bargained or even budgeted for. And in the end, he gets stopped by the police while transporting the milk and is forced to dump out all $400 worth of the milk on the grass.
Lesson Learned: 
Sometimes it's best to wait at least 24 hours to see if you reaaally want to buy the item you saw. You may surprise yourself with how often you only liked the idea of having the item. Another question to ask yourself? Would I still want this item if I didn't post it on social media and no one would ever know I have this?
5. Lending, Loaning, and Borrowing Money
Moira has a sister named Dee Dee and as we learn when Dee Dee comes for a visit, Dee Dee actually borrowed money from the Roses before they lost everything, like a looooot of money, and never paid them back. Dee Dee assumed that the Roses had so much money that the money was not a loan, it was a gift and is adamant she won't be paying it back.
Only problem? This is not how Moira remembers the money being loaned to her sister and now that she is in her own financial predicament, Moira is more than a little miffed that her sister is not reciprocating the financial assistance. 
It's not just Dee Dee, but all of the Rose family's wealthy friends seem to have completely left them on their own. 
Lesson Learned: 
The situation between Moira and her sister is not uncommon which is why many in the financial space recommend you only loan money to friends and family that you can afford to lose. And if you're in a position to assist a family member financially but you're worried about the consequences of doing so (i.e., they won't pay you back or they'll take advantage of your generosity), clearly communicating your feelings and expectations from the very beginning might help lessen stress and anxiety.
6. Sell What You Don't Need, Including Investment Pieces
In one of the earliest episodes of Schitt's Creek, David ran away and took Moira's heirloom handbag. Never fear: Both David and the bag were found and reunited with the family.
But before David and the bag are found, Moira has a little bit of a panic attack after she realizes her brown crocodile handbag is missing from her closet. When Alexis and Johnny try to soothe Moira's nerves, pointing out it's just a handbag, Moira drops a truth bomb. She explained that the handbag was meant to serve as emergency currency for women in the family who needed it. 
In other words, the expensive bag could be sold or pawned for extra money at any time and was the reason why the handbag had been passed down for generations. 
Lesson Learned: 
Designer handbags are an example of investment pieces, so are high-end pieces of jewelry, and these items can be resold for a good chunk of extra cash when needed. Even if you don't have designer handbags or high-end jewelry laying around your house, you may find that items in your home that you consider to be junk or trash are truly another person's treasure. 
If you ever find yourself in need of quick money, consider selling some of these items around your home before taking out a high-interest loan.
7. It's Not Always Obvious Who Has Money and Who Does Not
Twyla is one of the hardest working people in Schitt's Creek – it seems like she works at the cafe all the time. And even when she's not working, she seems to live a very modest life. So at the end of the series when we learn that Twyla won the lottery just before the Roses arrived and is a millionaire, it's a huge shock not just to Alexis but to the viewers as well.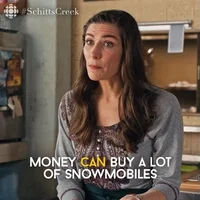 When Alexis asked Twyla why she never really spent the money Twyla says that she believes happiness actually comes from how you live your life. For Twyla, that meant running the cafe and being around customers all the time.
Lesson Learned: 
Twyla is right. While money can certainly afford you more of what you need, real happiness comes from an attitude of gratitude.
In the end, Twyla goes on to use some of her millions to buy the cafe, but it's so that she can continue to run the cafe and be around customers all the time – the thing that made Twyla happy in the first place.