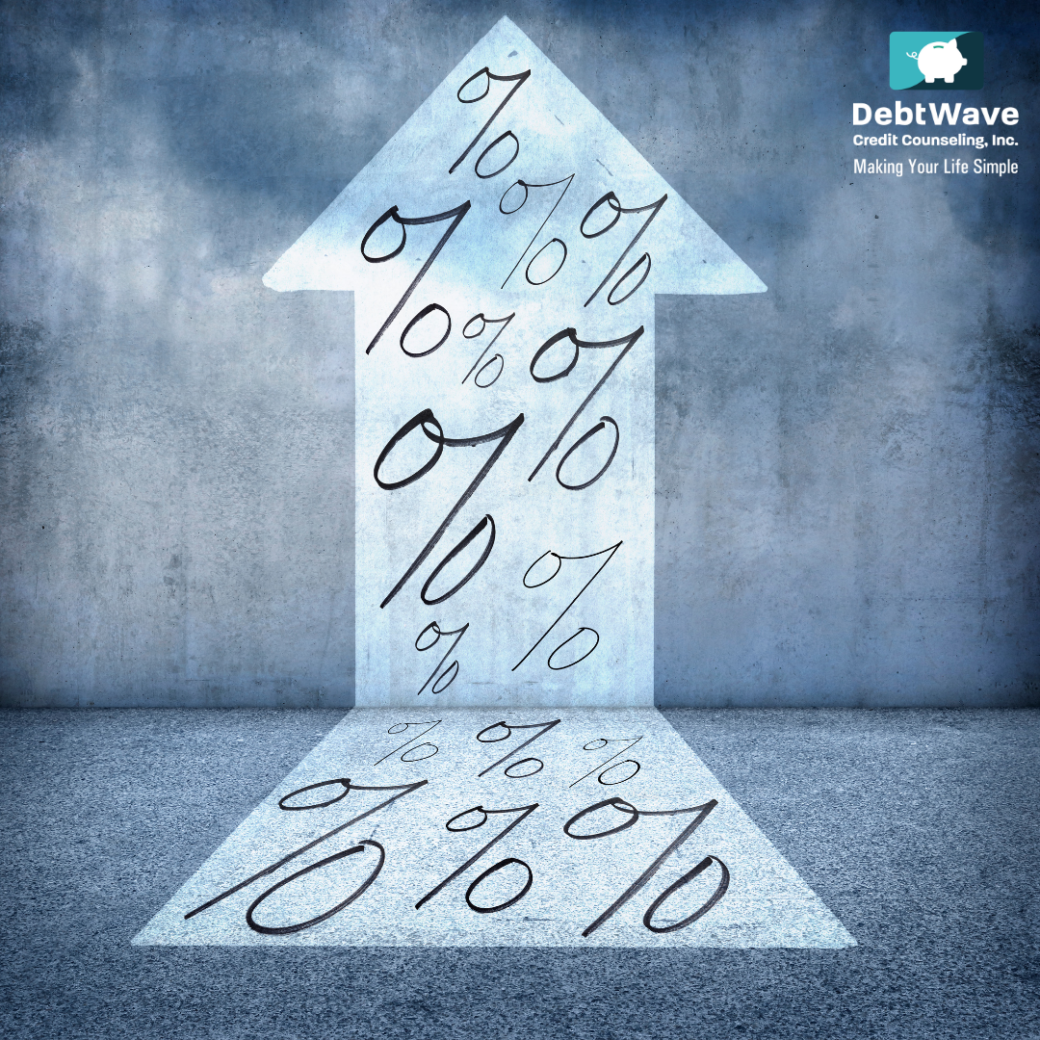 The Federal Reserve raised interest rates for the seventh time this year, announcing an additional 50 percentage point increase in interest rates at the end of the Fed's December 2022 meeting. 
Although smaller than the 75 percentage point increase the Federal Reserve previously announced four times this year, this latest increase in interest rates means that most consumer loans now benchmark around 4.25 percent, and business loans now benchmark around 4.50 percent, the highest rates seen in roughly 15 years. 
This means that anyone borrowing money to make a large purchase, such as a home, car, or large appliance, will likely take a financial hit, according to Scott Hoyt, an analyst with Moody's Analytics. "The new rate pretty dramatically increases your monthly payments and your cost," he said. "It also affects consumers who have a lot of credit card debt — that will hit right away."
Although the Federal Reserve's decision to raise interest rates in December 2022 by an additional 50 percentage points was deemed necessary by the Federal Reserve governing board, news of the rate hike sent stocks tumbling as Wall Street believes every interest rate hike heightens the risk of a recession.
That being said, Hoyt noted that household debt is still relatively low in proportion to income, meaning many households might not immediately feel a heavier debt burden.
"I'm not sure interest rates are top of mind for most consumers right now," Hoyt said. "They seem more worried about groceries and what's going on at the gas pump. Rates can be something tricky for consumers to wrap their minds around."
Then again, prices continue to surge, and Americans are increasingly relying on credit cards to maintain their spending and lifestyle habits. Total outstanding credit card balances are now estimated to be more than $900 billion, according to the Fed, a record high, though that amount isn't adjusted for inflation. 
For John Leer, chief economist at Morning Consult, a survey research firm, this increase in credit card debt suggests many Americans have spent their savings and are now accumulating credit card debt to make ends meet. Leer is one of many financial professionals concerned that rising interest rates will make it harder for those households to pay off their debts.
The Federal Reserve's move to raise interest rates by an additional 50 percentage points comes the day after the latest Consumer Price Index (CPI) report was released. The CPI report measures the average change in prices for goods and services, but the latest CPI report found inflation rose only 0.1 percent in November 2022, the smallest annual inflation increase in nearly a year. 
According to the CPI report, consumer prices rose 7.1 percent in November compared with a year ago. That was down from 7.7 percent in October to a peak of 9.1 percent in June. It was the fifth straight monthly slowdown.
The slowdown in inflation is the latest sign that price increases are gradually cooling despite the pressures they continue to inflict on American households. Some hoped this would be enough for the Federal Reserve not to raise interest rates. However, prices are not cooling fast enough for Federal Reserve Chairman Jerome Powell, who indicated this is far from the last interest rate hike we'll see in the near future. 
In other words, buckle up and prepare for further interest rate hikes in 2023.
Fed Announces 7th Interest Rate Hike of 2022
In a speech following the Federal Reserve's vote to raise interest rates, Powell acknowledged that there had been some progress in easing inflation in goods and housing but ultimately felt these improvements were not reflected in most services. 
Powell said he was tracking price trends in three different categories to understand better the likely path of inflation: goods, excluding volatile food and energy costs; housing, which includes rents and the cost of homeownership; and services excluding housing, such as auto insurance, pet services, and education.
Powell has acknowledged that aggressively raising interest rates would bring "some pain" for households but that doing so is necessary to crush high inflation. So it wasn't necessarily much of a surprise during the December 2022 Federal Reserve meeting when the governing financial board reiterated that interest rates would continue to rise until inflation settles around 2 percent. 
The policymakers also forecasted that the key short-term interest rate will reach somewhere between 5 percent to 5.25 percent by the end of 2023. That suggests the Fed is prepared to raise its benchmark rate by at least 75 percentage points in 2023, possibly higher depending on inflation.
The news of the continuing rate hikes sent stocks sliding as some economists worry that additional rate hikes could tip the already fragile economy into a recession. Fed officials have stressed that more important than how fast they raise rates is how long they keep them at or near their peak. In September 2022, the Fed forecasted interest rates would continue to rise through 2023 to get inflation back to 2 percent. 
However, some Wall Street investors are now betting that the Federal Reserve will ultimately reverse course in 2023 and begin cutting interest rates before 2024 or 2025.
The Federal Reserve maintains that another interest rate hike is coming in early 2023 to push interest rates to at least 5.1 percent, where the Fed expects interest rates will stay until at least 2024. 
How Will These Interest Rates Affect My Money?
1. Buy Now, Pay Later
Although these Buy Now, Pay Later installment loans have become popular, note that if your payment is divided into more than four payments, you're often subjected to the same increased borrowing rates that affect credit card users.
2. Home Equity Line of Credit (HELOC) or Other Variable Interest Debts
Rates will increase at roughly the same rate as the Fed hike, usually within one or two billing cycles as those rates are based partly on a bank's prime rate, which follows the Fed's financial benchmarks. Mortgage buyer Freddie Mac reported that the average rate on the benchmark 30-year mortgage in the second week of December 2022 dipped to 6.33 percent. Although the mortgage rate went down slightly, the average mortgage rate is still twice as expensive as it was a year ago.
3. Student Loans
Borrowers taking out new private student loans should prepare to pay more as rates increase. The current range for federal loans is between about 5 and 7.5 percent. That said, payments on federal student loans are suspended with zero interest until June 2023. President Joe Biden has also announced a student loan forgiveness program, which is being challenged in the courts.
4. Savings
Higher interest rates mean debt is more expensive, but it also means a higher savings rate. The rising returns on high-yield savings accounts and certificates of deposit (CDs) are currently at levels not seen since 2009, which means that households may want to boost savings if possible. 
5. Car Loans
Since the Fed began increasing rates in March 2022, the average new vehicle loan has jumped more than 2 percentage points, from 4.5 percent to 6.6 percent in November, according to the Edmunds.com auto site. Used vehicle loans are up 2.1 percentage points to 10.2 percent. 
The monthly payment for a new car, which most people base their auto purchases on, is up by an average of $61 to $718, according to Edmunds. The average payment for used vehicles is up $22 per month to $565.
Ivan Drury, Edmunds' director of insights, says financing a new vehicle with an average price of $47,000 now costs $8,436 in interest, which means consumers have begun walking away from the high-priced auto loan market. 
"I think we're actually starting to see that these interest rates, they're doing what the Fed wants," Drury said. "They're taking away the buying power so that you can't buy a vehicle anymore. There's going to be fewer people that can afford it."
6. Cryptocurrency
Risky assets and technology stocks, including cryptocurrencies like bitcoin, have dropped in value since the Fed began raising rates. So have many previously high-valued technology stocks, as consumers turn to more safe assets like Treasuries because their yields have increased. Cryptocurrencies are also suffering from problems separate from the Federal Reserve's economic policy, including the failure of high-profile crypto firms, including FTX exchange, and SEC fines for celebrity and social media crypto influencers.